Womandroid Hackathon: Women Coding for Women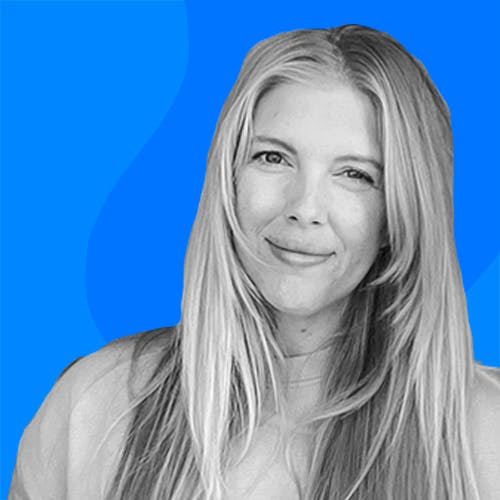 Womandroid Hackathon is a Truecaller initiative for an all-women coding weekend to empower women Android developers by building a network and sharing knowledge.
We created Womandroid to empower women Android developers to have a safe space to learn, challenge their skills, network with like-minded developers, and help each other. Truecaller is passionate about diversity and inclusion and believes that by providing events for women coders to progress and feel confident, this will help better shape the gender gap the current tech scene. This is the first Womandroid event in India but has also been conducted in Stockholm, Sweden.
All-Women Coding Weekend: Womandroid
The weekend kicked off at CoWrks EcoWorld in Bangalore, which provided a cozy, trendy, and very Instagrammable environment for our hackers to spread out and start an intense 2-days of coding.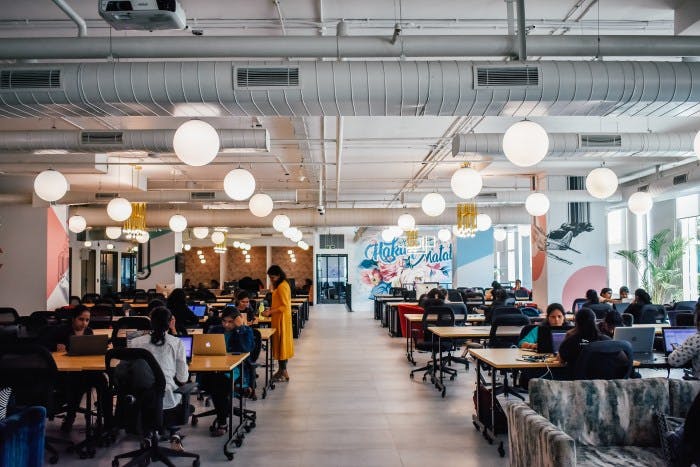 Our first challenge was mixing different skill levels of coders to create a team of strangers! This meant that our 9-teams had to get to know each other skill level quickly, and also work together to come up with a concept around the hackathon's theme of Women's Empowerment. Due to having freshers and students involved in the event, we provided coding helpers from Truecaller and our technical partner, Google Developer Group (GDG) Bangalore!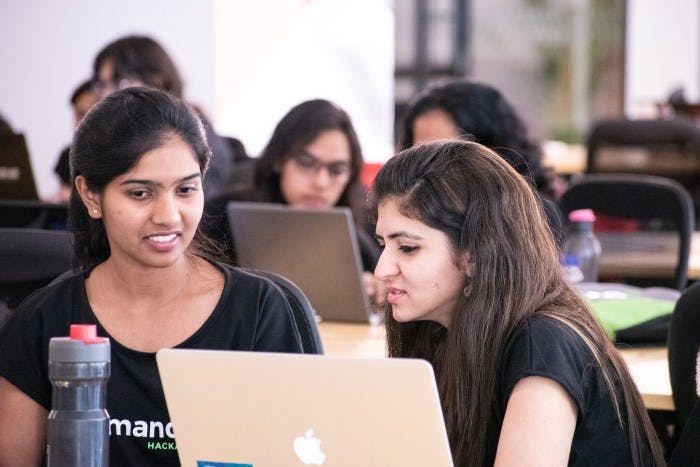 Throughout the 2-day coding event, coders had around 9 hours of full-fledged coding mixed in between knowledgeable Lightning Talks like Voice & Vernacular | Building for Bharat (Akanshi Srivastava), The Importance of women role models to young girls in STEM areas (Divya Joseph, Raspberry Pi Foundation), Cross-Platform Development with Golang (Jyoti Dubey, Freshworks) and why Inclusion and Diversity is Important (Lindsey LaMont, Brand Manager and Humera Iffath, Director of HR at Truecaller).
We also had games set aside to win cash prizes! Our friends over at Skilter app allowed for fun quizzes to test the knowledge about Truecaller, coding and pop culture!
The event garnered a lot of activities apart from coding also. This helped participants to unleash their fears and also broaden their horizon.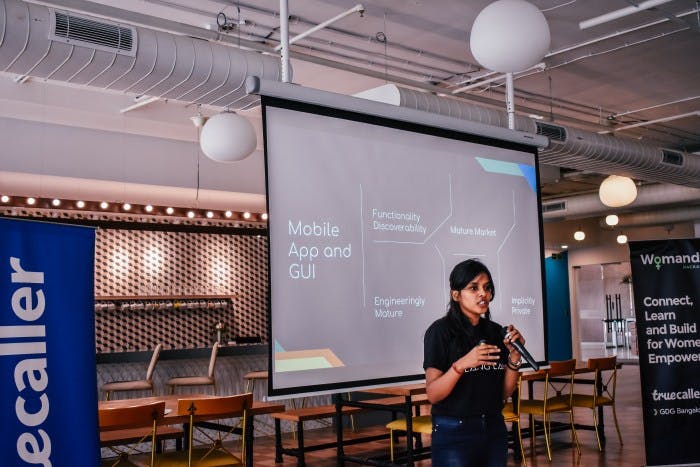 Talking Diversity and Inclusion and Women in Tech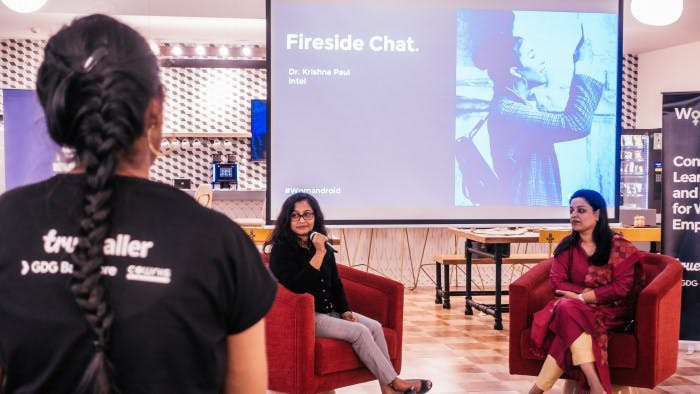 With Womandroid's main motivational aspect being 'the future of engineering is female,'  the event aimed at boosting morale for engineering among women by providing inspirational talks and words of advice while coding. One of these inspiration talks was by Nruthya Madappa, the Managing Partner of CoWrks Foundry. She explained the importance of learning to become unstoppable and how women are an essential piece of the puzzle when it comes to building teams.
The event ended with a Fireside Chat with Dr. Krishna Paul, a principal engineer at Intel. Dr. Krishna spoke about how she got into tech and her career, and also touched a lot about gender bias and inequality in the workspace.
"Nobody comes and says, 'this is the problem you solve.' Pick up a problem and solve it a way that you can measure success. And what success means to a company is thoughts."
Crunch Time and Presentations
Hard work paid off when it came to presenting projects at the end of Day 2. Each team received 4-minutes to present their projects to a team of judges, Sreelakshmi K (Co-founder, MyScan.app), Nruthya Madappa (Managing Partner, CoWrks Foundry). 
On top of a live demo, the participants were judged on the following:
Technology: How technically impressive was the project? Was the technical problem the team tackled difficult?
Design: Did the team put thought into the user experience? How well designed is the interface?
Completion: Does it work? Did the team achieve everything they wanted?
Learning: Did the team step outside their comfort zone? Did they try to learn something new?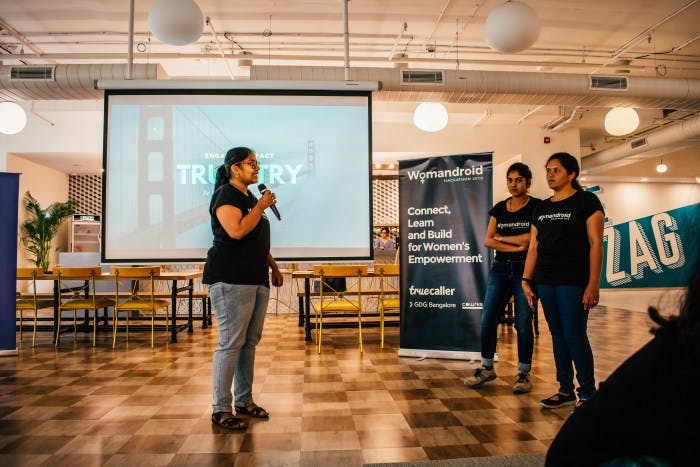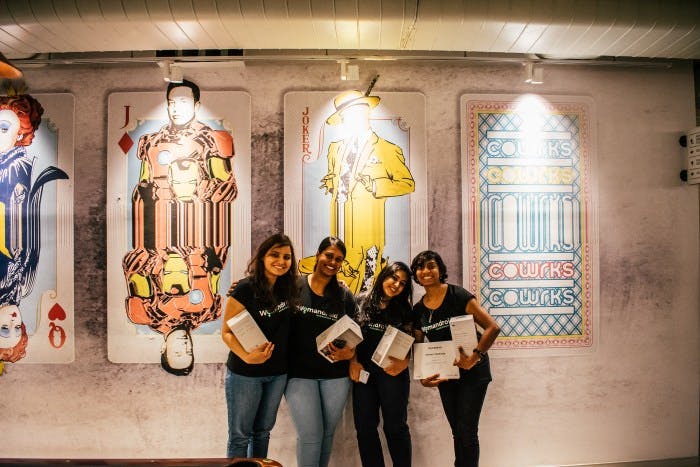 First: StepUp
Prize: Google Home
Project: A mentorship app for women to help women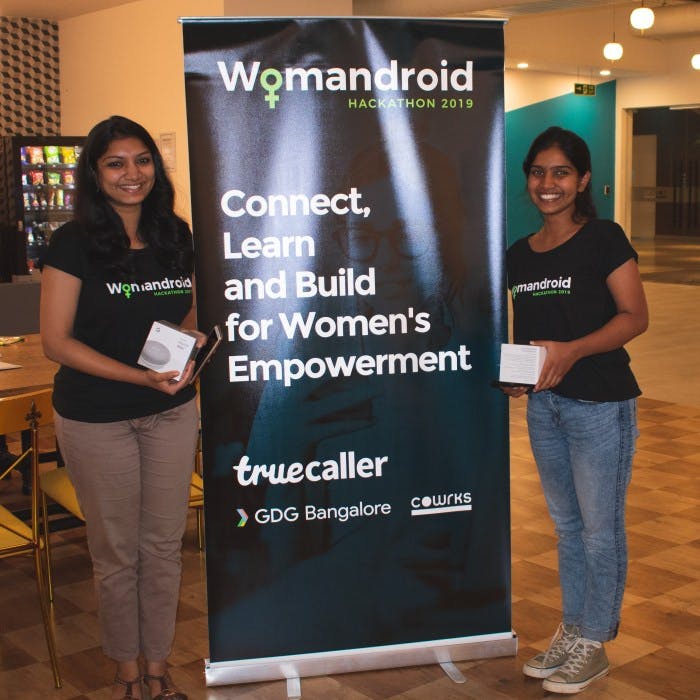 Second: HerCrazy
Prize: Google mini
Project: An app to create a non-judgemental space to create the ultimate girl squad. (This team won 2nd, despite the fact they finished with a 2-person team!)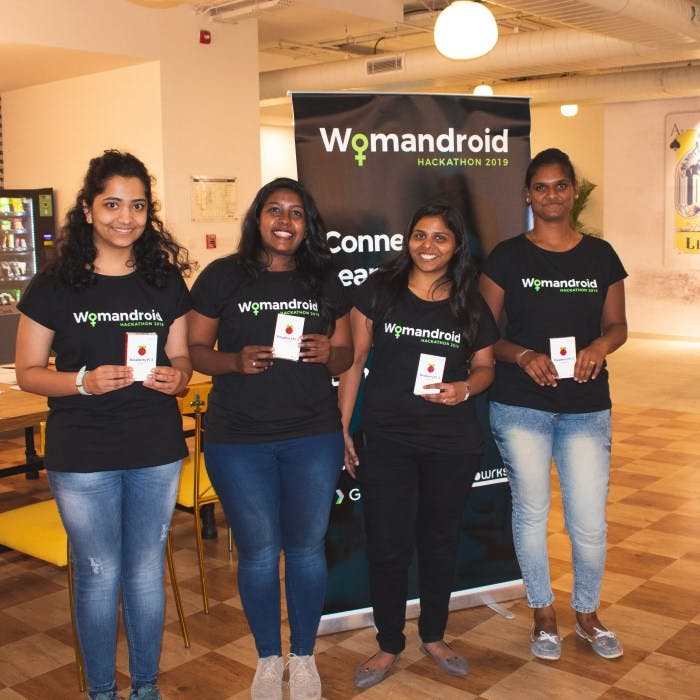 Third: WELP
Prize: Raspberry Pi
Project: A platform for women to ask questions and get answers from women throughout all walks of life.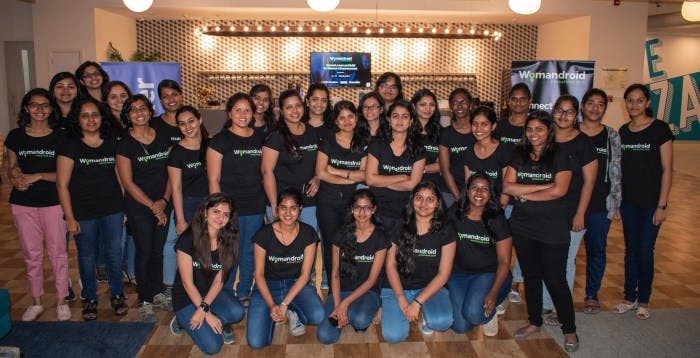 Thank you to all those who participated in this year's hackathon! Want to get involved with Womandroid? Please contact press@truecaller.com.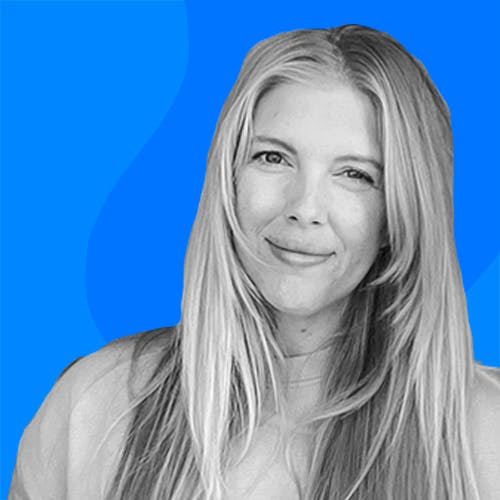 ---