8 Insider Tips: Truecaller on iPhone
Hey, iPhone users! At Truecaller, we think everyone should benefit from our app's great communication features, regardless of certain technical restrictions on iOS. That's why we want to share some
Although Truecaller doesn't work the same on iOS as on Android due to technical limitations on iPhone, there are some cool features you might not know about. We want to help all phone users, so we've developed some work-arounds for iPhone.
Insider Tips for Using Truecaller on iPhone
1. Spam call identification
Although live caller ID isn't fully available through any app on iPhone, you can use Truecaller to identify many spam calls. 
Just open your phone's Settings > Phone > Call Blocking and Identification. Tap the toggle next to Truecaller to enable spam identification and blocking. Now when you keep your top spammers list updated, Truecaller will block calls from top spammers and identify other suspected spam and scams! (You must have iOS 11 or above and the latest version of Truecaller.)
2. Auto-update & auto-block top spammers
Once you've enabled spam identification (tip #1), Truecaller will automatically block the top spammers in your region for free. With Premium, the app will continuously update your top spammers list for you, protecting you with the latest info without manual updates. Premium iPhone users also have access to extended top spammers protection!
3. SMS spam filter
Did you know Truecaller can protect you from SMS spam as well? Like a junk folder in your email inbox, Truecaller has a filter to sort spam and other SMS. 
To enable this feature, open your iPhone's Settings > Messages > Unknown & Spam. Under "SMS Filtering," enable the Truecaller permission. This will prevent notifications of SMS spam from disturbing you and will sort those SMS into a separate list in your inbox. From there, you'll be able to see the messages and decide whether you want to add the sender's number to your block list or your contacts.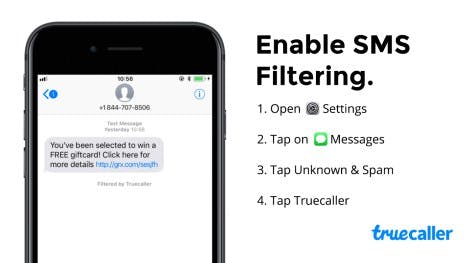 4. Call alerts
When you're about to get a call from another Truecaller user, you'll get a push notification identifying the caller before your phone even rings. The call alert identifies both contacts and non-contacts, making this is a great work-around iOS live caller ID restrictions.
5. HD-quality calls
With Truecaller Voice, you can make high-quality calls using WiFi, data, or mobile service. Free, HD calls in Truecaller means fewer apps taking up space on your phone! Learn more about the benefits of Voice calls here.
6. Number search via widget
First, you'll need to add the Truecaller widget. Just swipe left from your home screen, tap "Edit," then scroll to find Truecaller. Tap the + icon to add Truecaller to your widgets.
Then, when you want to search a number, copy the number, swipe right from your home screen, & the search results for that number will automatically appear in the Truecaller widget.
7. Number search from call log
Without even opening the Truecaller app, you can do a number search with iPhone's Share Contact. Here's how:
1. Find a number you want to search from your call log. Tap on the icon next to a number you want to search. Now tap:

Share Contact
Three-dot menu ("More")
Add "Search Truecaller"
2. After that, "Search Truecaller" will be an option in your Share list, allowing you to make quick searches.
3. Whenever you want to search a number from your call log, you'll just tap "Share Contact," then "Search Truecaller." 
4. Voila! Mystery number searched and caller ID provided.
Check out the demonstration video to see how it's done!
8. Act fast with 3D Touch
If you have an iPhone 6S or above, you can use 3D Touch to perform an action quickly. When you 3D Touch (press firmly) the Truecaller app icon, you can share your contact info, block a number, update top spammers list, or search a phone number. You get quick access to these actions without having to go into the app, saving you time!
Use these tips to get the most out of your Truecaller experience on iPhone! You can download or upgrade to the newest version in your App Store or on Truecaller's website.
---