Introducing Message ID - Stay Informed On Who Is Messaging You! 
We know how crazy it can get with the sheer number of notifications that flood the phones each day. It's annoying when we miss important stuff like bill reminders, travel or delivery updates, and what not. But hey, that's where Message ID comes in! With this useful feature, you can keep tabs on every essential SMS notification without breaking a sweat.

What is Message ID
Similar to how Truecaller identifies incoming calls, the app will also identify your message senders. This feature shows the sender's name and logo, message type, and other relevant info as an easy-to-read pop-up notification. The feature prioritizes time-sensitive, transactional, or bill reminder messages by cutting through spam and fraud, ensuring prompt and secure delivery. It has been thoughtfully designed to be easy on the eyes and at the same time easy to grasp the needed details. Moreover, it can help you decide if the sender of the SMS is trustworthy, and alert you to potential fraudsters. 

How does it work?
Message ID operates offline on your mobile device. The Message ID feature of Truecaller is supported by the company's advanced machine learning models, specifically tailored to operate securely within mobile devices. This eliminates the need for messages to leave your device for identification and verification, ensuring that your privacy remains intact.

Upon receiving an SMS, the feature promptly identifies the sender and message type and determines whether to notify and display the Message ID notification to you.
How is it unique and useful?
1. Stay on your toes with important updates
Too many notifications can cause us to miss important SMS notifications like bill reminders or delivery updates, and that can be frustrating!  Message ID will keep you informed and on top of essential messages like bill reminders, travel or delivery updates, and more by appearing as a pop-up at the top of your screen.

2. The pop-up notification does not disappear
With Message ID, you can keep important updates like OTP messages, bill reminders, and delivery updates on your screen for as long as you want. For example: when you receive an OTP SMS notification, you can easily read it from the notification and type down the OTP without worrying about the notification disappearing. The pop-up notification will only disappear when you decide to dismiss it.

3. Better and cleaner format
Traditional notification formats were created simply to let you know that a message has arrived, but some SMS notifications need more attention than others. With Message ID, the notification format has been reimagined to suit these SMS scenarios, ensuring that you never miss out on important information again.

4. Differentiates between 'Verified' and 'Fraudulent' senders:
With the Message ID feature, you can determine the authenticity of an SMS sender through the 'Verified Tick' and 'Green Message ID', which means the sender is verified by Truecaller. In addition, the Fraud Protection feature will alert you with a 'Red Message ID' notification and identifies potential fraudulent numbers as 'Likely Fraud'. This will allow you to differentiate between trustworthy and suspicious senders, ensuring a secure messaging experience.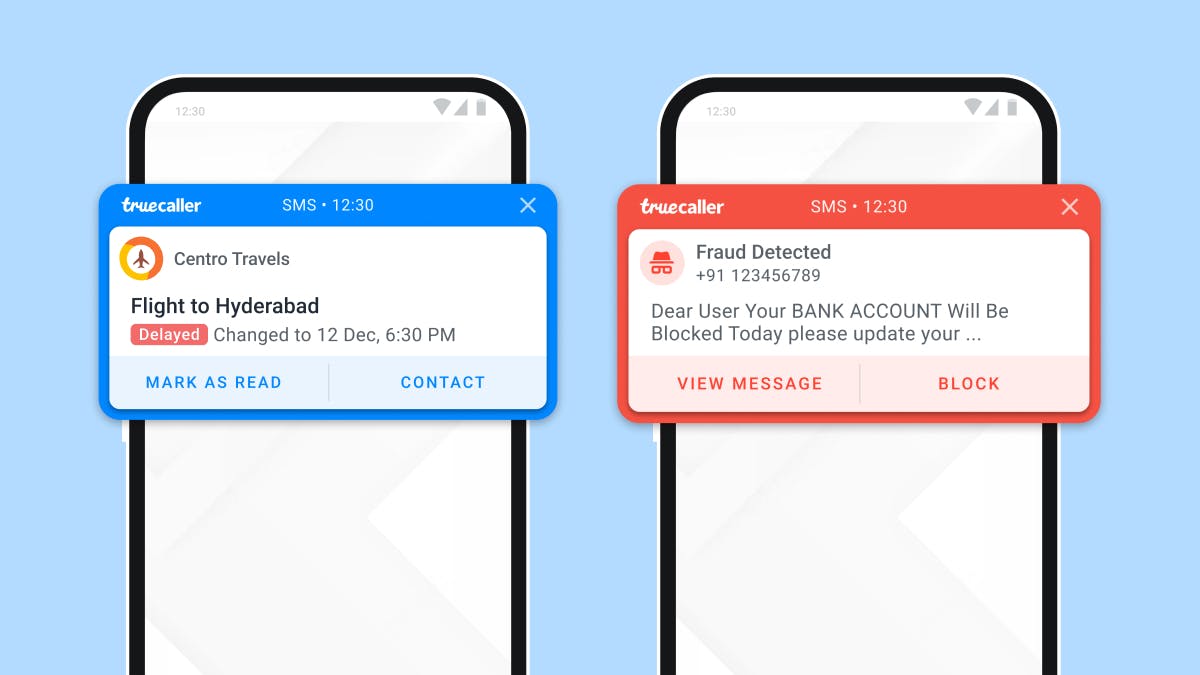 How to get started?

Step 1: Set Trucealler as your default messaging app.
To benefit from Message IDs and avoid receiving notifications from other SMS apps for spam SMS that Truecaller filters out, it's necessary to set Truecaller as your default SMS app.

Step 2:Manage message preference:
You can also decide to customise in case you only want to see Message IDs for specific categories. You can go to Truecaller app > Settings > Messaging > Message ID > Manage Preference.

Please note: This feature is available for all Android handsets, globally.
Our mission at Truecaller is to build trust in communication. We believe that educating you about how our features work is essential in helping you navigate a world where unwanted communication and fraud are commonplace in your daily life. So, we strive to provide you with the information you need to make the most out of Truecaller.

Stay updated about recent scams, and watch the latest Youtube videos on how you and the 338 million-strong community of people using Truecaller every month can stay protected. You'll find us on Twitter, Facebook, Instagram, and TikTok.
For those in India, follow Instagram India and Twitter India for exciting updates, contests and more!

---