Protect Yourself from SMS Scams with Truecaller's Fraud Protection
Truecaller has been warning users about potential fraudulent phone calls for over a decade. Now, with the rise in SMS fraud - so called smishing, we've launched a new feature called "Fraud Protection" that recognizes fraudulent messages and senders. This feature is especially helpful for people who may not know how to spot scams and mistakenly believe they are dealing with legitimate businesses. If you prioritise your safety, then this is for you. 

Problem
Over 100 million people in India using Truecaller have received at least one fraudulent SMS from over 2,000 identified fraud senders of multiple types of fraud such as electricity, bank, job, KYC, loan, charity, lottery and many other types of scams. Have you ever received a suspicious SMS claiming to be from a well-known company, urging you to take immediate action -  don't be surprised because you're not alone!
Solution
To combat this, we've launched a new "Fraud Protection" feature in India, which will alert you with a red Message ID warning notification and identify potential fraudulent numbers as "Likely Fraud". It has been thoughtfully designed to remain persistent on your screen. This means it remains visible, even if it was received some time ago, and will only disappear after you have viewed it and manually dismissed it.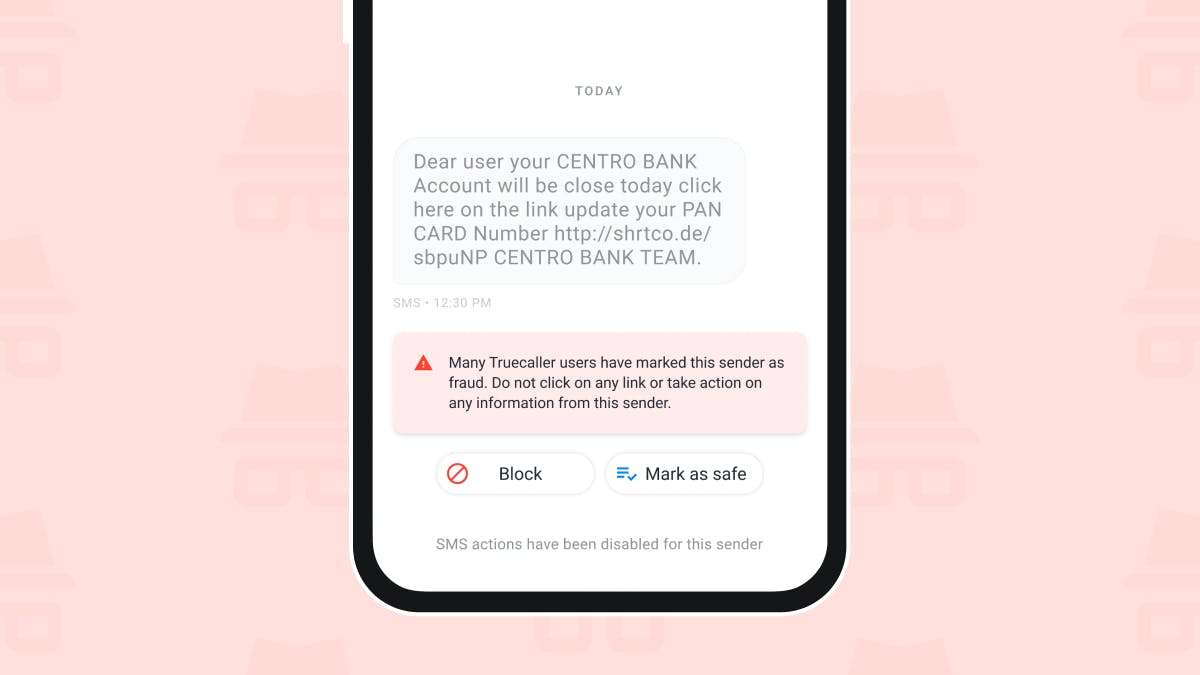 Why is it designed to be a Persistent Notification?
If you use a different SMS app, it may not identify the fraudulent sender and display the message as a regular SMS notification. You may click on it, take action, and become a victim of the scam. To prevent accidental clicking on URLs or phone numbers, all links in the SMS thread are initially disabled. They will only become clickable once you mark the sender as safe.

What makes it a unique feature? 

1) Legitimate senders are "Verified" on Truecaller
Unlike other SMS applications, Truecaller partners with Businesses & the Government to ensure safe & efficient communication. Using the Message ID feature, you can identify senders that are 'Verified' by Truecaller with the presence of a tick assigned and Green message ID by Truecaller.

2) Our community helps us stay ahead of the latest fraud
With over 338 million users, Truecaller receives thousands of daily feedback messages about fraudulent senders. This enables us to stay ahead of the latest fraud patterns better than any other SMS application. As a result, when using Truecaller, you can be confident that you will automatically receive warnings even for the most recent frauds.

3) Partnership with trusted sources to combat fraud
Truecaller's partnerships with over 1900 businesses and multiple government agencies enable the app to gather information about fraudulent senders and messages. By establishing a feedback loop with its partners, we are able to quickly detect and warn users about fraudulent activity.

When it comes to beating the fraudulent senders, Truecaller's Fraud Protection feature is a game-changer. In conclusion, with advanced predictive intelligence, verified senders, the color-coded Message IDs, and partnerships with businesses and governments, the Truecaller app offers an unparalleled level of safety to you. By using Truecaller, you can be confident that you're protected from the latest frauds!

Currently this feature is only available in India for Android users, but will be rolling out to more countries!

Our mission at Truecaller is to build  trust in communication. We believe that educating you about how our features work is essential in helping you navigate a world where unwanted communication and fraud are commonplace in your daily life. So, we strive to provide you with the information you need to make the most out of Truecaller.

Stay updated about recent scams, and watch the latest Youtube videos on how you and the 338 million-strong community of people using Truecaller every month can stay protected. You'll find us on Twitter, Facebook, Instagram, and TikTok.
For those in India, follow Instagram India and Twitter India for exciting updates, contests and more!



---