SMS Spam Filtering Comes to iPhone!
Truecaller
Sep 26, 20172 min readEdited on Jun 15, 2022
Everyone is excited about iOS 11 and the new features! But no one is more excited than our iOS developers, who can now do more with Truecaller to help you stay SMS spam free.
Truecaller blocks more than 100 million spam SMS and text messages each week globally, and with our growing community, our iOS users will now be able to filter out SMS junk with a more powerful spam blocking Truecaller app. Similar to junk email, which is filtered into a designated spam folder, iOS 11 brings us SMS Message filtering, which means you'll no longer have to waste time deleting unwanted messages manually from your device.
How SMS Message Filtering works
The new version of Truecaller optimized for iOS 11 will help you identify potential spam SMS and MMS messages. If you are familiar with the setup previously for Spam Call protection we launched for iOS 10, then setting up SMS message filtering will be a piece of cake!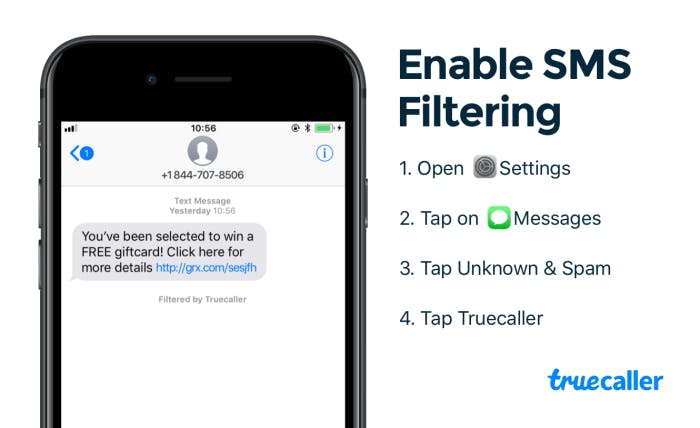 When the filtering feature is enabled with Truecaller, any SMS or MMS sent from new senders (excluding contacts or iMessages) will be either deemed safe or as SMS junk, depending if the Truecaller community has reported it before.
Messages from unknown senders that are spam will automatically be filtered into the 'SMS junk' inbox, and it will show you that Truecaller has filtered it for you!
Where do spam SMS come from?
Spam SMS can come in different shapes and forms, and Truecaller is here to protect you from all of them. Telemarketing, sales, scams, fraud, and harassment are all types of spam that our users help report to our global system – so no matter what country you're in, we've got your back!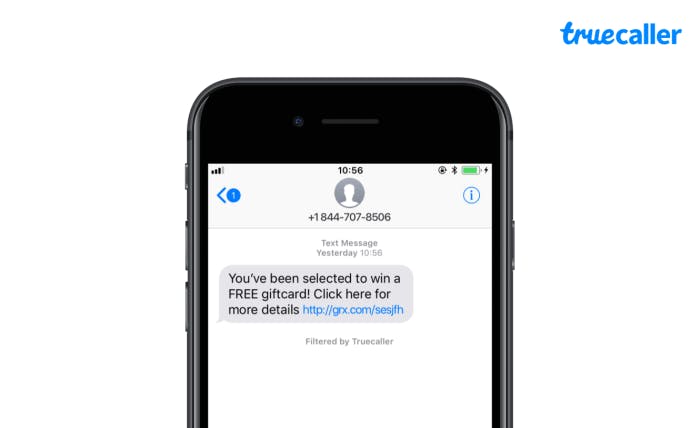 It isn't a secret that telemarketing companies are becoming more aggressive on their contact approaches. Sending mass SMS is a cheaper and more effective way to reach large amounts of people. If you're curious how your number may get on telemarketer's lists, pay attention to where you add your phone number online, or wherever you may sign up for something. Telecom operators may also have tie-ups with selling numbers.
Download Truecaller for free from Apple App Store or Google Play!
---