Truecaller's Passcode for Messages - a New Feature Unlocked!
We have all had moments where mom's restless eyes, more often than not, try to catch a glance of what's going on behind our phone's screen or have an important message pop at the very time when someone else has your phone. Truecaller's Passcode for Messages feature will help take your privacy matters into your hands and ensure messages that are meant for you are not seen by anybody else.
Safeguard your Truecaller Inbox with Passcode for Messages
Messages pop up on our screens every hour, most of which are related to our personal information and private conversations. With our lives shifting online, we carry out most of our activities right from receiving our salary to paying our monthly dues over the internet. Now, who wants an ill-timed message to ruin a surprise for a best friend or face that awkwardness when a co-worker finds out about your long-due credit card bill?!  Definitely, not us! 

Truecaller's Passcode for Messages reclaims your privacy by adding a layer of safety and security to your inbox so prying eyes cannot read messages meant for you. On setting it up, it asks for a passcode whenever you or anybody else tries to open the message inbox on the phone.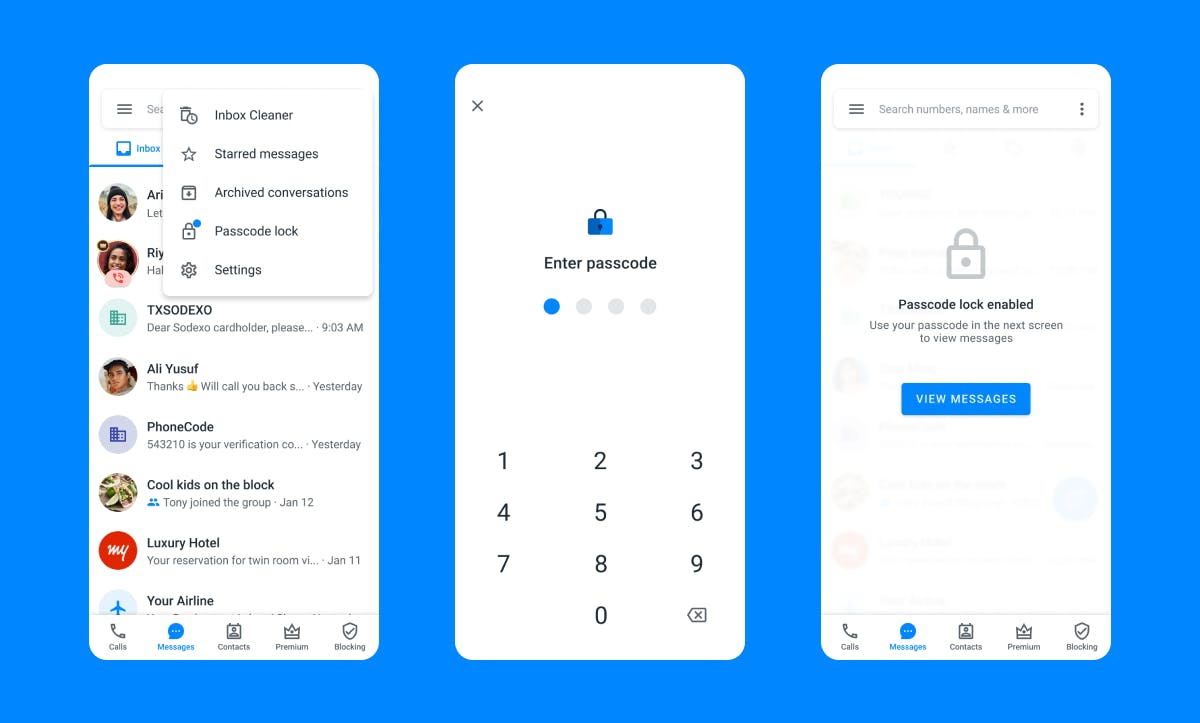 How to set a Passcode for Messages
You can set up a passcode for your messages by following these easy steps:-
Open the Truecaller app and click on messages at the bottom of your homepage.
Click the main menu and select 'Passcode Lock'. 
Choose the preferred method of setting the passcode either by creating a pin or a fingerprint lock.
Once set up, your phone will ask for the same password on accessing the messages inbox
If you make the best use of  this feature, you can feel safe and at peace knowing that only you can enter your message inbox!

We're always adding features or improving The Truecaller app to make sure you have a great communication experience. Make sure you have the latest version and don't forget to follow us on Truecaller's Youtube Channel, Instagram, Twitter, TikTok and Facebook. Are you settled in India? Follow Instagram India and Twitter India for exciting updates, contests and more!
---