Truecaller Insights 2016 Special Report: State of Mobile Operators in India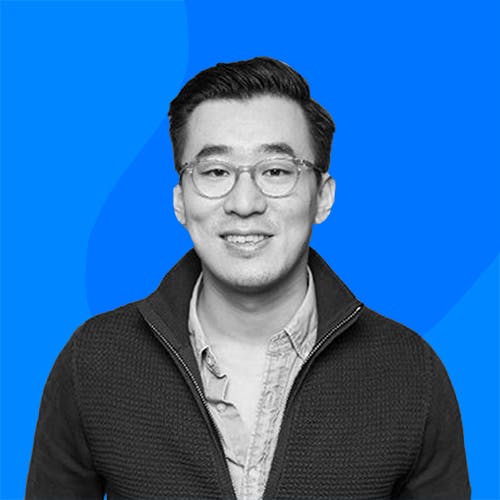 Kim Fai Kok
Feb 15, 20174 min readEdited on Apr 24, 2018
CALLING OR DATA? DECODING JIO'S DISRUPTION
This special report sheds light on the disruption in the telecommunications space following the launch of Reliance Jio.
Amidst all the speculation around market consolidation and Jio's share, Truecaller Insights analyses the customer behaviour and reaction to the developments in the telecom world.
As per latest data from TRAI, India's telecom subscriber base grew to over 1.12 billion at end-November 2016. The large number of additions were credited to Reliance Jio Infocomm Ltd. Reliance Jio alone added over 16.2 million in month of November taking its total subscriber base to 51.87 million within three months of launching its services. While the disruption is visible, consolidation in progress and customers are the most benefited, Truecaller Insights takes a closer look at what's really happening.
Jio on the move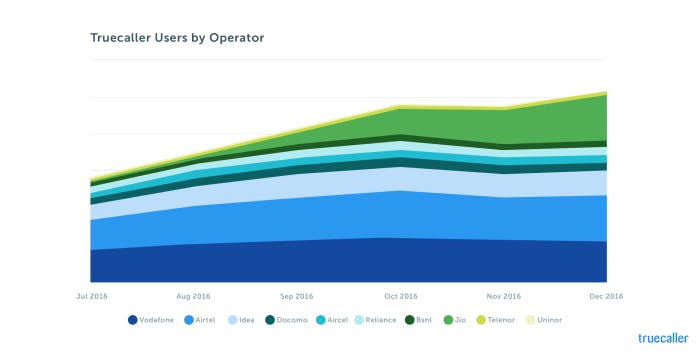 Jio has already launched into 2 place in terms of users, capturing more than 23% of the market. Investigating the last 6 months of usage we can see that Jio has grown aggressively at the end of the summer. Jio racked up millions of customers in their first months and even picked up the pace of acquisition towards the end of the year. So where are Jio's customers coming from?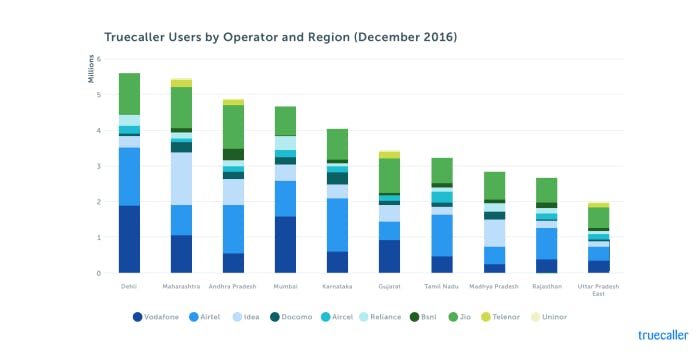 We broke down usage by top ten regions and not surprising that Delhi leads the way. Airtel and Jio have an even share of usage across all the regions. Standing out was Vodafone's dominance in Delhi and Mumbai as well as Idea's strength in Maharashtra.
Jio users keep it short and sweet
To get a sense of how customers are using the mobile plans we dug into the volume of calls made and the length of calls across operators. There were some interesting findings.
Looking at call duration by operator, it seems like Vodafone users make the longest calls (around 41 seconds), and Jio users make the shortest calls (less than 30 seconds).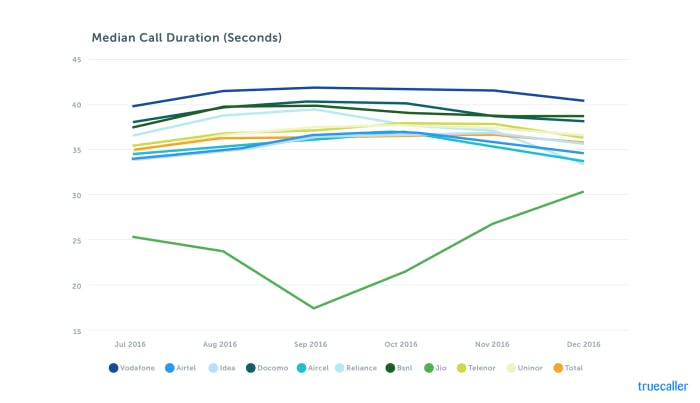 While Jio was growing faster than Facebook, WhatsApp and Skype during initial months as the company stated, it is surprising to see the shorter call duration since there is generally little difference between operators. 
Click image to enlarge
As for the overall general calling patterns in the country, there are some marked differences across regions with Kolkata users having the longest median call duration (42.17 seconds) and Jammu and Kashmir with shortest call duration (28.63 seconds).
Click image to enlarge
Jio users are also making the most calls per user out of any of the operators. If overlaid with the average call duration, it does seem like the data points to some unintended usage patterns, such as Jio sims primarily being used for data or an increased amount of dropped calls and hence redials on the Jio network.
How does Jio fare in data consumption?
While we don't have any information on data consumption, TRAI data confirms that in the month of November alone, Jio was leading in mobile broadband segment followed by Idea Cellular Ltd with net addition of 2.52 million new customers. Bharti Airtel and Vodafone added 1.08 million and 890,794 subscribers respectively.  This is almost certainly due to calls and data being free for these users over this period. Further, a recent industry report highlights that 42% of all Indians having 4G handsets are using Jio as the primary source for data connection. Only 17.54% of 4G users are using Airtel as primary data connection source, while Vodafone has a market share of at 12.26% and Idea has 11.50% share. The research has found that average data consumption of Jio users is three times more than other telecom operators.
From our data, it's clear that Jio has already shaken up the mobile landscape in India. Mobile internet usage is expected to grow to over 500 million customers by the end of 2017[1] with a large portion of those picking Jio. As a result there's already consolidation discussions among operators[2] in India due to the increased competitive pressures.
How the market proceeds going forward, as free trials and heavy promotions come to an end, only time (and data!) will tell – But weexpect 2017 to be an eventful year for the Indian telecom industry.
What is Truecaller Insights?
Being data driven is an extremely important trait for Truecaller, throughout our app lifetime we have discovered and predicted amazing trends just through our internal statistics. Truecaller Insights aims to provide relevant and data-driven reports about market trends. The insights come from a mix of engineers, data scientists and marketers who put their heads together to tell data stories in an interesting and informative way.

Note & Methodology
The data in this article was aggregated from incoming and outgoing calls tagged by their mobile operator in India during the period of July 1, 2016 to December 31, 2016. These insights are purely based on our internal data and does not reflect the entire usage of any of the services and Truecaller does not warrant the accuracy or completeness of such data, and all derivative conclusions or assumption are those of the readers only. All brands mentioned are the property of their respective owners. Use of these brands does not imply any co-operation or endorsement.
[1] http://economictimes.indiatimes.com/magazines/panache/india-to-have-over-500-million-mobile-internet-users-by-2017/articleshow/55543589.cms
[2] http://economictimes.indiatimes.com/news/company/corporate-trends/big-threat-looms-on-airtel-jio-as-vodafone-confirms-talks-on-merger-with-idea/articleshow/56869589.cms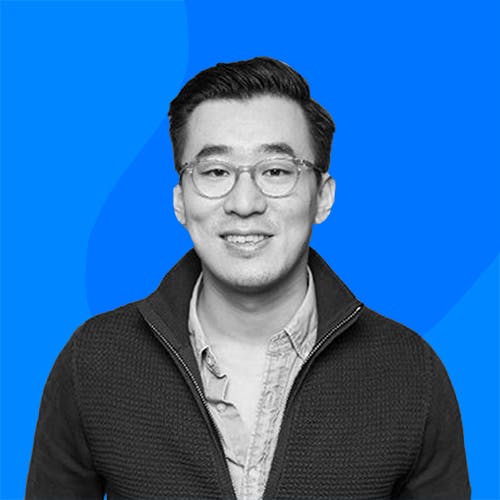 ---