Truecaller's Verification Solution now available for Mobile Web
Today we are happy to share that verification solution has been made easier with Truecaller SDK, the instant and OTP less verification service from Truecaller! Developers who are building apps on mobile web platforms, can now verify, login or sign-up their users with their phone numbers – no matter the country they are developing from!

With a base of 250+ million mobile number verified users globally, Truecaller's verification SDK enables you to instantly capture the verified identity of your users, with no SMS based OTP required. In recent times, consumer product ecosystems have focused on building apps aligning with trends where evolved mobile web technologies are enabling more users to discover and consume services via mobile browsers on their smartphones.
Observations in Emerging Markets:
of the total traffic on the web, an estimated 60-
80% is now coming from mobile devices
mobile devices have increasingly become the first
point of discovery for a large number of digital
services
the mobile number has become primary and the
preferred identity of users, especially with first time
users coming online across emerging markets
Since consumers have started making the choice to buy online, decisions are now being made from mobile devices as the primary interface. It is extremely important for app developers to have a good verification solution with a frictionless user journey to ensure that business' growth and customer engagement does not get adversely impacted.
As we discussed above, many of these users are new-to-internet, coming from varied demographics and browsing on mobile devices. They lack patience, face a steep learning curve, and do not wish to indulge in multiple steps. They expect the entire process to be completed in a simple and instant manner. 

In the mobile web and browser supported landscape, critical check points in the user journey such as  login/signup, phone number verification or even filling critical customer details at checkout flows are effort-intensive and to an extent even cumbersome by today's standards. In such a scenario, the task of verifying users on mobile web apps and sites throws a unique set of challenges.
Challenges Faced by Product Ecosystems:
user mobile number verification is a hassle, involves multiple steps to complete, and consumes more time
OTP cannot be auto-read on browsers and thus needs manual entry prone to typos and errors 
pushes users to switch between browsers and SMS apps to view and type in OTP code back in the browser
Over the last few years, Truecaller has worked with leading products to deploy a simple, frictionless user verification solution on mobile apps, which has resulted in achieving increased user activation and engagement. Along with these collaborations, one of the consistent requests that we got from our developer ecosystem was to extend this seamless and secure experience to mobile web based platforms.
Want to integrate Truecaller Verification SDK into your mobile app? Join our free webinar on July 24, 2019! Register now.

With Truecaller's Verification SDK now available for the mobile websites, we have extended the promise of simple, trusted and instant number based identity verification for mobile web users as well. We worked closely in early access mode with few leading products in the ecosystem to shape the mobile web SDK to deliver on the promised value proposition.
Opportunities with Truecaller's Verification SDK:
leverage the global scale of 250M+ Truecaller users with their verified phone number based accounts 
instantly verify your users based on their mobile number with Truecaller credentials, 
NO SMS based OTP needed whatsoever
ZERO effort flow, NO need to type the mobile number
avoid  junk numbers, by tapping active and verified mobile number present on the device
reduced: drops (from SMS failures/ delays) and resulting in quick activation and growth
user consent based and secure flow
The results speak for themselves. Shine.com – India's leading job portal, executed and deployed the SDK in their user registration journey, which has been implemented as follows: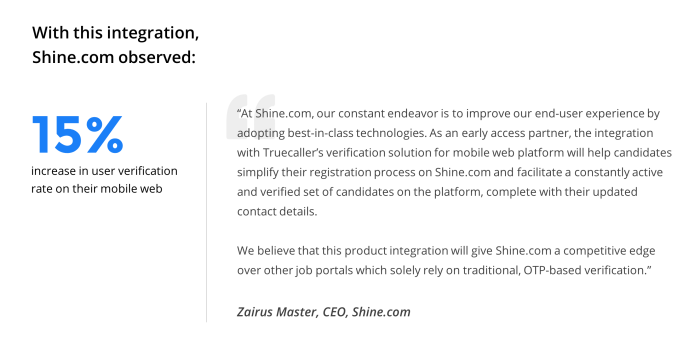 ---