Protect Yourself from Customer Care Scams
If you're looking for a customer care number for some of your favorite companies, beware of the new Customer Care Scam that's plaguing the Internet and possibly your bank account. Learn how the scams work, what Truecaller does to prevent them, how to protect yourself, and legitimate ways to contact Truecaller customer care.

First, we'd like to point out Truecaller does not have a customer care phone number. If you want to get in touch with our support, you can read below or visit our support page.
What is the Customer Care Scam?
Scammers try to trick people seeking help from Truecaller's and other companies' customer support. The scammers post fake customer care numbers on Twitter, YouTube, and other public forums, then wait for victims to call. Instead of connecting customers with official company experts who can help solve technical issues, these scammers waste people's time and steal their money.

We called and trolled the fake Truecaller customer care number, and this is what happened.
Warning: Do not try this.
We called and , "Are you Truecaller support?" He said yes. 🙄
We could hear background noises and realized they're probably operating individually from their homes. We provided a phone number, which is not registered with any bank or Truecaller Pay. Then we told him our Rs 2000 transaction was pending, and we needed help. He replied, "I will check," then told us it was pending and would be done in 5 minutes. We pushed him for more information. He said, "I can help you immediately with this. But first you must install AnyDeskfrom , and I also need your ."
The app he wanted us to download is used for remote access. When you install AnyDesk, you get a 9-digit address. When you provide this address to the fake tech support, he gets a notification to send a request to the device to allow remote access. So, after accepting the request, he would have complete access to the phone. This is how scammers can extract a payment address, ask for the pin, and then take money. AnyDesk has been reported by the Reserve Bank of India (RBI). However, there are many apps that can allow remote access to your device, so never download anything someone tells you to over the phone for "customer support" purposes. And never give your PIN to anyone.
Here are some of many fakeannouncements we've found pretending to be Truecaller's customer care. Please note: do not call or SMS these numbers or interact with these accounts.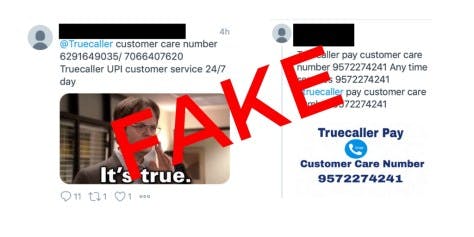 Truecaller blacklists all fake customer care numbers
When we discover numbers posing as Truecaller customer care, we immediately add them to our spam list to ensure our customers are aware of the scam. We also add the numbers our community members report, so make sure you block to report fake numbers! You can report fraudulent numbers in the app or tweet us @Truecaller.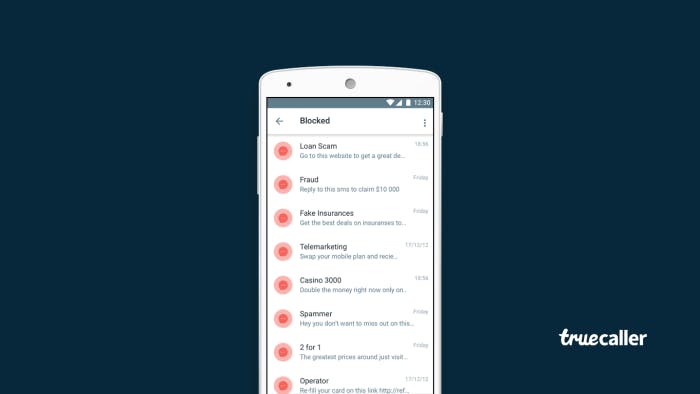 How to avoid customer care scams
Truecaller isn't the only company these scammers impersonate. There are well-known Microsoft and Apple tech support scams that cost people millions of dollars per year. Because customer care scams can be so effective, we can probably expect to see more scammers using this strategy to defraud people.
Here's how to protect yourself:
1. Only call a customer service line listed on an organization's official website. And don't be fooled by look-alike sites! Some sites' URLs are almost the same as the real site's URL, but have just one letter out of place or end in ".com" instead of ".gov," for example. Most legitimate sites start with "https://" (the "s" means secure), so be wary of sites that begin with "http://" and don't have that crucial "s." 
2. Sometimes scammers call you directly, so beware of number spoofing and one-ring scams. Just because your caller ID says "Microsoft Tech Support," that is not necessarily who's calling. Luckily, Truecaller can help you trust your caller ID again. Our app's Premium features allow you to auto-block spoofed calls, foreign calls, specific country codes, and more. In addition, Truecaller verification badges and Truecaller Priority let you know when a number belongs to a legitimate company.
3. If you get a call that claims to be a customer support line, let it go to voicemail. Don't answer, because a) that lets callers know your line is active and can lead to more calls, and b) you never want to engage with a fraudster. If you think the call could be legitimate, see step 1: check the contact number on the company's official site. That's the number you should call if you need to reach them.
If you need to get in touch with Truecaller customer care, you can visit our Support site, Tweet us @TruecallerHelp, email us (support@truecaller.com), or message us on Facebook. We're here to help!
---