Call Recording on iPhone - Never Miss Out On Important Details
It's time to dial up your Truecaller app experience with the Call Recording feature! Now you can effortlessly record both incoming and outgoing calls within the app, without the hassle of downloading another recording app. Keep reading to learn more.

The feature will help you record all important details needed, without lifting a finger. Our app's user-friendly interface makes it super easy to record and store important conversations, freeing up your time to focus on other tasks. And with the ability to listen, rename, share, and delete recordings at your leisure, you'll wonder how you ever lived without it. So go ahead, and answer that call without worrying about taking notes like a ninja because Truecaller has got you covered.

(The Premium feature is currently available in the USA, but it will soon be rolled out to additional countries)

How Does the Feature Work?
To record a call with Truecaller, you'll have to merge the special recording line provided by the app with the call you want to record. Once the call ends, you'll receive a push notification with the recorded file. It's that easy! Just remember to merge both the recording line and the call you want to record. No matter whether you select the contact or the recording line first, just make sure to merge both numbers, and your call will be recorded.
Start Recording a Call in Easy Steps:
Step1: Open the Truecaller App
Step 2: Tap the Record a Call button on the app
Step 3: Press 'Call the Recording Line'
Step 4: Merge the calls


Step-by-step process of how to start recording an incoming using the Truecaller app
If you want to record an outgoing call, the process is slightly different from recording an incoming call. But fret not!
Check out the image below for a step-by-step guide: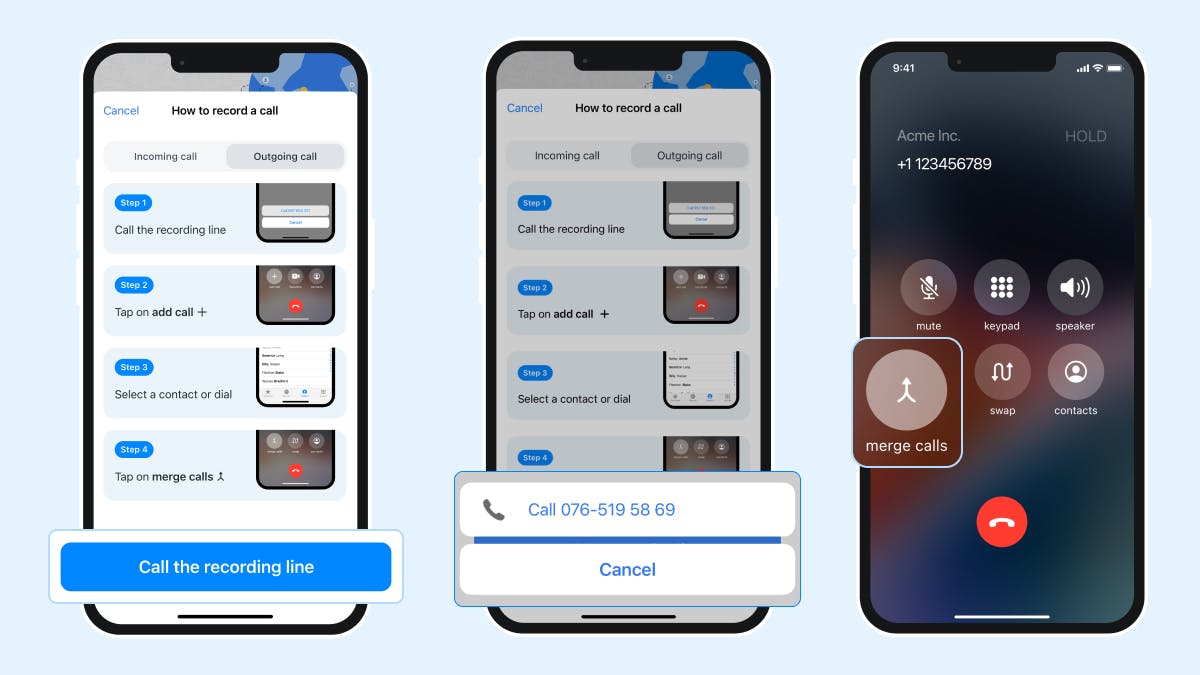 Step-by-step process of how to start recording an outgoing call using the Truecaller app

Tell Me About the Benefits?
Here are a few reasons why you'll find this feature useful:
Never Miss Important Details: We cannot emphasize enough how you can capture every important detail of your phone conversations with call recording, ensuring that you never miss a key piece of information.


Avoid Misunderstandings: No need to take messy notes, you can relax and focus on the conversation at hand, knowing that you can easily revisit the details later. By reviewing the conversations later, you can avoid confusion and misunderstandings.


Save Time and Increase Productivity: Instead of taking notes during your calls, you can rely on call recordings to remember important information, saving you time and making you more productive.

Of course, this feature can prove to be useful in many other ways. For example: If you ever want to know how you conduct yourself on calls, then you can always revisit the call recording and figure out how to make certain improvements.
Now you no longer have to frantically look for a pen and notepad every time you receive an important call. If you've got an iPhone, you can straightaway get cracking and make better use of your time.
Our mission at Truecaller is to build trust in communication. We do our best to help you navigate a world where fraud and unwanted communication is a part of your daily life and strive to provide you with the information you need to make the most out of Truecaller. 

Stay updated about recent scams, and watch the latest Youtube videos on how you and the 350 million-strong community of people using Truecaller every month can stay protected. You'll find us on Twitter, Facebook, Instagram, and TikTok.
If you are based out of India, follow us on Instagram India and Twitter India for relevant updates, exciting contests, and more!

---