Truecaller Insights: Top 20 Countries Affected By Spam Calls In 2021
Truecaller
Dec 17, 202117 min readEdited on Jun 10, 2022
Our annual Global Spam Report is now in its fifth year. Over the years, it has received widespread media attention, but to be clear, that is not the purpose of this exercise. A lot of work goes into collating this internal data and making sense of it all. We do it because of the larger responsibility that Truecaller has: to understand how spam works around the world and to use that information to better protect people, to make our service better and to build trust in communication.
Introduction
It is worth referencing the 2021 US Spam and Scam Report, released earlier this year and conducted in partnership with the Harris Poll. That report also gives you a sense of how big the problem is by putting hard numbers on the table: 59.49 Million Americans reported having lost money to scams between July 2020 to June 2021 with an average loss per person of 02 USD. This equated to a staggering 9.8 Billion USD loss when extrapolated to the adult US population.

To be clear, this remains a global problem and the reason the spam and scam business still exists is because it is hugely profitable for very little effort and consequences. We need to change that and we need your help to do it.

Truecaller is very little without the help of its over 300 million strong active user base around the world. Millions of lines of code and over a decade of refining machine learning algorithms means nothing if we do not have this support from the community to help us identify numbers and accurately highlight the bad actors. 
Truecaller's Year in Calling 2021
Let's talk about Truecaller's report card for this year. This year, we have been able to help our 300 million users block and identify 37.8 billion spam calls, which is a significant increase compared to last year. We see an increase every year – and it typically correlates to three things: the growth in smartphone numbers, more people trusting Truecaller to identify spam across the world, and an increase in the amount of calls made by spammers. 
We have also helped identify a massive 184.5 billion unknown calls and identified 586 billion messages. Truecaller users made 99.7 billion calls and sent 7.8 billion messages during the period between 1 Jan 2021 to 31 Oct 2021.

A relatively new business vertical for Truecaller is the Verified Business Caller ID. It was designed to fill a big gap in trust when businesses call their customers. Legitimate businesses can get their numbers verified by Truecaller. By doing so, they protect their brand identity because the service locks in their name and logo when they call Truecaller users. Business users also get a distinct green caller ID, verified badge and verified business tag. Consumers stand to benefit the most in this process, since they are better protected from fraud when businesses verify their numbers. In total, 1.5 billion calls have been made by verified numbers. All this (and more) is available on the Year in Calling 2021 microsite here. 
Global Spam Trends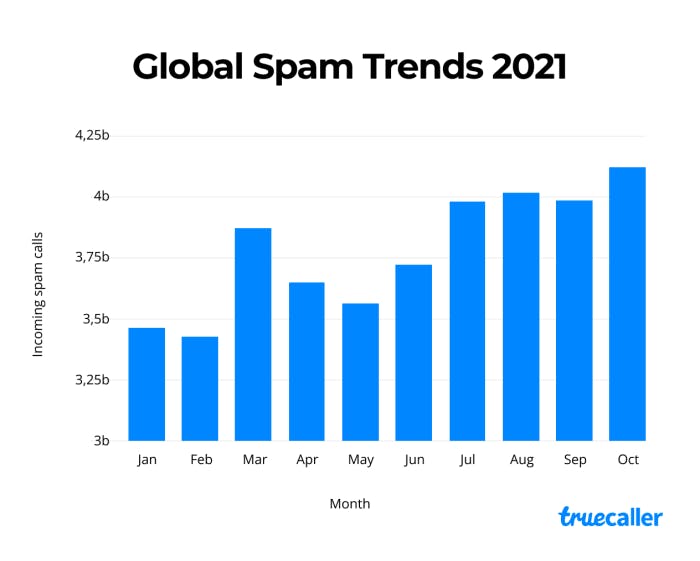 In December 2020, we noted how the world – including spammers – adjusted to the COVID-19 pandemic. As we are still trying to inch towards normalcy towards the end of 2021 (and staying cautious to prevent the spread of new variants), a few trends emerged. Looking at the graph above, there is a noticeable increase in total spam calls in March and it correlates to when there were fierce new COVID-19 waves sweeping across many developing nations. Spammers and scammers wasted no time in capitalising on this opportunity, whether it was about selling life-saving drugs, oxygen cylinders, oxygen concentrators or securing scarce hospital beds. The Truecaller community really banded together at this time, stepping up and marking COVID-related scams and you can see the result in lower numbers over April and May. The downturn could also be a result of high rates of COVID-19 infections across different countries.

As the active cases dipped, there was a direct correlation in spam, and sharp increases can be seen in the months between June and October.  
Top Countries Affected by Spam Calls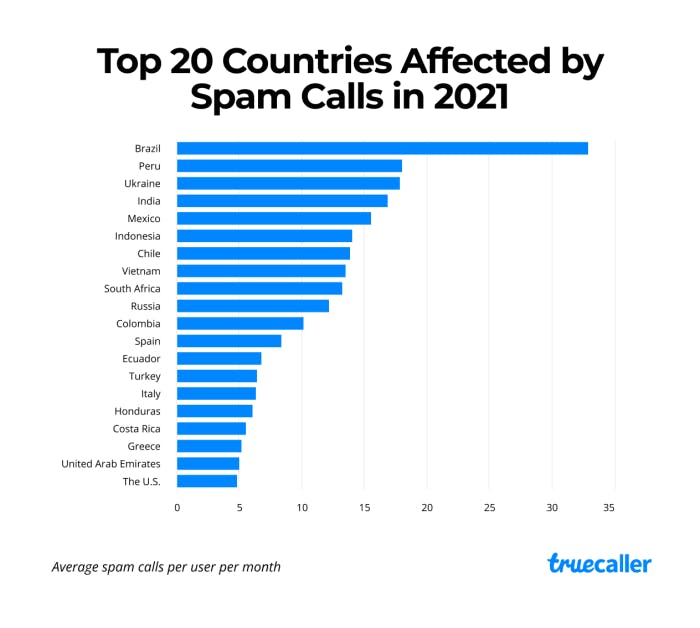 Some Trends and Key Takeaways
In our deep dive, one statistic jumped out right away: over 202 million spam calls were made by just one spammer in India. That's over 664,000 people that were disturbed by spam calls every day and 27,000 people every hour – from just one phone number.
Indonesia has more than doubled spam call volume in our analysis of calls between Jan to Oct 2021. January saw a total spam call volume of 12,580,275 (nearly 12.6 million) and that went up to 25,789,283 (25.8 million) total spam calls in October. On average, Indonesians received 14 spam calls per user per month. 
In Indonesia, about 50% of all incoming calls that Truecaller users received were from numbers not saved in their phone books. 
Brazil has retained its title of the most spammed country in the world (four years in a row) with 32.9 spam calls per user per month. There is a significant gap between the average number of spam calls received in Brazil (32.9 calls per user per month) versus Peru (18.02 calls per user per month) which stands in the second position.
The rankings look very different when you start comparing the average number of incoming spam messages per user per month. Cameroon tops the list, followed by Somalia, Tanzania, Congo, Burkina Faso, Ivory Coast and Benin. Notice a pattern? All of these are African countries. Brazil is eighth and the African countries start off again: Niger, Togo, Sudan, Ethiopia and so on. Clearly, SMS spam is a bigger problem area for users across the African continent. 
In the top 20 countries – Brazil is in a class of its own. The next 10 countries in the list are comparable in terms of number of spam calls received. And the last nine are in a group of their own, between 4.5 to 6.7 spam calls per user per month. 
This report is the result of painstaking analysis of billions of calls received by these 300 million users. Truecaller users have the opportunity to name spammers or tag calls with an appropriate business or identity, helping us assign percentages to different kinds of spam calls. No content of any call or SMS is heard or read by anyone or any machine at Truecaller. All data is aggregated, anonymised and can never be traced to any one user.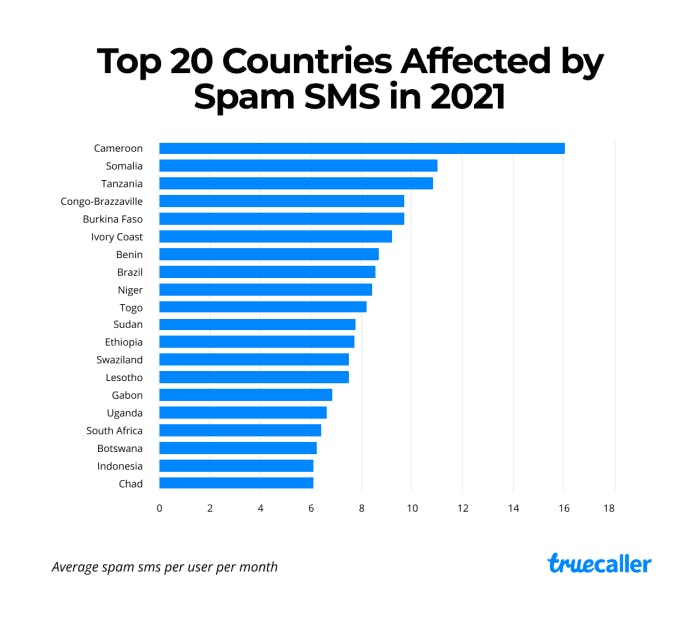 Who Are The Top Spammers?
1. Brazil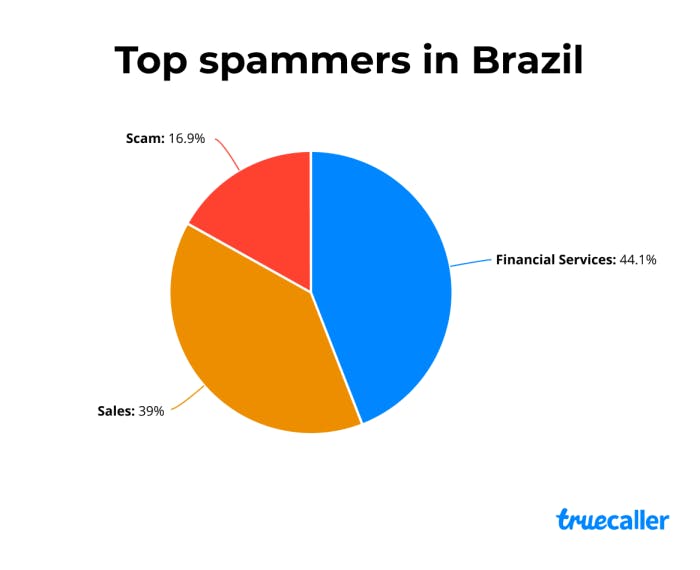 To say that Brazil has a spam problem is putting it mildly. Four years in a row as the most spammed country in the world should be a wakeup call for the authorities there to start putting in place some heavy restrictions and fines for spam and scam activity. The largest chunk of spam calls in Brazil (44.1%) seem to originate from financial services such as banks, credit unions, credit card companies, loan providers and so on. The other significant chunk is all kinds of sales calls (39%) while total scam volume is 16.9% of all spam marked calls. Another number to highlight for Brazil is 32.9 – this is the average number of spam calls every user receives per month and it's way higher than the second country on our list Peru, which receives 18 spam calls per user per month.  
2. Peru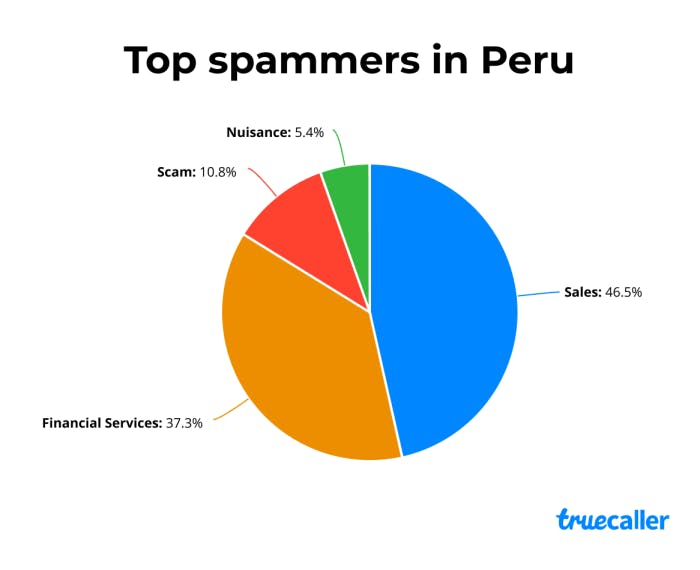 The country seems to yo-yo when it comes to ranking. It was the second most spammed country in 2019, dropped to fourteenth place in 2020 and is now back in second place. It seems like Peruvians need to increase their use of  spam blocking services. In terms of categories of spam, 37.3% of all spam marked calls originate from financial services and a huge 46.5% are sales related or telemarketing calls. The total percentage of scam calls in the country seems to be holding steady at 10.8% (up from 10% in 2020). In terms of total incoming spam call volume though, Peru has seen a significant increase from 7,577,478 (~7.6 million) calls in Jan, 10,242,048 (10.2 million) in Apr, 10,937,939 (~11 million) in July to 12,032,919 (12 million) calls in Oct.    
3. Ukraine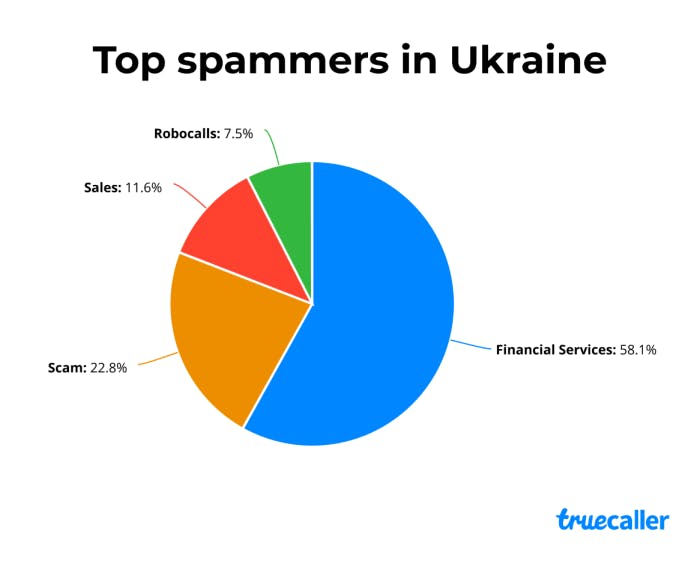 This large eastern European country seems to have a big problem with financial scams. No wonder then that the Security Service of Ukraine (SBU) recently took down six large scam call centers in the city of Lviv. Most of these centers operate with impunity and sometimes with the connivance of local officials because the smaller ones are continuing with business as usual. 58.1% of all spam calls in the Ukraine are tagged by users as financial services, with an additional 11.6% of sales calls and 7.5% of robocalls. Another 22.8% percent are clear scams, no doubt related to the cryptocurrency related scams that are so prevalent in the country.    
4. India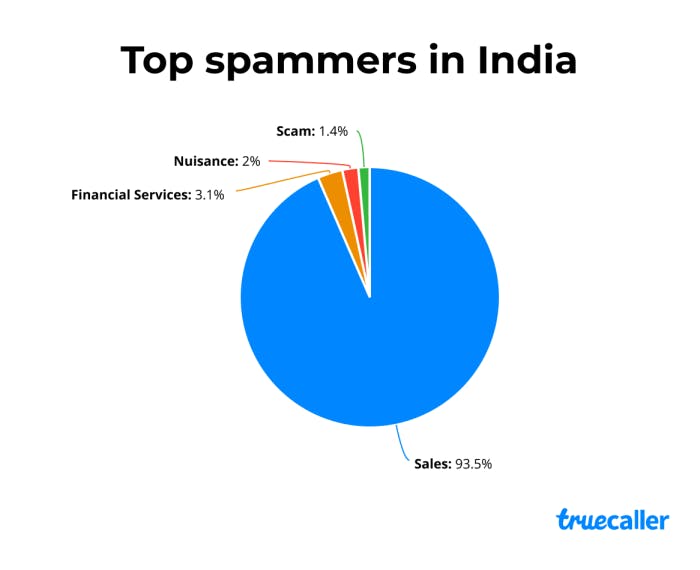 This may sound unbelievable, but it's true: over 202 million spam calls were made by just one spammer in India this year. That's over 6,64,000 calls every day and 27,000 calls every hour of every day. Truecaller actively maintains a list of top spammers in each region in order to automatically block them, but this one spammer is so far ahead of the rest that they will find it very hard to catch up. Makes you wonder how the telecom operators even allow this kind of call volume. The vast majority 93.5% of all spam in India are sales or telemarketing calls (users have tagged these calls as operator, referring to an origin from one of the large telecom providers or telemarketing calls). One of  the common scams in the country remains the ever-popular KYC (know your customer) scam where fraudsters pretend to be a bank or digital payment service, asking for user KYC documents as mandated by the Reserve Bank of India. In addition, multiple user reports to Truecaller mention that the typical way scammers operate in India is to lure unsuspecting victims under some pretext (OTPs, online sales, lotteries)  and get them to download a remote access app which eventually leads to a huge loss of money from banks, cards and digital mobile wallets. Average number of spam calls per user per month stands at 16.8 while total spam volumes received by Truecaller users alone are in excess of 3.8 billion calls in just the month of Oct.         
5. Mexico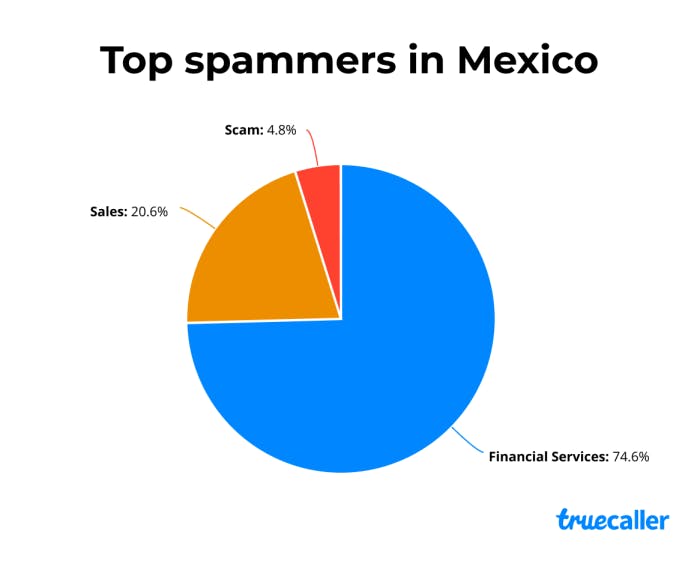 Some users in Mexico have reported scams related to virtual kidnappings and COVID-19 related emergencies. It usually involves a threatening call, claiming that a family member has been kidnapped by the cartel and will be released by wiring some money using Western Union money transfers (which are usually quick and irreversible). These types of scams seem to make up about 4.8% of all spam marked calls in Mexico. Other large bulks are finance and debt collected related calls, which collectively make up 74.6% of all spam calls in the country. In Mexico, Truecaller tracked about 2.4 million spam calls in Jan, going up to 3.2 million calls in Oct. On average, Mexicans receive 15.5 spam calls per user per month.    
6. Indonesia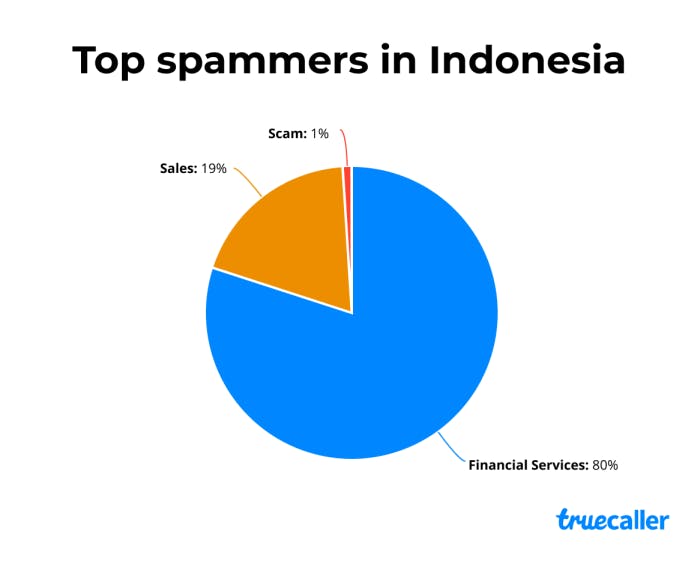 Penipu Berbulu Domba, or 'Wolf in Sheep's Clothing', is the title of one of the recent campaigns Truecaller conducted in Indonesia. The videos are fun but also try to warn Indonesian users of the common types of phone scam. You can watch the videos here, here and here. In Indonesia, scammers have an unusually scientific and precise way of setting sights on their targets, often digging out the complete background and financial history of their target along the way. This is a bigger issue in Indonesia because very few people are recognising scams (just 1% of all marked numbers) while the menace continues to grow. Cyber security agency SOCRadar recently published a threat landscape report for Indonesia which observed that dark web threats are on the rise and that databases of millions of Indonesians were being sold on the dark web with information like names, mobile numbers, date of birth, their national identity number and monthly salaries. In terms of other categories of spam calls in Indonesia, a majority 80% of all spam calls are from financial services while sales calls make up 19%. Another important statistic for Indonesia is that it is one of the two countries in this list (the other being Vietnam) that has more than doubled spam call volume from Jan to Oct 2021. January saw a total spam call volume of 12,580,275 (nearly 12.6 million) and that went up to 25,789,283 (25.8 million) total spam calls in October. On average, Indonesians received 14 spam calls per user per month. 
7. Chile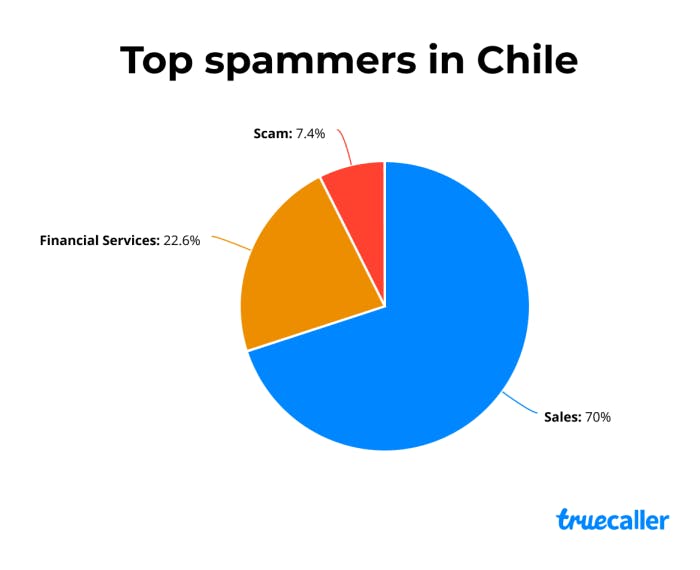 The country has moved up in our rankings again, from tenth position last year while it was in the same seventh position in 2019. Chile has a 'do not disturb' service in place since 2010, but consumers have to request the suspension of unwanted communication after it occurs, which means a community-based reporting structure (like Truecaller) that informs users about telephone spam and scammers is a much better solution. The largest chunk of all spam in Chile (70%) has been tagged as sales or telemarketing calls while 22.6% get designated as financial services and a fairly large portion of 7.4% as outright scam. In Chile, Truecaller tracked 9.4 million spam calls in January, which rose to a high of 13.7 million calls in March before settling at 13.1 million spam calls in October. 
8. Vietnam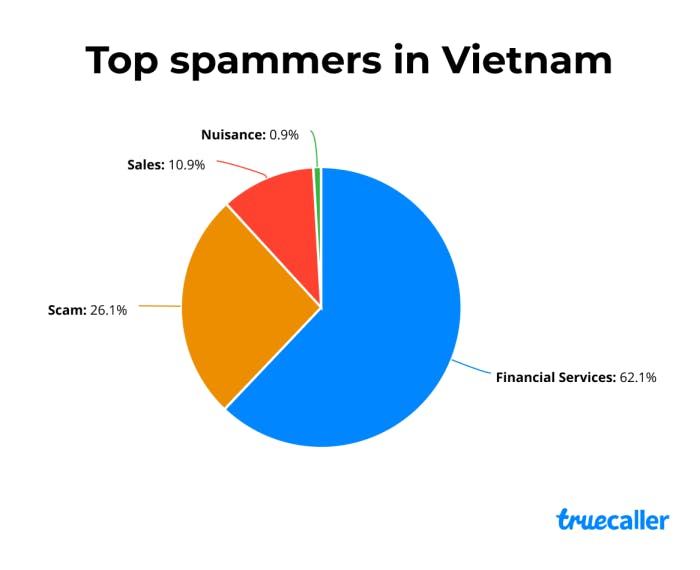 Vietnam has moved up in rankings from twelfth in 2020 to eighth place this year. 2020 was the first time that Vietnam was in the list of Truecaller's 20 most spammed countries, so the problem seems to be growing along with the smartphone market. Among the South East Asian countries, Vietnam and Indonesia typically see significant smartphone growth. The Ministry of Information and Communications in Vietnam notes that the country has recorded double digit growth of the digital economy, which is expected to reach a value of 2 Billion USD in 2025 (with a 29% YoY growth rate expected till 2025). Calls tagged as financial services remain the highest (45% in 2020 and 62.1% in 2021) while a massive 26.1% are scam calls. Vietnam has also seen the highest increase in total spam call volume from Jan to Oct 2021. The country has more than tripled in call volume, from 436,556 calls in January to 1,359,764 (nearly 1.4 million) spam calls in October.    
9. South Africa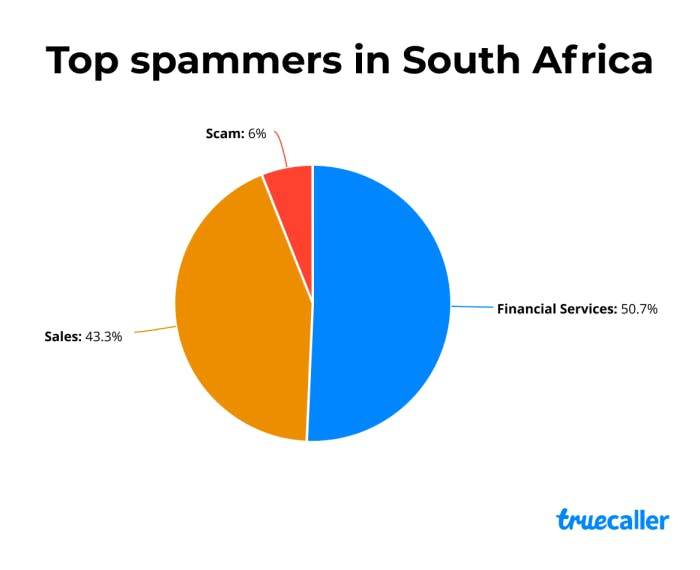 South Africa was typically one of the most spammed countries in the world: fifth in 2017, fourth in 2018 and sixth in 2019. It dropped sharply to seventeenth place in 2020 and has again jumped back up to ninth place this year. Calls tagged as financial services account for 50.7% of all spam calls, an increase from 32% last year. Insurance companies are a big reason for this increase. What's pleasantly surprising is that the instances of reported scams have dropped sharply from 28% in 2020 to roughly 6% in 2021. On average, people in South Africa receive 13.2 spam calls per user per month. 
10. Russia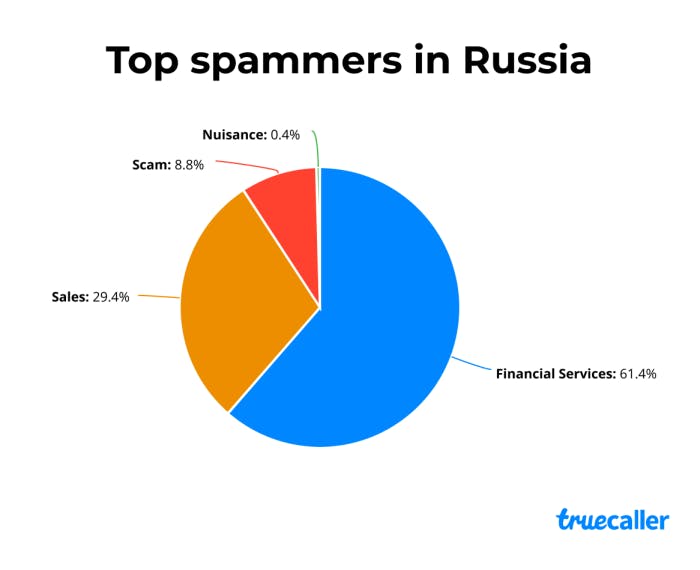 Russia has seen an increase in average volume of spam per user too, and it goes up the ranks from thirteenth place in 2020 to tenth place this year. Spam calls from financial services (banks, card companies, loan providers) have increased sharply as per our analysis, from 30% to more than half of all spam marked calls at 61.4%. According to research firm Statista, in 2021, landlines are the most preferred phone numbers to initiate financial scams (instances are more than double those of mobile numbers). It's clear that Russians need to be a lot more suspicious of unknown phone calls from landlines. This year, sales or telemarketing calls made up 29.4% while clear scams were at 8.8%.  
11. Colombia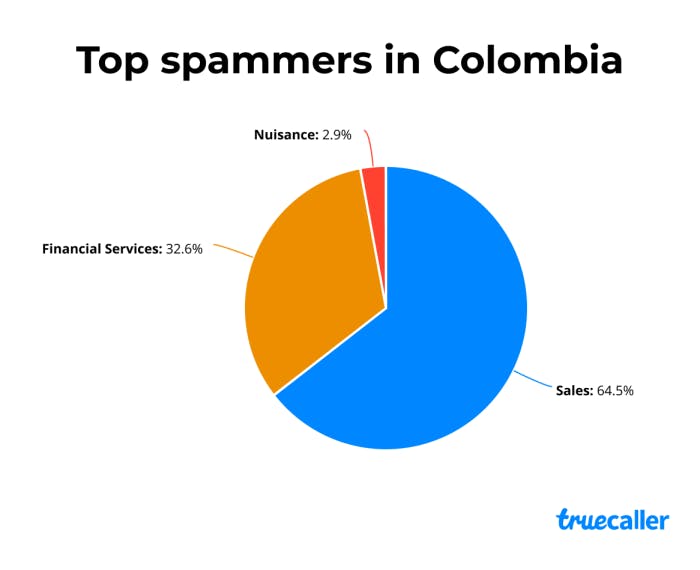 Colombia made a big jump from twentieth place in 2020 to eleventh place this year. It was in tenth place in 2019, and thirteenth place in 2018. 10.1 spam calls per user per month may not seem like much but you need to multiply that by the number of smartphone users in the country, reported to be roughly 70 million as reported by research firm Statista. Calls tagged as sales (mostly from telecom operators) made up 64.5% of all spam marked calls in the country. Calls tagged as financial service made up 32.6% of all spam calls. Colombian dating scams continue to be popular, where users might get a random call from a woman who was trying to reach someone else (and the scam continues in a vein similar to 'honey trapping'). Scammers will likely be stringing along multiple unsuspecting victims for weeks or even months before needing emergency money. Needless to say, Colombians should be wary of transferring any money to anyone they haven't met.  
12. Spain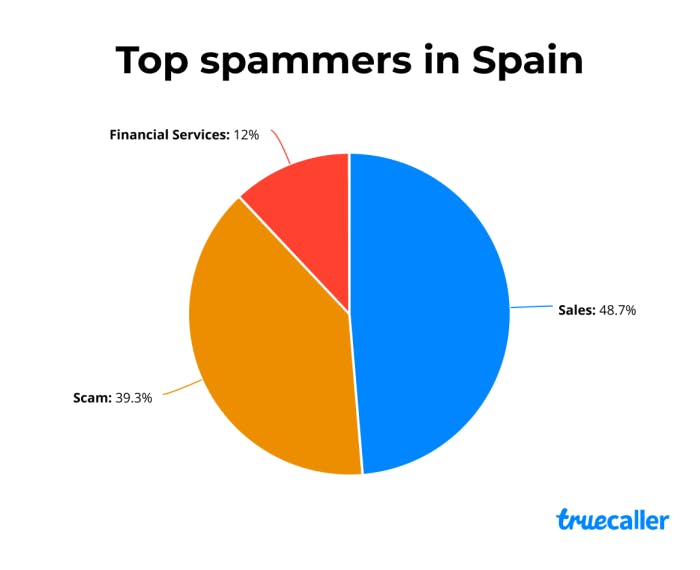 From fifth position in 2020 to twelve this year is a relief to some extent. However, the rise of scams from 22% to 39.3% is a matter of huge concern. Spanish consumers have been alerted to the growing number of scam calls by Spanish authorities; they have observed a new fraud involving fake computer and smartphone viruses. Telemarketers and telecom operators (collectively marked as sales calls) contribute nearly half of total spam calls at 48.7% respectively.
13. Ecuador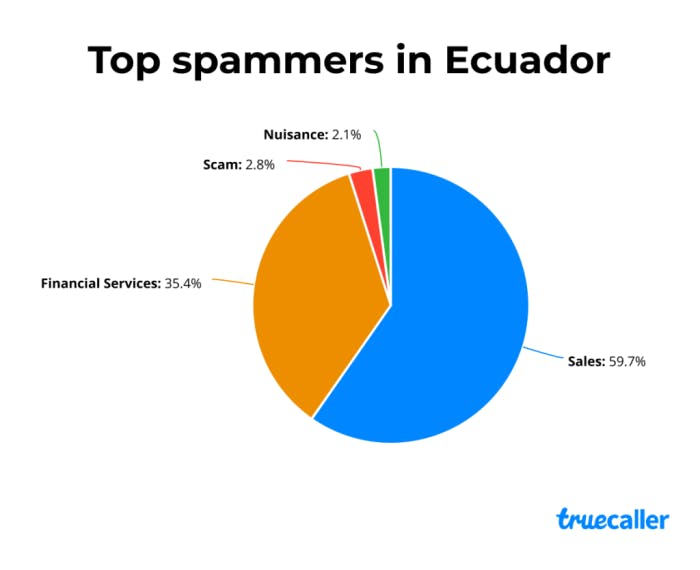 One of the oldest civilizations in South America is a new entrant in Truecaller's list of 20 most spammed countries in the world. The major chunk (59.7%) of reported spam calls were tagged as sales calls, followed by financial services with a 35.4% share. Truecaller users in the country are tagging about 2.1% of all spam calls as scams.   
14. Turkey
Turkey came in seventh place in 2017, fourteen in 2018 but skipped our list in 2019 and 2020. Well, they're back in fourteenth place this year but the overall trend is declining again which means they might skip 2022. In terms of overall volume of incoming spam calls, Turkey had 902,085 calls in Jan but dropped to 758,835 calls by Oct. The most popular type of spam calls are sales calls (67.4%), while financial services make up 20.4% and scam + nuisance calls make up 12.2% collectively.
15. Italy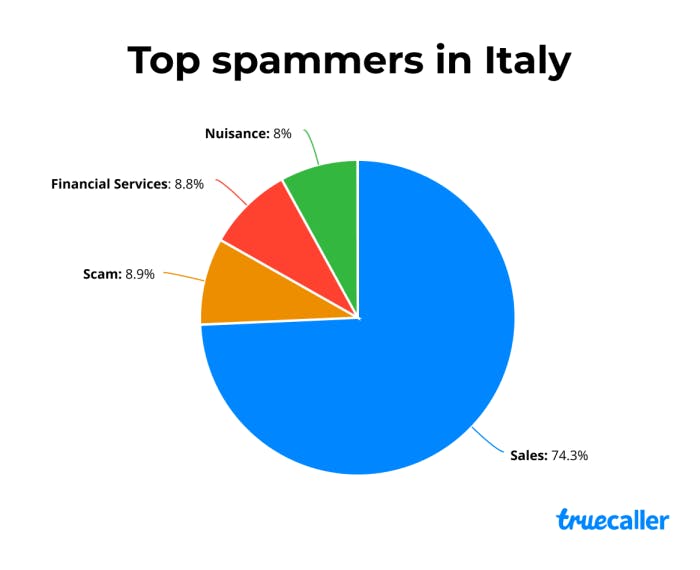 Italian spammers have been fairly consistent in their operations, ensuring that the country made an appearance on the top 20 list in 2017, 2018 and 2019. Therefore, we were surprised when they skipped 2020. They are back with a vengeance and there is a clear majority of 74.3% calls marked as sales. Scam calls are at 8.9% while another 8% are nuisance calls which could be harassment or scams. One of the likely reasons for Italy's absence in 2020 could be the massive fines (27.8 million Euro) the Italian Data Protection Authority imposed on a telecommunications company, based on complaints from numerous consumers between 2017 and 2019.
16. Honduras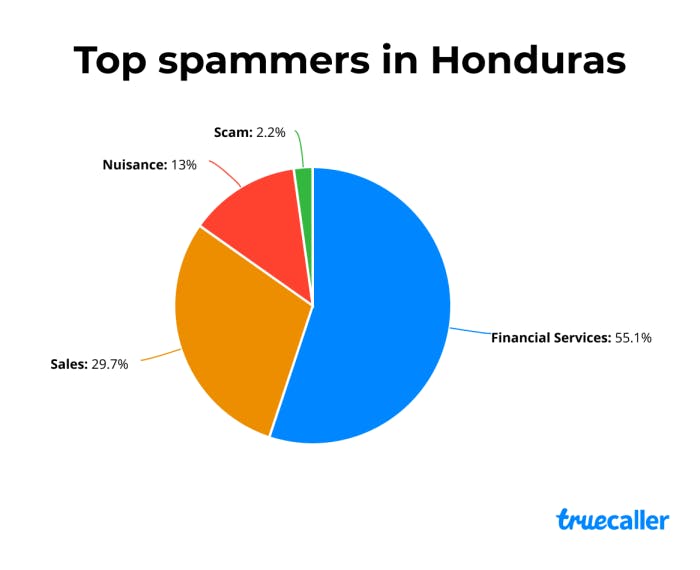 Honduras is a cash heavy economy. With microfinance becoming an increasingly important tool to enhance credit access in the country, the population is frequently bombarded with spam calls from financial services. The country just made its first ever appearance in our top 20 list. The major chunk of reported spam calls in Honduras come from financial services (55.1%). Next big share goes to sales (29.7%) while nuisance and scam calls collectively make up 15.2% of all spam calls.
17. Costa Rica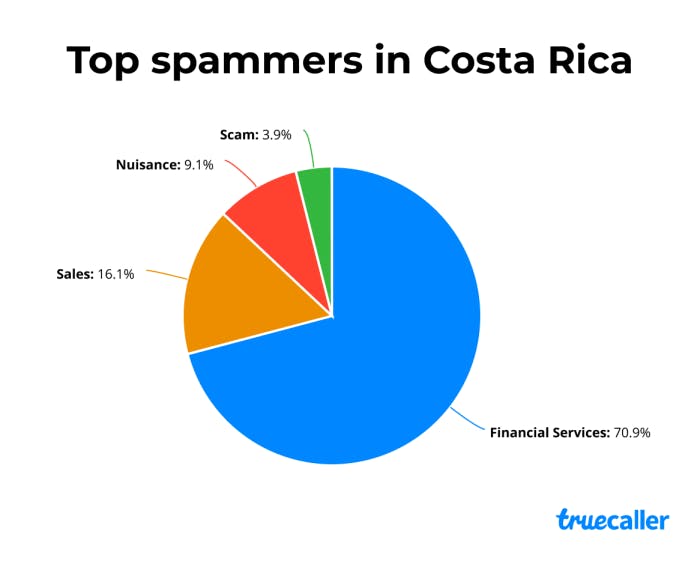 From seventh position on the top spammed countries in 2018, Costa Rica skipped 2019 and 2020 and made a comeback after a gap of two years. We are all aware of the debt crisis the country has been facing for decades (seems like it worsened during the pandemic) and as a result 70.9% of the spam calls tagged as financial services with debt collection forming a big share out of that. Nuisance calls are at 9.1% which could be either related to scams or harassment. The one ring scam is popular in Costa Rica, where scammers will call a person and quickly cut off after just one ring. If the user decides to call back, he/she will be routed via an expensive premium number which siphons money off to the scammer. 
18. Greece
Spammers in Greece took a brief hiatus in 2019 since the country was not in the top 20 list in that year. However, Greece has made an appearance every other year of our report: Sixteenth place in 2017, ninth place in 2018, and eighteenth place in both 2020 and 2021. The big majority of 75.9% of all reported spam calls in Greece are sales related calls but there's also a high instance of scam at 16.3% of all spam marked calls.
19. United Arab Emirates
The UAE likes to visit Truecaller's top 20 list every other year. It was in seventeenth position in 2017, disappeared in 2018, shot to twelfth position in 2019, was absent again in 2020 and has re-appeared in nineteenth place. Sales calls make up the biggest chunk of spam calls in the UAE, accounting for about 75.2% of all spam calls reported by Truecaller users. Another 23.4% spam calls are related to financial services. Scam marked calls stood at just 1.4% with several users reporting the typical lottery type scam calls (you receive a call claiming you've won a random lottery, but you have to pay a small amount to receive your prize).    
20. United States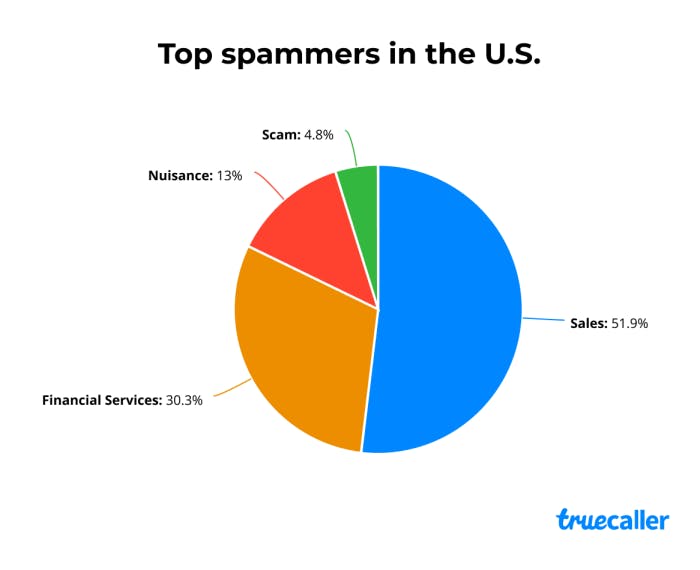 Looking at total spam call volumes received by Truecaller users in the US, it has remained fairly consistent from Jan to Oct 2021. From 3,016,550 (~3 million) spam calls in Jan, to 2,970,134 (~3 million) in Apr, 2,849,676 (~2.8 million) in July and back up to 3,115,861 (~3 million) in Oct. One likely reason for the US dropping in the rankings is spam call volumes increasing in other countries (for instance, Vietnam more than tripled spam call volumes from Jan to Oct and Indonesia doubled in the same period). 
It's important to note that this spam call volume mentioned here does not represent the entire volume of spam but is data from Truecaller users in the US. The total number of smartphone users in the US is just over 294 million according to research firm Statista. Since we have an average of 4.8 spam calls per user per month, extrapolating the figure equates to a staggering 1.4 billion spam calls per month. 
Notes & Methodology
The data in this report was aggregated anonymously from incoming and outgoing calls & messages for all our users during the period of January 1st, 2021 to October 31, 2021. No context of any calls or messages was read. During this period of time, we helped our users identify 184.5 billion calls and helped identify 586 billion spam SMS globally.

For more detailed statistics on all calls and SMS blocked and identified, please refer to the Year in Calling 2021 results here. Please click here to read the previous report from 2020. Due to a slight change in methodology & analysis, it may not be possible to directly compare the 2020 & 2021 reports. Our previous report from 2019 can be found here, the 2018 report can be found here and the first edition of the report (2017) can be found here. 
Category Key:
Companies or people calling to sell you something, usually without your prior permission. This includes telemarketing calls, promotional calls from companies, surveys, political calls, new client outreach for services, subscriptions, hospitals, health care services, private medical practice, pathology labs and so on. It also includes calls from cellular operators (telecom companies) trying to upsell data plans, promotions, etc.
Nuisance: Due to this being a broad spectrum of calls, this is defined generally as: calls that are unwanted, a disturbance for users, harassment or pranks.
Financial services: Banks, credit unions, credit card companies, insurance companies and debt collection agencies (organizations that specialize in payments of debts owed by individuals or businesses, bounty hunters, collection agents).
Robocalls: Robocalls are automated calls that are placed to people with a pre-recorded message. Some of these calls can sound like real people talking. When you reply to their queries, they can be very sophisticated, using voice recognition technology to answer and ask follow-up questions.
Scam: Fraud attempts, money swindling, unknown links, phishing attempts etc.
---