Let It Ring India - Truecaller Assistant is Here to Take the Calls!
In India, answering every call is cultural. Missed calls can cause unease for busy individuals as they hold potential opportunities like new business connections, new job offers, and so on. That's where Truecaller Assistant steps in, offering you a new way to handle the ringing phone. Keep reading to find out more!

While Caller ID helps identify incoming calls, the Assistant takes it a step further by not only answering the calls but also engaging with them. In the following sections, you'll discover how this one-of-a-kind premium feature is like having an extra set of hands dedicated to answering calls. It ensures you only engage with important callers and saves you from wasting time on irrelevant ones. Interesting, right? Let's dive in further.

Note: Truecaller Assistant is available on Android devices only.

So, how does the Truecaller Assistant work?
First off, this assistant doesn't need a strong cup of coffee to get started! Once activated, it's ready to handle your calls. When you receive a call, simply click on 'Assistant' to screen it. If you're unable to do so because you're away from the phone, the Assistant will step in and answer the call after a few rings.

What happens during the screening process?
When the call is routed to the Assistant, it greets your caller and utilises advanced speech-to-text technology to identify the caller's identity and the reason for their call. Real-time details appear on your screen, empowering you to make an informed decision about whether to answer the call or not. It's like having your own personal call-answering sidekick.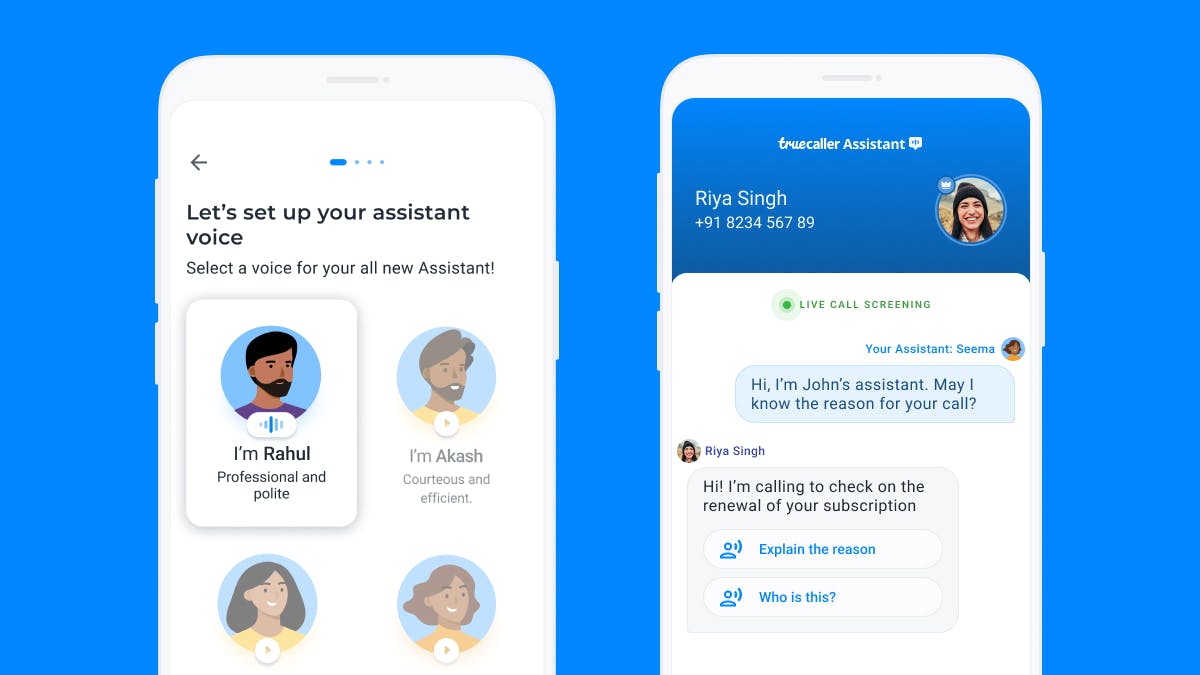 What are the various features and how will they benefit you?

Enhance the calling experience for both you and your callers with the diverse range of features offered by Truecaller Assistant:
Range of Voices: Truecaller Assistant offers a total of 5 different voices, including both male and female options. Choose the voice that suits your preference and add a personalised touch to your call screening experience.

Speech to Text: With advanced speech-to-text technology, the Assistant transcribes the caller's message into text in real time. This feature allows you to quickly and easily read the purpose of the call without having to listen to the entire conversation.

Supports Prime Languages: The Assistant has the capability to comprehend multiple languages including English, Hindi, and other regional languages, ensuring that you can screen calls and understand the caller's intent regardless of the language they speak.

Recording of the Screening: This feature allows you to review the call details later, ensuring that you don't miss any important information or forget any details shared by the caller.

Customisable call greeting: You will have the option to customise the greeting that the Assistant conveys to unknown callers. With this feature, you can personalize the message that the Assistant delivers when it answers a call from an unidentified number.
So India, now you know that it's perfectly ok to let your phone just ring sometimes! Truecaller Assistant has got you covered with its thoughtfully designed features. Whether it's answering calls, screening the important ones, or providing prompt responses, the Assistant is here to transform the app experience for the Truecaller community on Android. Get ready to confidently handle your calls and make the most of every opportunity that comes your way.
Our mission at Truecaller is building trust in communication. We believe that educating you about our features is essential for helping you navigate a world where unwanted communication and fraud are common occurrences in your daily life. So, we strive to provide you with the information you need to make the most out of Truecaller.

Stay updated about recent scams, and watch the latest Youtube videos on how you and the 338 million-strong community of people using Truecaller every month can stay protected. You'll find us on Twitter, Facebook, Instagram, andTikTok.

If you are based out of India, follow us onInstagram India and Twitter India for relevant updates, exciting contests, and more!
---