Smarter Messaging with Classification, Smart Notification and Backup features for Truecaller
At Truecaller, we are trying to make your lifestyle easier by providing tools for safe and efficient communication – and a smarter messaging falls right in line! We understand what a messy inbox looks like, especially with all the incoming OTPs, transactions, and promotions. Our newest SMS features on Android are here to help give you peace of a mind when scrolling through your messages!
Smarter Notifications
When you receive a transaction SMS from your bank, it's usually loaded with a lot of information. You want just the numbers, right? With the newest Truecaller update, you'll receive instant and glanceable notifications for transactions and bill reminders! Smart Notifications scan through incoming messages locally on the phone servers and creates a 'smart card'. This highlights relevant information like OTP number, transaction amount or payment reminders to act on.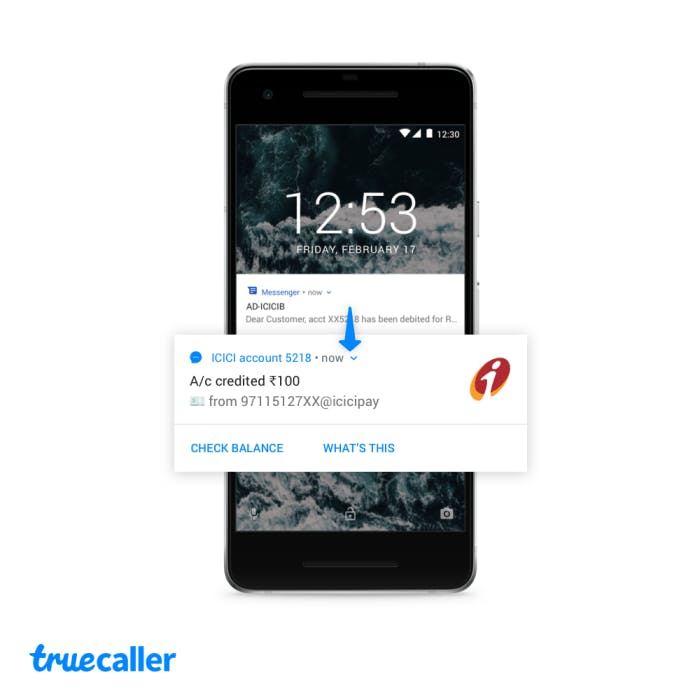 Currently, smart messages are available in India from HDFC, AXIS, ICICI, CITIBANK, SBI, Bank of Baroda, PNB, BOI, Union Bank and mobile operator including Airtel, Idea, Jio and Vodafone. In line with Truecaller's aim to provide secured tools, this feature is also designed to work completely offline and will only take place onThis will ensure that no transactional information or OTPs touch Truecaller servers. Users can choose to disable this update when preferred.
SMS Classification
SMSs are so frequent that even important messages are sometimes treated no differently than spam, coupon codes or promotional updates. SMS Classification, equipped with advanced machine learning, will help sort messages into 3 groups (contacts, others, spam) based on the content of the message.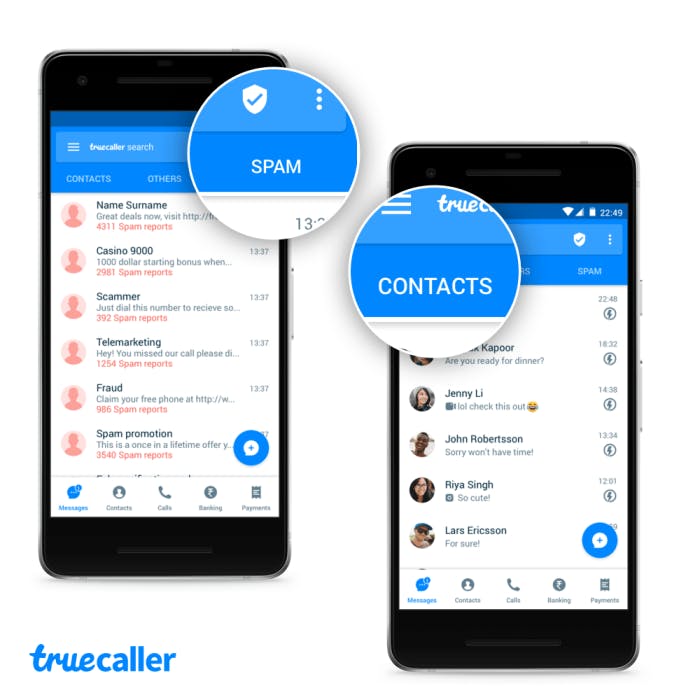 For instance, personal messages will be shown under the 'Contacts' tab, blocked/top spammer messages will directly land under the 'SPAM' tab while rest of the messages will be classified as 'Others' based on the content. The classification happens offline and locally on the user's phone without any data being stored on Truecaller's servers.
SMS Backup
With just a click of a button, Truecaller will backup all your contacts, call history, call logs, block list and settings preferences! With the new update, SMS will be included in a backup file stored on your Google Drive. If you don't already have a Google Drive account you'll be prompted to create one.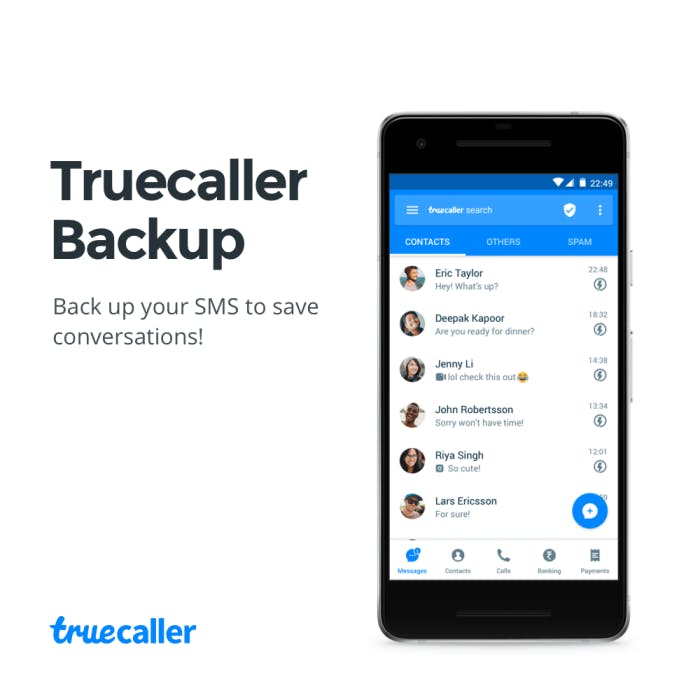 To enable Truecaller Backup:
Enable feature through the wizard or within the app settings
Select Google account to store the backup
Grant Truecaller access to Google Drive
More support questions for Truecaller Backup can be found on our support page.
---