Truecaller Voice: Interruption-free, HD Calls, Even on Low-speed Internet
Make HD-quality calls with Truecaller Voice, even with slow Internet connection or poor mobile service. Voice calls include caller ID and call waiting!
Make Internet or regular phone calls
Truecaller Voice lets you choose and switch between HD Voice and regular phone calls. Mobile not in range? Make an HD Voice call! Poor Internet connection? Make a regular phone call! Whatever the situation, Truecaller's got you covered. (Note: Voice needs Microphone permission to work.)
HD-quality calls
You can't have a quality conversation without quality sound.Truecaller Voice gives you both. No more "What? I'm losing you" or "Can youhear me now?" Instead, you're free to talk smoothly and clearly, no fading or interruptions.
Interruption-free
Now there's call waiting that doesn't automatically pause your current call when another one comes in! We let you know you're getting another call without auto-pausing the first one. (It works for both regular phone calls and Internet calls.) You get to decide which call is important.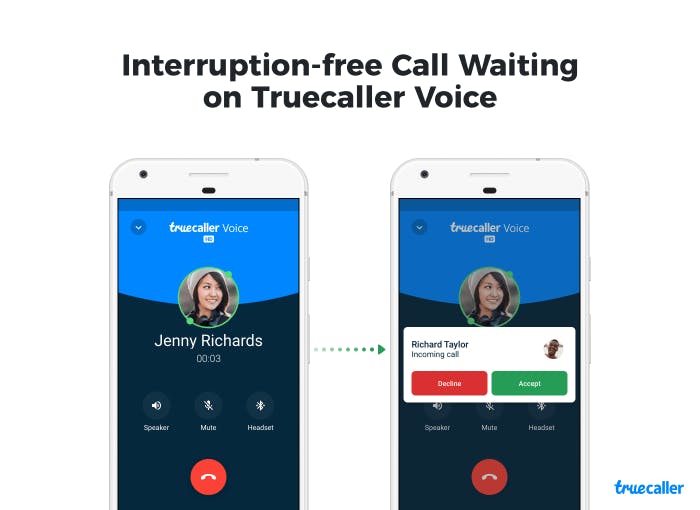 Caller ID of unsaved numbers
When you're using Truecaller Voice and another call comes in, our caller ID and spam detection tells you who's calling! That way, you can decide to put your current call on hold while you answer the new call, or you can ignore the spammer trying to reach you and keep chatting carefree.  (Yes, Truecaller even detects scammers trying to get through on Internet calls.)
Truecaller Voice provides the tools you need to make clear, high-quality calls with WiFi or mobile data. To answer or not to answer: the choice is yours, and Truecaller gives you what you need to make the right call.
Try making a Truecaller Voice HD call today! Look for this icon:
---