Truecaller Insights 2016 Special Report: A DIVE INTO THE MENA REGION'S E-COMMERCE AND CAB HAILING INDUSTRIES
In this first edition of Truecaller Insights MENA report, we are looking at the car sharing and e-commerce industries in the MENA region and how they're being reshaped by the mobile phone revolution.
We'll look into the dialing habits and try to understand how users are interacting with these companies.
CAR SHARING SERVICES – A THREE WAY RACE BETWEEN UBER, CAREEM & ALLO
Call volumes to a car service from Truecaller users in the MENA countries came in at just under 2 million calls in Q4.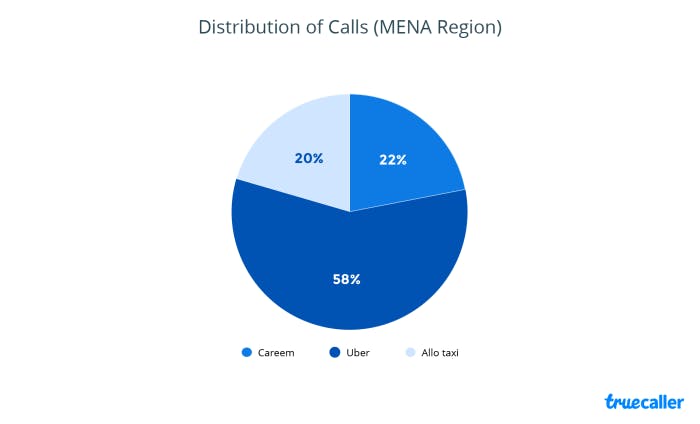 Between the 3 main players – Uber, Careem & Allo – Uber takes the largest share of phone calls with 58%, close to two times more than either of the local players.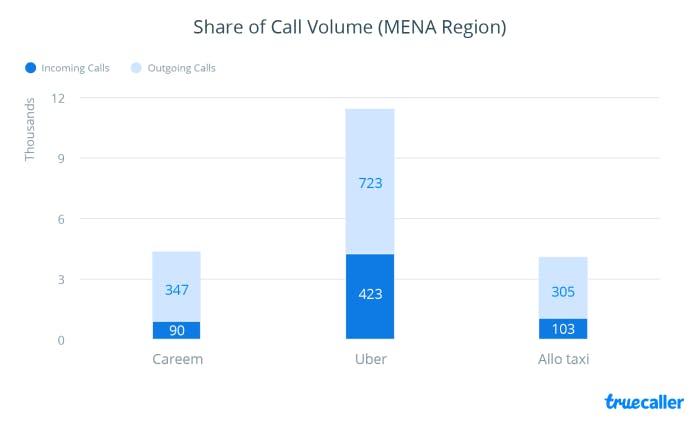 When looking at incoming vs. outgoing calls over this entire period, we see that Uber made 722,000 calls to its users in Q4, while 422,000 calls were made by users – which accounted for 1.14 million calls between Uber and its users. Careem users received 347,000 calls from the company in Q4, and called the company 90,000 times – which totalled 437,000 calls. And finally Allo users received 305,000 calls from the company in Q4 and called the company 103,000 times – which totalled 408,000 calls.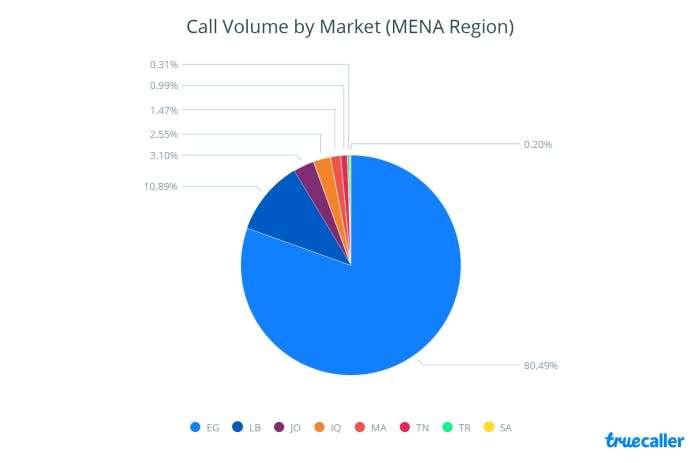 If we dig into the data and look where these calls are being made, we can see that Egypt dominates, which is likely thanks to their large population advantage and Truecaller users. Lebanon also shows extremely strong affinity for car-sharing services considering their small population size.
E-COMMERCE ACROSS MENA – LOCAL PLAYERS DOMINATE THE LANDSCAPE
The MENA region is known for it's love of shopping, bazaars and small shops abound. But when it comes to e-commerce we see that it's still a small, but very fast growing market with total turnover of 5BN in 2016.  The market is dominated by local players with Souq, Edaf3ly and Dubizzle/OLX leading the way.
From October 1st to December 31st 2016 MENA region smartphone owners using Truecaller made or received more than 41.6 million calls to or from an e-commence company.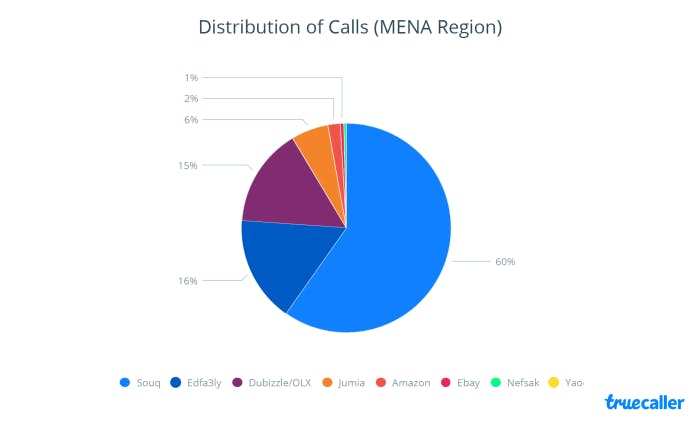 The majority of these calls are being made to and from four companies: Souq (which has almost 3x as large call volume as the next largest player), Edfa3ly and Dubizzle/OLX and then Jumia. Global players such as eBay and Amazon have a much smaller presence in these markets.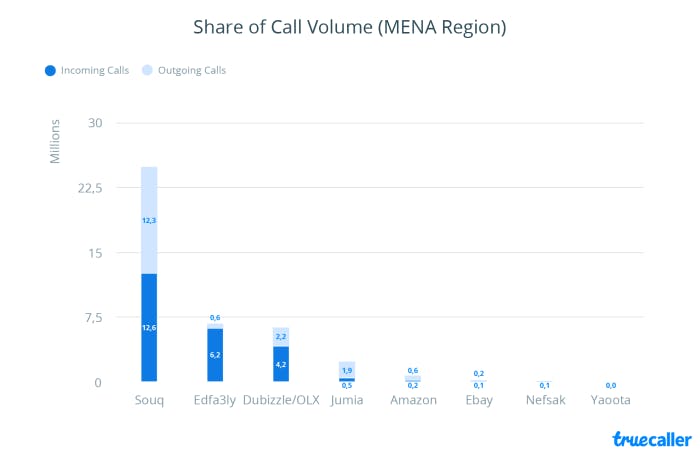 When looking at the volume of incoming calls compared to the volume of outgoing calls, we see that split can be widely different. For Souq there's close to a 50-50 split between incoming and outgoing. On the other hand Edfa3ly customers overwhelmingly receive more calls from the company than they make.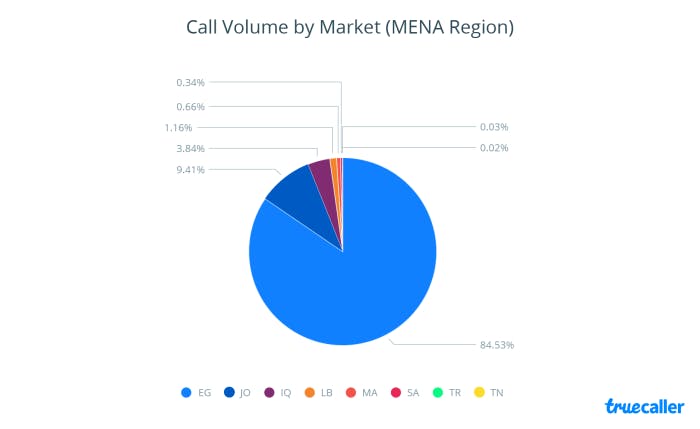 Similar with the car sharing industry, Egypt dominates when looking at the call volumes. But Jordan, another smaller country with a population of just 6.5m, grabs almost 10% of the calls to or from an e-commerce company.
What is Truecaller Insights?
Being data driven is an extremely important trait for Truecaller, throughout our app lifetime we have discovered and predicted amazing trends just through our internal statistics. Truecaller Insights aims to provide relevant and data-driven reports about market trends. The insights come from a mix of engineers, data scientists and marketers who put their heads together to tell data stories in an interesting and informative way.

Note & Methodology
The data in this article was aggregated anonymously from incoming and outgoing calls to e-commerce and cab hailing services in selected parts of the MENA region (countries include: Lebanon, Egypt, Tunisia, Yemen, Morocco, Jordan, Iraq, Saudi Arabia, Turkey and Israel) during the period of October 1st, 2016 to December 31th, 2016 to understand the trends and usage. Calls from a user to retailer (or vice versa) can be anything related to purchasing, complaint, customer service, delivery etc. These insights are purely based on our internal data and does not reflect the entire usage of any of the services and Truecaller does not warrant the accuracy or completeness of such data, and all derivative conclusions or assumption are those of the readers only. All brands mentioned are the property of their respective owners. Use of these brands does not imply any co-operation or endorsement.
---