Truecaller Insights: The Impact of Harassment Calls & SMS for Women in India, Brazil, Colombia, Egypt and Kenya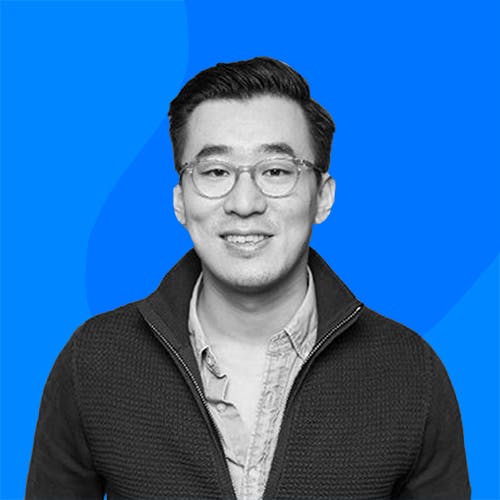 With smartphone use increasing throughout the world, especially in emerging markets, digital inclusion in low and middle-income countries (LMICs) has increased significantly in the past few years.
According to a report released by GSMA in 2019, 1.7 billion women now own a mobile phone in LMICs. As smartphones have become an essential tool for women to communicate and handle their day-to-day responsibilities, there is also a grim reality behind this: women are being harassed on their phones.
Over the years we have received countless complaints and feedback on the extent of this problem globally. In a study conducted by Plan International, sexual harassment is the biggest global safety concern for girls and women.
That is why we decided to investigate this issue and research how extensive this problem is. We conducted our first study two years ago on the impact of harassment calls and SMS on women in India. Our results found that 1 out of 3 women receive these types of unwanted communication regularly.
This year, we decided to expand the study to other parts of the world: Brazil, Colombia, Egypt and Kenya. The decision to examine these countries are based on previous reports and studies but also on feedback we have received from our community that this is an ongoing issue.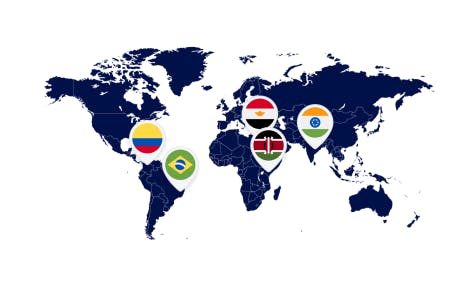 In this report we combine quantitative research to get the statistics behind this problem, with face to face interviews. Local women have provided their harrowing stories for us, giving context and reality to the data. The quantitative research was conducted by the world-leading market research agency, Ipsos. The qualitative research was conducted by local teams in all the countries, talking to women willing to share their experiences. 
We are forever grateful for all the brave women who were willing to share their stories with us – it takes a lot of courage to do what they did. 
These are the key findings from the report:
Harassment & nuisance calls among women is more than common: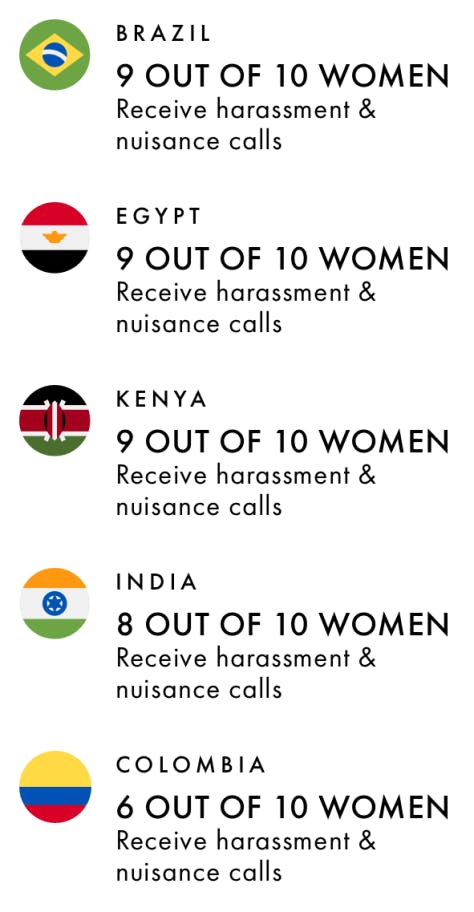 Harassment and nuisance calls among women are very common in the countries, especially in Brazil, Kenya and Egypt where 9 out 10 women receive these types of calls.
Women in Egypt receive the most sexual or inappropriate calls and SMSamong the countries: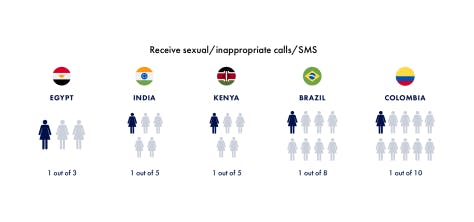 Looking at the data, sexual and inappropriate calls are quite common among women in each country. Women in Egypt (1 out of 3) receive these types of calls the most.
Have sexual harassment calls & SMS been normalized?

Women in countries across the 3 continents are not regarding all of these inappropriate calls and SMS as harassment. Despite it being common for women to receive sexual or inappropriate calls and SMS, there's a concerningly low percentage of women who think these types of calls constitute harassment.
In some instances, the study showed that Brazilian women do not always associate unsolicited calls as being a form of harassment, even when it involves sexual and offensive content.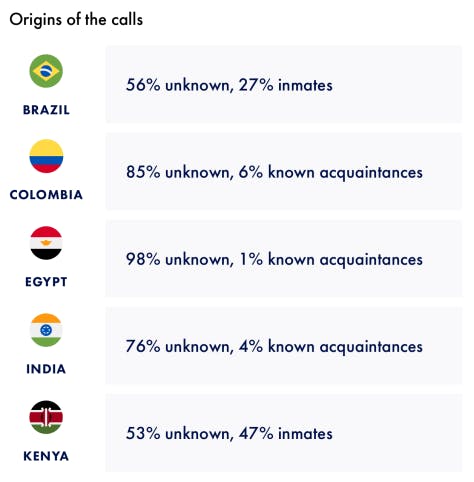 The majority of sexual or inappropriate calls come from unknown people, and a very low percentage are ever identified. Shockingly, in countries like Brazil and Kenya, a lot of these calls come from inmates. It is common that inmates in prisons have access to a phone and randomly call people and especially women to harass them.
Women in metros are most affected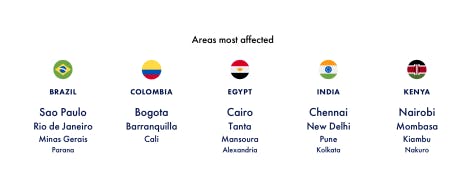 The common thread amongst the countries is that womenin metro areas are most affected by sexual harassment calls/SMS.
Women are angry and afraid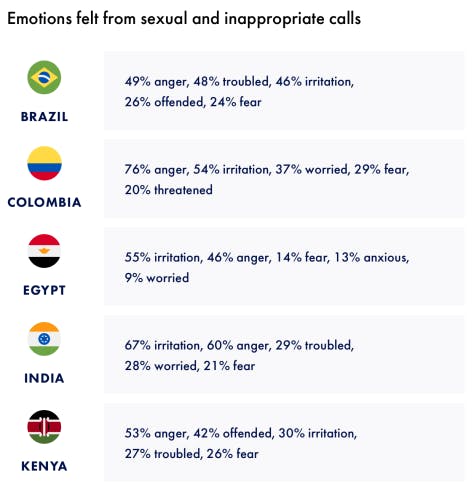 The research reveals that harassment elicits strong reactions from women. Anger and irritation are the most common feelings toward sexual and inappropriate calls and SMS across the countries. Fear and worry are also common feelings that arise when women receive these types of calls.
Despite actions taken – very few reports to authorities.
More than half of all women take action against harassment calls. An exception to this was Kenya, where there's a very low rate of women taking action. It is difficult to pinpoint why this is the case, but interviews with Kenyan women revealed some information about local attitudes: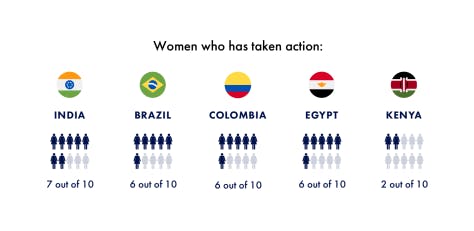 says Esther, Accountant, Kenya
For Kenyan women, with little support from authorities and local attitudes, harassment often has to be severe before women speak out. 
Blocking phone numbers is the number one action taken to stop harassment calls – followed by ignoring them. What is alarming is that very few women report to the authorities, and Egypt was the country with the lowest percentage in this regard.
says Isabel, Veterinarian, Brazil.
India has the highest rate of women taking action against harassment calls/SMS.
The full report is available here.
Research Methodology:
This research was conducted by Truecaller with support from Ipsos in India, Brazil, Colombia, Egypt and Kenya. Ipsos used amobile-based approach for data collection and the same questionnaire was used across the region. In countries like Brazil, Colombia and Egypt thequestionnaire was translated to the local language with minor localizationtweaks.
The survey was conducted from the period November 22, 2019, to February 24, 2020. The sample size varied from 1000 to 3343 women for each market among the age group 18-40, and women in socio-economic classes A, B, C1 and C2.
All the in-person interviews were unscripted and sourced locally. Some of the women were paid a small gratuity fee to cover their travel expenses and for their time. Some wanted to be anonymous to protect their identity.
The video series is available at:
For graphics please visit:https://www.dropbox.com/sh/fbrs00gdfkhyc8k/AACLh5sEjx_M0HFVosHRbQxua?dl=0
For more information, please contact: press@truecaller.com
*Update: March 18th 2020 – sample size for Brazil was 1000 women with a margin of sample error of 3.1p.p.*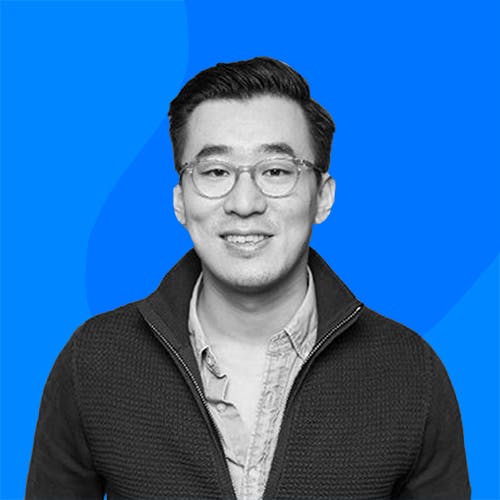 ---