From University to Truecaller: Erik and Raj's Internship Experience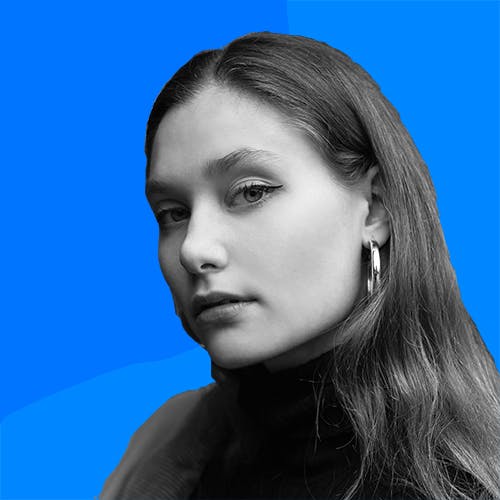 Antia Bagni
Aug 24, 20215 min readEdited on May 18, 2022
Meet Erik and Raj. They joined Truecaller as talented interns for the summer. So how did their paths cross from university to an internship experience together?
A year ago, Raj put on a backpack, full of life-long dreams, and said goodbye to India. Instead, he said hej 👋 to an entirely different environment.
His destination ✈️? The Nordic country of Sweden. Looking for new experiences, he decided to leave his hometown and study a Master's program in Business and Intellectual Capital Management in Gothenburg. 
During his first day at Chalmers University, he met Erik without knowing that their paths would soon crossover again. Due to the pandemic, they had to begin studying at home, so they didn't have the opportunity to get to know each other better until their internship took place. 
Yet, destiny had its own plans in store for them. They have now been working side by side at Truecaller for eight weeks during the summer break, bringing new and fresh ideas to the Management team. What is it like to work as an intern at Truecaller? Let's dive in and find out by asking our interns. 
What's your role at Truecaller? 
Erik & Raj: We are Intellectual Property Interns. We work with the Management Team to figure out an efficient way to work and manage Intellectual assets developed within Truecaller. We also look for improvements that could be implemented to work even more efficiently with IP.
What made you decide to apply for Truecaller? 
Erik: I felt like it was a unique opportunity to work at a company that has grown so much but still is at an early stage. I also like the point that Truecaller's business is all about helping people and making everyday life easier for their users. I felt like I would love to contribute to that in any way I could. 
Raj: There are many reasons. I knew about Truecaller as an app ever since I started using a smartphone. In India, it is a brand that almost every smartphone user knows about. Also, when I was applying for internships, the news of various Swedish unicorns were floating around in the media, one of them being Truecaller. How does one not apply to such a company?! Another main reason was that I wanted to see how a software company works from the inside since I am a mechanical engineer. I had never seen how the processes and the workflows looked within a software company.
How did the application and interview process go for you?
Erik & Raj: We sent our internship applications to Truecaller, and Fredrik Kjell reached out to us for an interview. After our meeting, Fredrik asked us to provide him with a case involving certain things. Once we handed in our tasks, Fredrik reached out to us again and asked us if we would like to have a spot as an intern at Truecaller.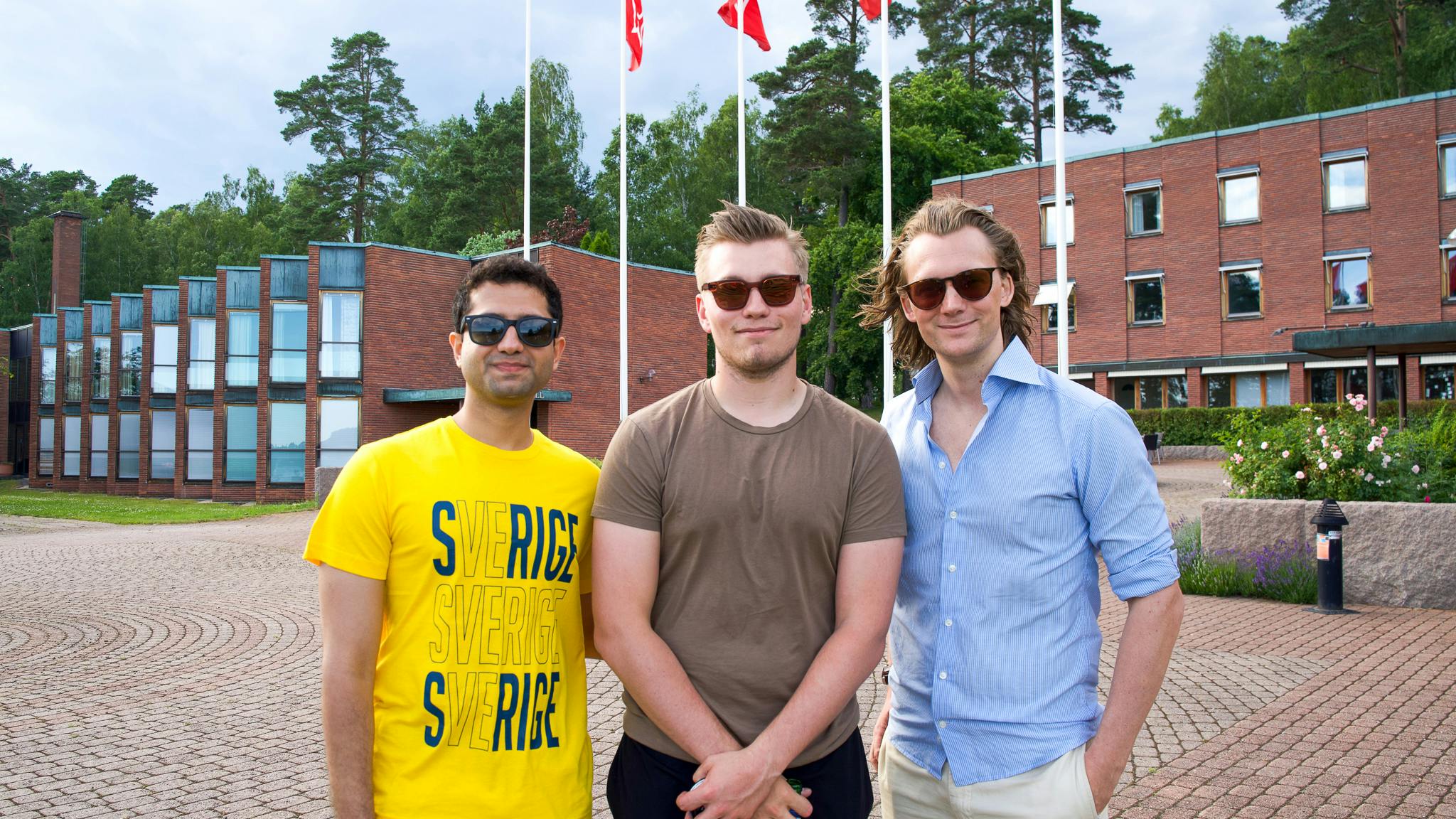 How was working side by side with your university colleague? 
Erik: It has been great! We didn't know each other that well since our studies had been carried out remotely, so getting to know each other for real has been great. Since I am a law student, and Raj is an engineering student, we have also complemented each other while doing our work. We are from different student backgrounds. Therefore, we have contributed with different competencies. This has been key during our internship. 
Raj: Same! A significant revelation was also made clear to me, Erik runs on caffeine 😜.
What does your typical day look like?
Erik: A typical day, we come into the office and have some breakfast and a coffee. 
Raj: One thing I particularly like is the coffee, BEST Coffee ever haha. 
Erik: Then we sit down in front of our computers, we check emails and communications to make sure we are up to speed. We usually have some meetings scheduled during the day, so we prepare and have the meetings. When we do not have any meetings scheduled, we regularly try to work on our given assignments as much as possible.  
What were the main challenges you faced while doing this internship during the pandemic? 
Erik & Raj: Everything has been really smooth while working during the pandemic. We think the most challenging part has been to get to know all the people within Truecaller since many people work from home. Sometimes, it's difficult to just run a quick question by someone while passing by, since you will have to set a meeting or reach out by email instead.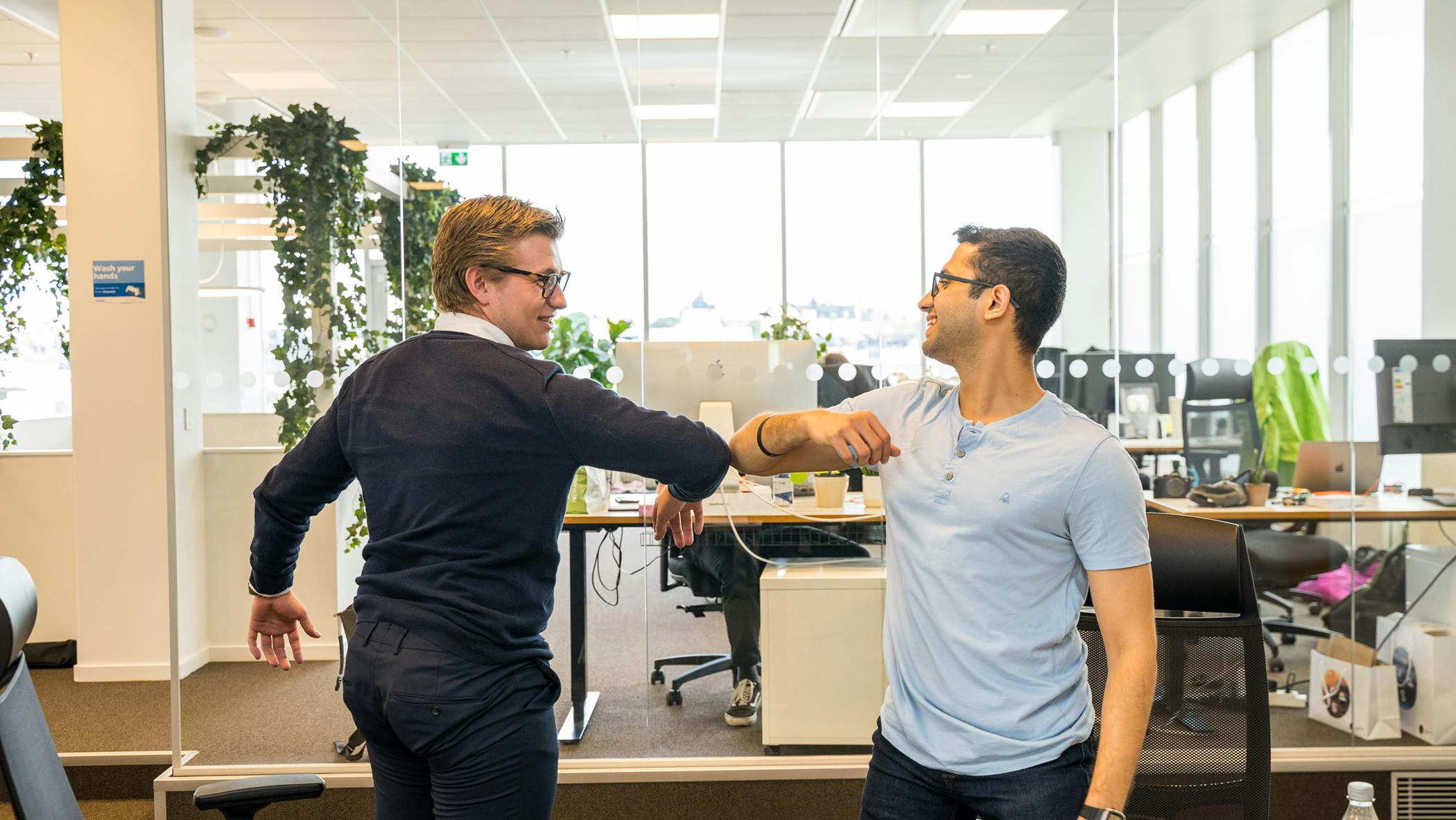 What is the most important thing you learned during this internship?
I have learned so many things. It is so difficult to pick just one, but I would say the importance of communication and dialogue with colleagues. 
Raj: I have learned a lot. Now I have a general understanding of how a software company works: the development process, the roles, the responsibilities of developers, the ethics that should be followed. This last part is particularly relevant in a company that works so closely with sensitive data. One thing I know for sure is that Truecaller is more than what meets the eye. It's way more than what people perceive it to be. For example, the Guardians app has been developed with no purpose other than giving back to society and adding value to the brand, rather than making a profit from it.
What advice would you like to share with future Truecaller interns? 
Erik: My number one advice would be to be fearless. Never hesitate to ask people questions or reach out for a meeting. Everyone is really friendly, and the atmosphere at Truecaller is amazing. People will always look for ways to help you out. 
Raj: People here are genuine and believe in what they are doing. Reach out to them without hesitation. They are happy to help! Pro tip: Follow the 4 sentences that are pasted all over the office, and you will be absolutely fine 😛
This farewell is not a goodbye for Erik and Raj but rather a see you soon. They have one year left until they finish their master's program. But they have now left the door wide open for other curious students who want to build a better tomorrow.
Are you ready to be part of the future? We're hiring! You can also connect with us on Linkedin, follow our "Behind the Code" series on Youtube, discover how is it working at Truecaller on Instagram, and find more stories behind the code on our blog.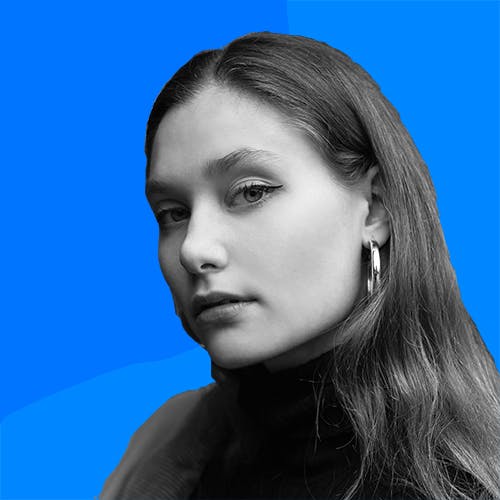 ---