Meet Jinyan, Junior Software Developer at Truecaller
Junior software developer jobs are not always easy to come by. Since a lot of companies are looking for developers with more experience, it can be challenging to find a position as a non-senior. In fact, in an office of 50+ programmers, Truecaller has only one junior developer. Her name is Jinyan.
Meet Jinyan
Jinyan is awesome. She's a certified Body Combat and Body Pump instructor whose motto is "No pain, no gain."
Jinyan's also the only junior developer in the whole company. (Wait 'til you hear how she got here!)
She's watched all seven Harry Potter movies in 23 hours in a theater in Holland. (Apparently movie marathons are all the rage in Dutch theaters — many people bring pillows and blankets to the occasion, Jinyan says.)
She won Best Actress at the 2010 D.C. Chinese Film Festival for her role in the short film Be Touched. (It's about parallel universes.)
What do you do at Truecaller?
I'm an Android Developer on the Search team. I've been with Truecaller for one and a half years.
I spend most of the day coding, sometimes on my own and sometimes with other developers. Since this is my first full-time engineering job, the work is challenging and I'm learning a lot. I'm known for telling my colleagues in Running Club, "No pain, no gain," and now they say this to me when I'm feeling out of my comfort zone and figuring things out.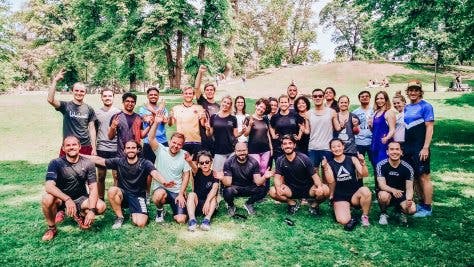 What do you think are the biggest differences between working in Sweden vs. China?
I guess it would be life-work balance. In Sweden, they have a concept called lagom, which basically means "not too much, not too little." In Sweden, people make an effort to find a balance between their work and personal life, so that they work a lagom amount.
In China, I would say work is sometimes considered more important than your personal life. But I actually have only worked in China as a student, so that's my assumption based on what I've heard from my friends who work in China.
How did you end up at Truecaller?
That's actually a very nice story that I like to tell. My working here is a bit unexpected, since I have a Bachelor's degree in Art and Design and a Master's in Interactive Media Design. (I also did an exchange program at Stockholm University, where I learned about UX Design.)
After school, I worked as a group exercise instructor at Actic, a Swedish gym, teaching Les Mills Body Combat and Body Pump.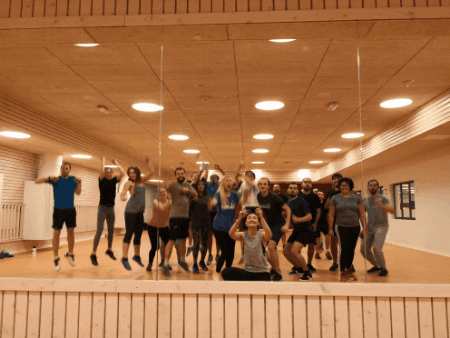 Then, in September of 2016, I saw an ad for online courses in Android programming. It sounded very attractive, and there's a huge job market for programmers. I figured the more options, the better. So I decided to give it a try. I started with their Android Basics Nanodegree program, followed by an Android Development Fast Track program, which ended with a Google Associated Android Developer certificate exam! 
After all that, I started looking for an Android developer job in Stockholm. But as a beginner, it wasn't that easy. I probably sent out a million CVs, including to Truecaller. In total I got about 10 interviews and did 3-4 tech assignments.
The team declined my application because they were looking for a senior software developer. I knew the requirement from the beginning, but I thought, I'm capable of what's in the job description, so I applied anyway. Fearless, you might call me.
I didn't give up after my application was turned down. I wrote back, kindly asking for a chance to prove myself with a tech assignment. A few days later, the tech assignment arrived in my inbox! I did it, followed by a tech interview, and I actually wasn't able to answer some of the questions. But in the end, I was hired as a Junior Android Developer! I've loved Truecaller ever since I was hired, as the company is open-minded in finding talent.
What do you like about working at Truecaller?
I like the people here. In fact, I don't see a lot of my colleagues as colleagues — I see them as friends. Truecaller has a lot of team building, fitness events, family events, and celebrations, so you get to hang out with people and their families often. You really get the chance to establish personal connections. That makes people closer.
Aside from software engineering, what else do you do at Truecaller?
Besides working as a software developer, I'm responsible for organizing company fitness events! I really love this "extra" responsibility of mine! In January, we did a Body Combat class with me as the instructor. In March, we did an Afterwork Tango and invited two Tango instructors to join us. And now, we are running every week to train for Stafesten (a Swedish relay race) in August. I love it. I love to encourage people to exercise. Not only have I seen many people get fitness results, but also brighter smiles. We are more energetic! Of course!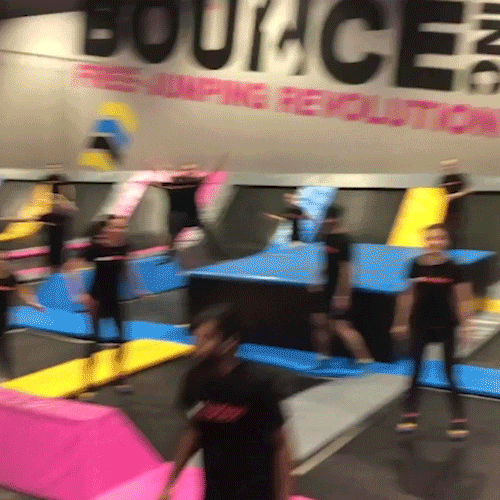 Do you have advice for someone interested in doing what you do?
For someone who wants to be a software developer, my advice would be don't hesitate to ask questions. Some people are afraid to ask, but for me, that's a very effective way of learning and working. I really appreciate that when I was new to the company and new to developing, one of the Senior Software Engineers checked in every day to ask if I needed help or just "How's it going?" Because of that, I felt free to ask him questions ever after. 
As for people interested in doing group fitness, my advice would be to plan your workouts and stick to the schedule. Do it regularly and do not cancel a single training that you've planned. It's all about forming a habit and staying committed.
What are some of your favorite things about Stockholm?
I love the Stockholm Film Festival. Every November, I get to have 6-movies-a-day marathons! Also, the nature here — like parks, forests, rivers and sea — is close to everyone. I'm fond of both Swedish winter and summer. The darkness in winter doesn't bother me at all. I actually like heavy snow.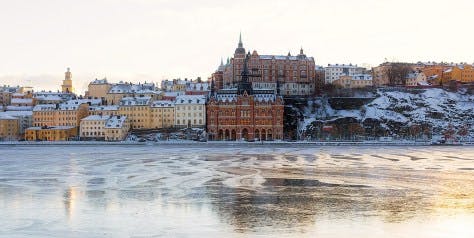 And I love the fitness spirit in Stockholm. In all the cities I've traveled around the world, I've never seen so many people running on the streets all the time, regardless of weather! And considering Stockholm is not a big city, it has so many gym options, and every gym has many, many locations. Gyms and runners are everywhere here! There's also a ton of fitness events, like the Stockholm Marathon, the 10 km Midnattsloppet ("Midnight Run"), the 90 km skiing event Vasaloppet, and the Tough Viking 8 km run and obstacle course. If you like to work out, I bet you can find at least one fitness event every month!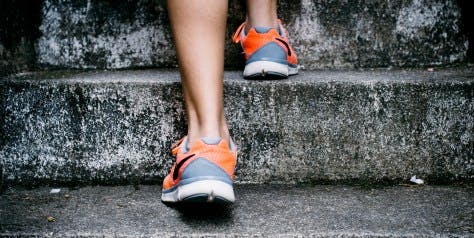 Looking for a great job in a great city? Check out Truecaller's Careers page to see if there's something for you at Truecaller. We can't wait to hear from you!
---