Truecaller Adds Exclusive Axwell Λ Ingrosso Ringtone to App
The sounds of the summer remind us of the moments we shared in the sun, on vacation, and with good family and friends. Music has always played an important role throughout our lives, and even more so in technology. At Truecaller, we're always thinking about our users, and that's why teamed up with music artists Axwell Λ Ingrosso to bring Truecaller users an exclusive ringtone!
This is a first-of-a-kind partnership in the Truecaller app where users can set a default ringtone for receiving calls with their Live Caller ID. The ringtone can be set in the app settings, and is currently only available for Android on version 7.40 and up.In addition to the ringtone, Truecaller will also give users access to a number of exclusive giveaways not limited to tickets, merch, music and more. In order to enter, users will simply have to call regional numbers via Truecaller dialer on their Android devices. While the ringtone is currently only available for Android on version 7.40 and up, users of all other smartphones are able to enter the competition.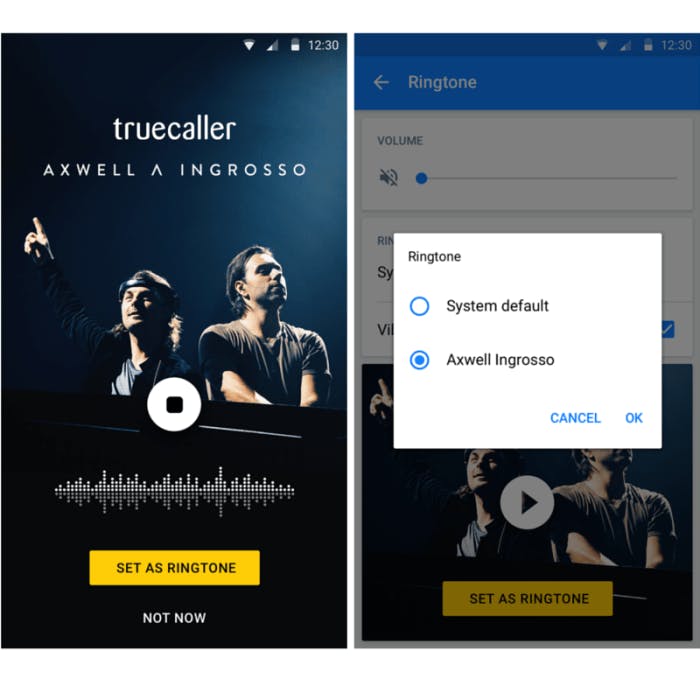 "With the newly built-in dialer feature, Truecaller is becoming the new generation default dialer for our users because we provide a superior experience next to the standard dialer with a mindset of making your communication more efficient and safer. This partnership, and uniquely crafted ringtone is a fun way to let users make and receive calls," said Alan Mamedi, co-founder & CEO at Truecaller.
"With the internet and the digital media space making artists more accessible and visible to the public every passing day, we wanted to partner with a leader in the telecommunications space to bring the fans a unique way to connect with our artists – Truecaller is a ground-breaking service that gives us and our artists that opportunity and more." – At Night Management
Enter the Contest
To enter, you need to open your Truecaller app and dial one of the numbers (from your region) and give it a call to be entered in the contest to win merchandise or a chance to see Axwell Λ Ingrosso live!
US:  +12132633651
Europe:  +46769439833
India: +919700088855
South Africa: +27872325466

CONTEST PRIZES
Guest List Prize: (Only for North America and Europe)
One First Prize will be awarded to (4) winners after 08/23/16. The Guest List Prize consists of:
Guest list spots to upcoming Axwell
Potential call from Axwell
Merchandise Prize: (Only for India and South Africa)
One Prize will be awarded to (10) winners after 08/23/16. The Merchandise Prize consists of:
Merchandise package with Axwell Λ Ingrosso goodies
Full Contest Terms and Conditions read more here.
---