Truecaller Insights 2016 Q4 Report: Call Volume for the E-Commerce & Cab Hailing Industry in India
We have been following and reporting on cab hailing and the e-commerce industry in India since May of 2016.
As we release our findings quarterly, we are able to help determine upcoming trends!
CAB HAILING IN INDIA
First off, car sharing services and Ola Cabs vs. Uber – after a relatively flat Q3 we're starting to see some interesting movement in the industry again. Call volumes to a car service increased to 3.83 billion calls in Q4. Now as we explained earlier, the majority of this increase was due to a time change in our methodology.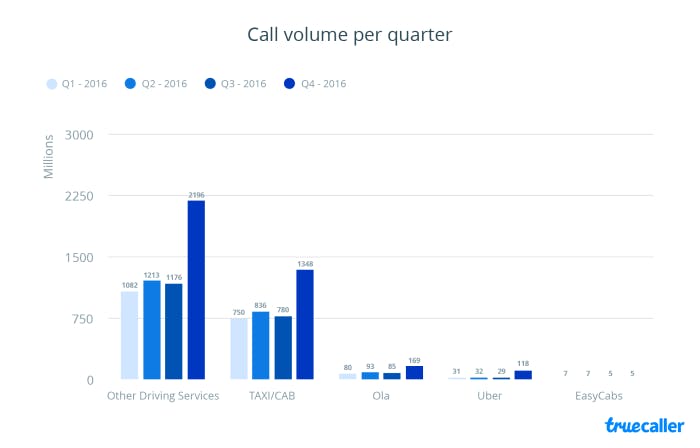 The share of call volume rose for all types of services, again accounting for our change in methodology. But Uber in particular seemed to have gained the most compared to competitors.
We can see this play out as well when we look at the relative call volume of Uber compared to Ola. Uber shows an extremely strong gain in Q4, closing the gap with Ola.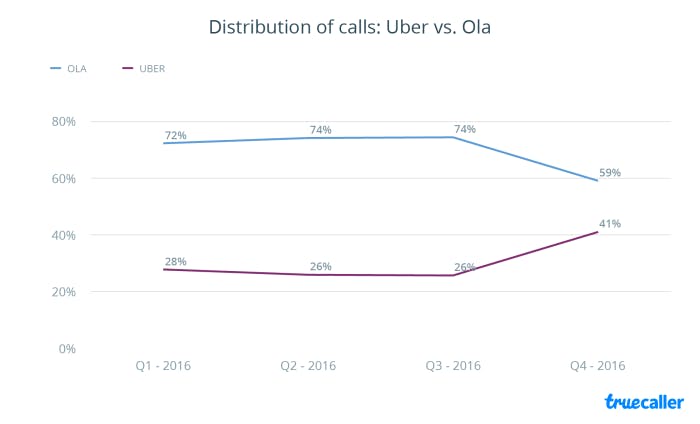 When looking at how many unique Truecaller users made calls to ridesharing service. Overall, around 42.6 million users in India made or received a call to a ridesharing number within the last 3 months.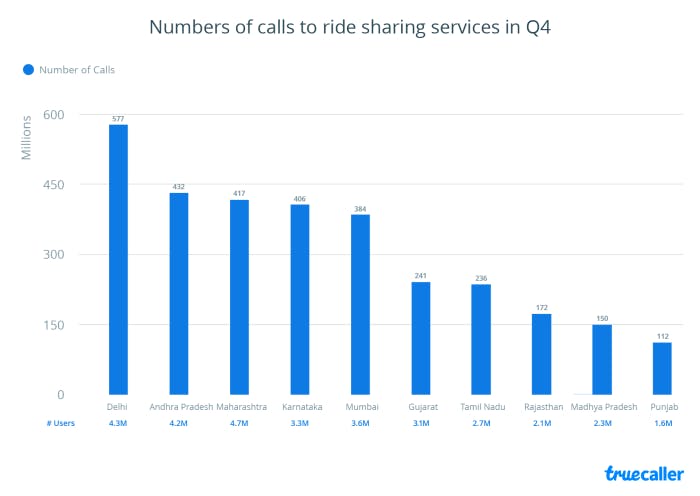 In Delhi alone, 4.3 million users made or received a total of 577 million calls in this period to ridesharing numbers, which is an average of roughly 134 calls per quarter (or a call and half a day.)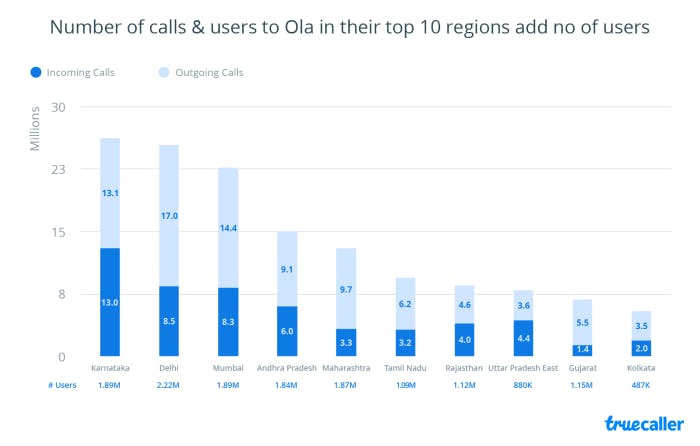 Regionally, Ola Cabs is most popular now in Karnataka and Delhi, while Uber is now strongest in Mumbai, followed by Delhi, and then Karnataka.
And finally, when looking at incoming vs. outgoing calls over this entire period we see that Ola Cabs made 63 million calls to its users in Q4, while 106 million calls were made by users – which accounted for 169 million calls between Ola Cabs and its users. Uber users received 43 million calls from the company in Q4, and called the company 75 million times – which totalled 118 million calls.
ECOMMERCE IN INDIA
We see that the growth in volumes continues with the number of calls made or received going from 700 million in Q3 to more than 1.4B in Q4. Again much of this increase is explained by the methodological changes we've made.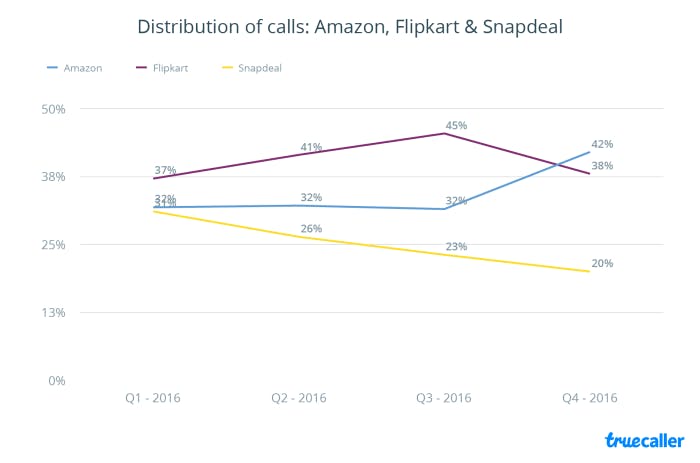 Looking at the top e-commerce giants in relative terms, Snapdeal continues its decline, from a 23% share in Q3 to 20% share now. Amazon and Flipkart have swapped spots, with Amazon going from 32% to 42%, and Flipkart declining from 45% to 38%.
When we look at the number of users making and receiving calls we see that around 36.4 million users in India have made or received calls to e-commerce numbers during Q4.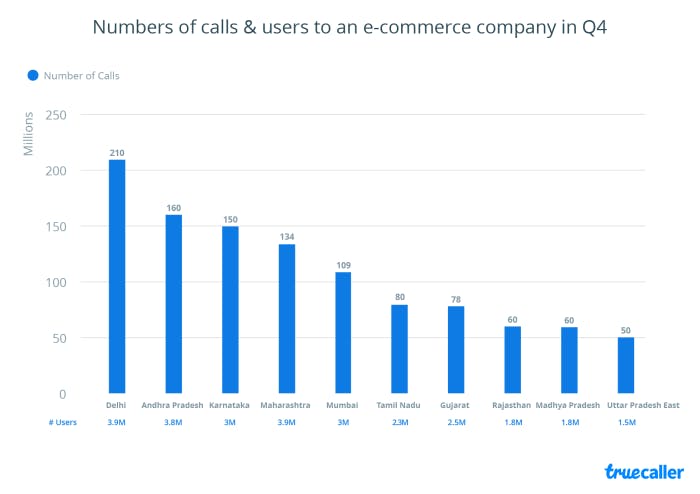 Here again, the largest region is Delhi, with 3.9 million users making or receiving 210 million calls over the quarter, roughly 53 calls per user per quarter, or an e-commerce number call every other day.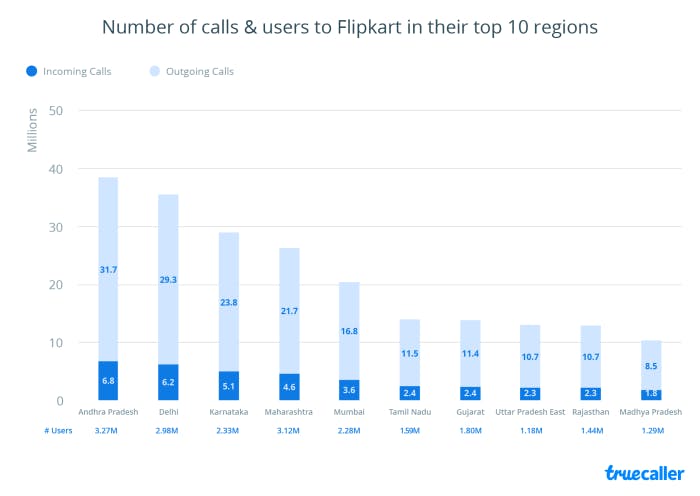 Regionally, top 3 markets for Flipkart (by descending order of call volume) are Andhra Pradesh, Delhi and Karnataka – Dehli falling one spot from Q3.
While for Amazon, Andhra Pradesh, Karnakata and Delhi dominate their call volume.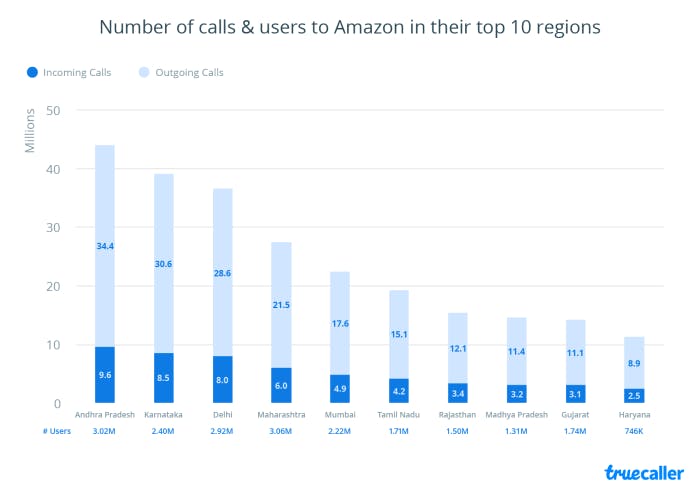 And again when looking at the volume of incoming calls compared to the volume of outgoing calls, we see that in case of every single retailer there continues to be many more outgoing calls being placed than incoming calls to users.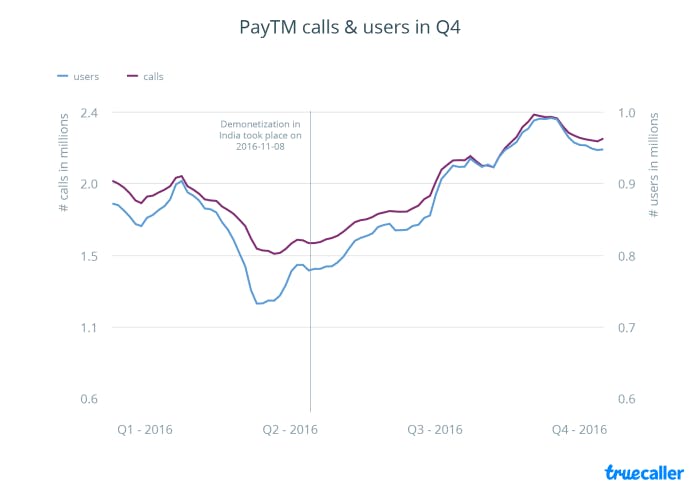 We also looked at Paytm separately, since it was the only fintech/primary mobile payments company in our data set. In the beginning of November, we have about 0.73 million users making around 1.5 million calls daily (we looked at a 7-day moving average, to smoothen the trends and daily fluctuations in the data). After demonetisation took place (November 8th), both these numbers for Paytm jumped. By the end of the year, the number of unique users for Paytm were around 0.95 m, and we had call volumes of around 2.2-2.4 million. So, for Paytm, a mobile payments app, demonetisation has clearly led to a massive increase in interest in their business, at least in the short-term.
Overall, it's been another exciting quarter for e-commerce and we look forward to share the Q1 and Q2 stats in the coming months.
What is Truecaller Insights?
Truecaller Insights is a quarterly report from Truecaller that covers relevant industry and market trends. Being data driven is an extremely important trait for Truecaller, throughout its lifetime it has discovered and predicted amazing trends just through our internal statistics. The insights come from a mix of engineers, data scientists and marketers who put their heads together to tell data stories in an entertaining and informative way.
Notes & Methodology
The data in this article was aggregated anonymously from incoming and outgoing calls to e-commerce and cab hailing services in India during the period of January 1st, 2016 to December 31st, 2016 to understand the trends and usage. Calls from a user to retailer (or vice versa) can be anything related to purchasing, complaint, customer service, delivery etc. These insights are purely based on our internal data and does not reflect the entire usage of any of the services and Truecaller does not warrant the accuracy or completeness of such data, and all derivative conclusions or assumption are those of the readers only. All brands mentioned are the property of their respective owners. Use of these brands does not imply any co-operation or endorsement.
An important note on the methodology before we begin the report. Starting in Q4 2016 we made changes to our analysis methods which allows us to more accurately capture the call volume intent of our users, and also due to a large increase of new phone numbers tagged to the services. This means that we'll see a one-time jump in overall call volume from Q3 to Q4, and we are not updating the historical data.
---