Truecaller Introduces Express Check-ins at Workplaces
At Truecaller, we always are innovating new ways to take mobile identity to the next level – this time, it is all about taking Truecaller offline to help at workspaces! 
We've created a first-of-its-kind partnership with leading professional office space provider, Vatika Business Centres in India, which is part of the leading real estate brand, Vatika Group. Truecaller users will now be able to use express check-ins for the business centers instead of using an OTP (SMS).
Early this year, Vatika Business Centres launched Visitor Management solution in all their centers across India and revolutionized the way workplaces provide frictionless check-ins. The solution enables them to manage incoming and outgoing visitors in an efficient and secure way.
In this product integration with the solution provider Veris, an office automation startup, visitors coming to business centers across India for a meeting or for delivering couriers, will be able to frictionlessly confirm their mobile number-based identity using the Truecaller's mobile identity platform. This will help create trust and seamless and secure interactions between people in the offline world.
This is a big leap in our vision to make the mobile number the central identity and enables a smooth and secure customer experience by enabling express check-ins at their business centers. It also significantly reduces the dependency only on OTPs, which usually are unreliable and can be costly as well as time-consuming steps to check-in at reception lobbies.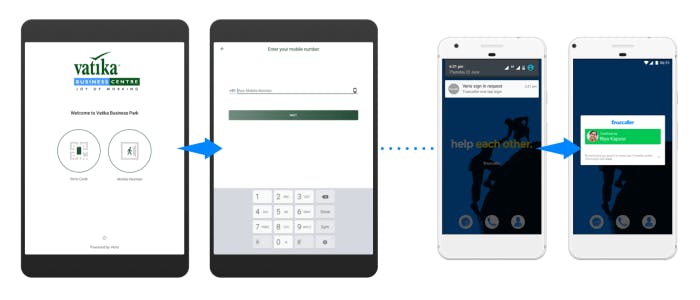 How Does It Work?
When someone is visiting Vatika for a meeting or dropping off a package they do the following:
Enter their phone number into Vatika registration device in lobby
Receive a Truecaller notification to verify your identity
Confirm and log in to Vatika registration device
If someone is not a Truecaller user, they are able to receive the OTP text code as well.
This same solution and experience have recently been extended to residential properties-owned and managed by Vatika Group wherever such visitor management systems have been implemented. Soon the same will be expanded to other commercial properties of Vatika Group.
---