Empower the Truecaller Community with Your Comments
We never shy away from expressing our thoughts online, be it on news, debates, or even memes. Imagine the impact of doing the same and shedding light on various spam or potential scam calls. Keep reading to find out how you can improve the communication experience for the Truecaller community.

Truecaller's tagging and commenting feature, available on Android and iPhone, elevates call identification by allowing you to share valuable insights about specific numbers. It goes beyond just ignoring and blocking calls. It allows you to share your two cents, making a difference for someone else. By being involved, you become part of a dynamic community that helps shape the accuracy and relevance of call identification for everyone.
How can your comment make a difference? 
Say you receive a call labelled as 'loan offer' on your Truecaller app. While you may choose to not engage realising it's just a spammer, their excessive questioning raises suspicions of a potential scammer. This is where the commenting feature comes into play. By dropping a comment, you can alert the community about the caller's suspicious behaviour and advise them to be cautious. Your comment can serve as a helpful warning for others.

Additionally, you have the option to upvote or downvote the existing comments, indicating your agreement or disagreement with already existing comments.

How to add a comment?
Adding a comment is easy, whether immediately after the call or choosing a number from the call log later on. Here's how:

To comment on an identified spam caller:
Step 1: Open the caller's details
Step 2: Click on 'Add comment'
Step 2: Comment section will appear

To comment on other callers:
Step 1: Open the caller's details
Step 2: Click on 'Block'
Step 3: The comment section will appear

Though you have the ability to provide your views for any caller, remember that it's important to be responsible and cautious before tagging or providing comments.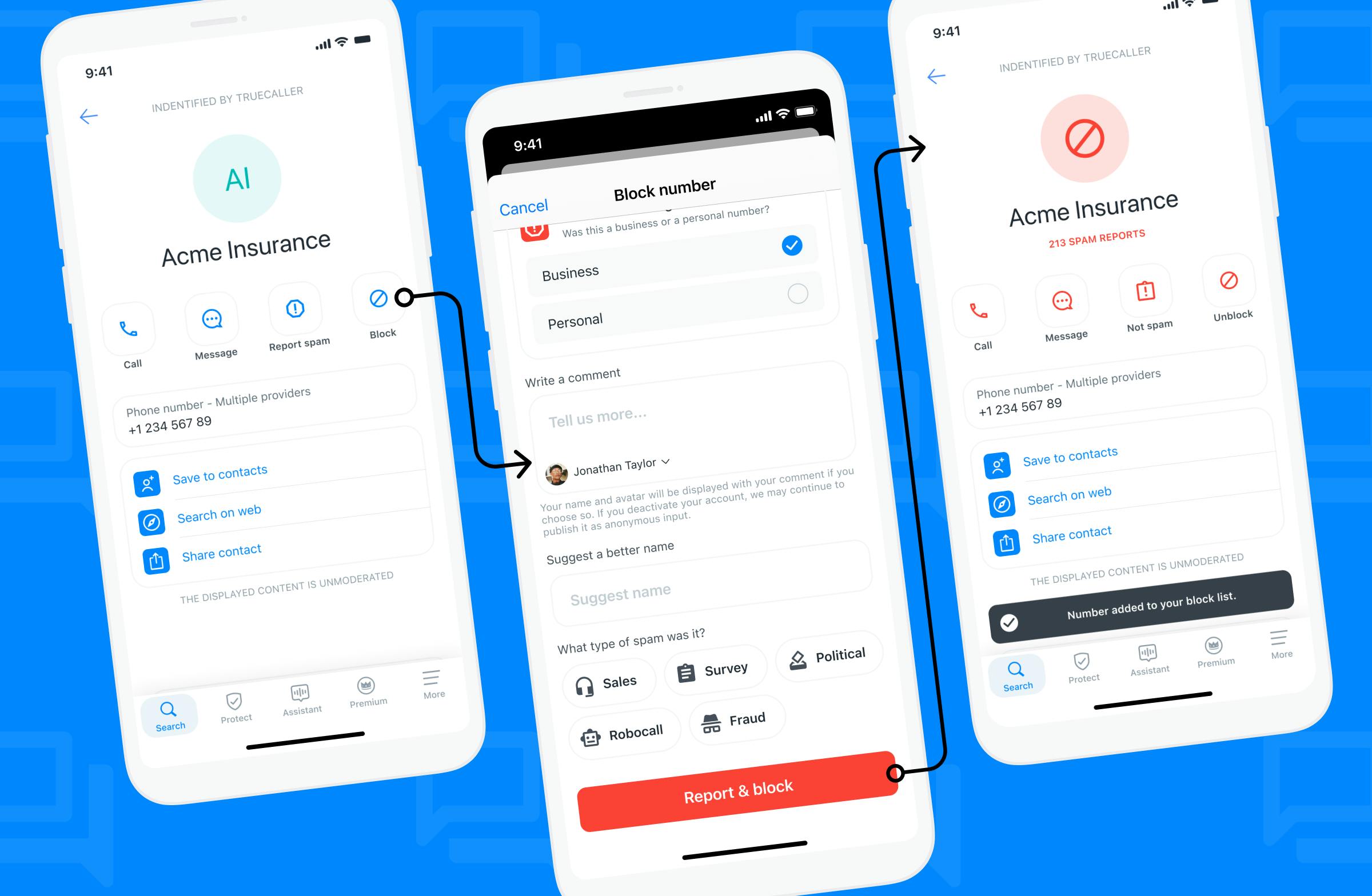 When you participate and share your insights through comments, such as detailing the nature of the call, potential scams, or other important information, you empower fellow people to make informed decisions. It also plays a crucial role in helping the community by creating a safer calling experience, contributing to collective knowledge, and strengthening the community's trust and protection against fraudulent activities.
Yup, that's the power of caring and sharing for us!


How does Truecaller process the comments?
We follow a thorough process to ensure the quality and relevance of comments. Machine learning models are utilised to detect abusive language and hide such comments from the community. Additionally, the community's upvotes and downvotes play a vital role in ranking comments, ensuring that the most useful ones are prominently displayed for everyone's benefit.
To maintain the usefulness and value of comments, we follow these simple guidelines:

Do's
Be clear and concise, mentioning specific details like the product or service being promoted in the case of telemarketing calls.
Use respectful language in your comments.

Don'ts
Avoid posting one-worded comments that don't provide meaningful insights.
Do not engage in personal attacks.
Refrain from self-promotion, spamming, or promoting other products/services.

The gist?
It's basically that your participation not only enhances your own call experience but also fosters a community-driven environment where we come together, discover opportunities, and create a better experience.By actively providing context to others, you play a crucial role in building a community-driven shield against unwanted communication. Join the Truecaller community today and be a catalyst for change! 

Our mission at Truecaller is to build trust in communication. We believe that educating you about how our features work is essential in helping you navigate a world where unwanted communication and fraud are commonplace in your daily life. So, we strive to provide you with the information you need to make the most out of Truecaller.

Stay updated about recent scams, and watch the latest Youtube videos on how you and the 350 million-strong community of people using Truecaller every month can stay protected. You'll find us on Twitter, Facebook, Instagram, and TikTok.
If you are based out of India, follow us on Instagram India and Twitter India for relevant updates, exciting contests, and more!
---