Introducing Truecaller's New Audio App - Open Doors
We've launched a brand new app for live audio conversations, Open Doors.
We're on a mission to build more open and trustworthy conversation. With Truecaller, we safeguard people in their digital lives. With Guardians, it's for personal safety, and now we're focusing on enabling fun, impromptu digital audio conversations. And the best part? No rooms, no invites, no recording tools - everyone is invited, and your number stays private.
No one wants to miss out on the gossip, the reminiscing about old times, or the latest gathering that's in the works. That's why we've created a new way to have conversations, get everyone involved, and even get to know your friends' buddies in a fun way. Our doors are always open!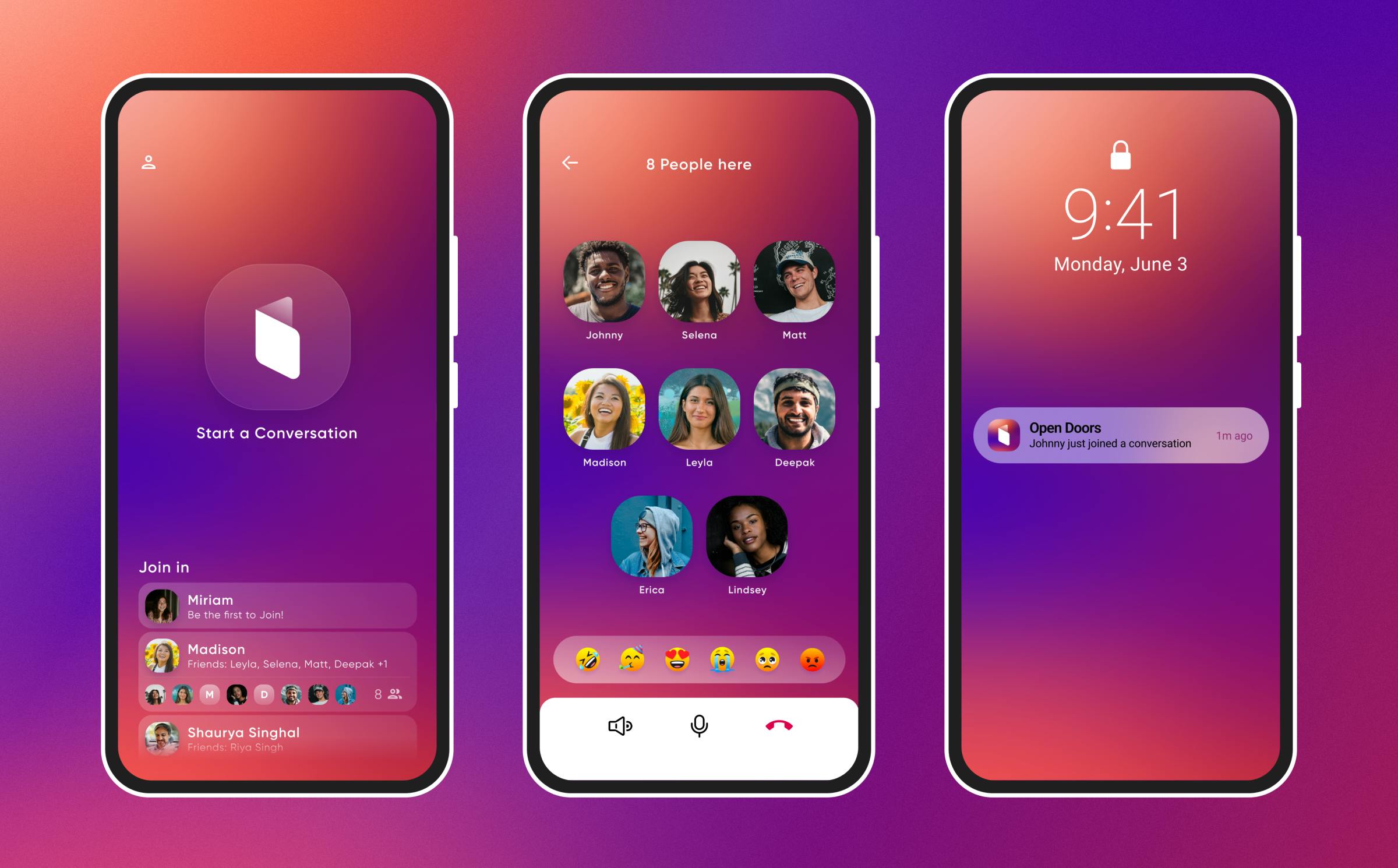 How to use Open Doors - The Newest Social Audio App
Sign up: Use your phone number to sign up (If you're already a Truecaller user, you can sign in with just one tap). Don't worry, your phone number is never shown to other people in the app.
Start talking: The app is simple. You start the conversation, and friends in your contact book who have the app will also have the opportunity to join in and not miss out. The more friends who join, their friends are also alerted, and the wider your conversation reaches!

Emoji mania! Get your trigger finger ready with animated emoji explosions to add more visual fun. 🤣🥳😍

Muting rules: If you are unhappy with any other participant in the conversation, you can simply mute them. As a next step, you can also block/report others if their speech is offensive or against our community guidelines. If multiple people report the same person, Open Doors will eventually ban the person from using the app
Common Questions
What permissions does Open Doors need?
The app needs only two permissions: Contacts (so that you can share Open Doors, or have conversations with people in your contacts who also have Open Doors) and phone permission (needed to have audio conversations). Participants in a conversation cannot see each other's phone number.
You are in control:
As a user of Open Doors, you are in complete control at all times. You can start a conversation and leave at will. Your friends can join conversations when they get a notification or by clicking on a link you share.

Once your friend joins the conversation, their friends will be invited too. Through the network effect, the amount of people in the conversation is endless.

Is there moderation?
Conversations are real-time and moderated by the community, just like Truecaller. Conversations are never stored or recorded, and no one can listen in without you knowing. We expect participants to foster a safe, inclusive and respectful environment during conversations. 
New improvements
Based on user feedback, we will keep innovating and adding more features to Open Doors. Some innovations that are already in the works, thanks to a small beta tester group, are the ability to set a close circle of contacts (so that others in your contacts who have Open Doors will not always get a notification when you start a conversation), the ability to react to what people are saying and precise control over how the app notifies you of new conversations. 
Open Doors is available for Android and iPhone on your app store: https://opndrs.page.link/blog
---