The Electricity Bill Fraud - the Sms Scam That Refuses to Die!
As is usual with this cat-and-mouse game of the Caller ID business:
There's a new scam in town. 

This time, hundreds of people in India have been duped of nearly 100,00,000 INR (per news reports) in just a few weeks. And these are just the reported numbers!

As someone on Twitter commented: "I saw that scam coming a mile away". You may even have received some of these text messages yourself and while it's easy to dismiss them, the fact is that they're doing a lot of harm. Some recent news reports (like this one, this or this) prove that people are being scammed out of a lot of money. As the leading global platform for verifying contacts and blocking unwanted communication, we haven't been sitting idly by.

Based on user reports, we have been actively blacklisting senders (including senders with shortcodes) that have been sending these scam messages, and consequently, every Truecaller user who receives a message from such blacklisted senders is warned of the potential scam: both in the message itself and also when they try calling the number listed in the message. All reported phone numbers have the fraud/scam warning, and we continue to add more daily. Blacklisted senders will always end up in the spam tab for Truecaller SMS users. They will have a highly visible red background and a clear message that states: 'Warning: Potential Fraud'. You might pose a valid question: 'If Truecaller is doing all this, why have so many people lost money?' Unfortunately, they were probably not using Truecaller for SMS (or not using Truecaller at all), so they were never warned.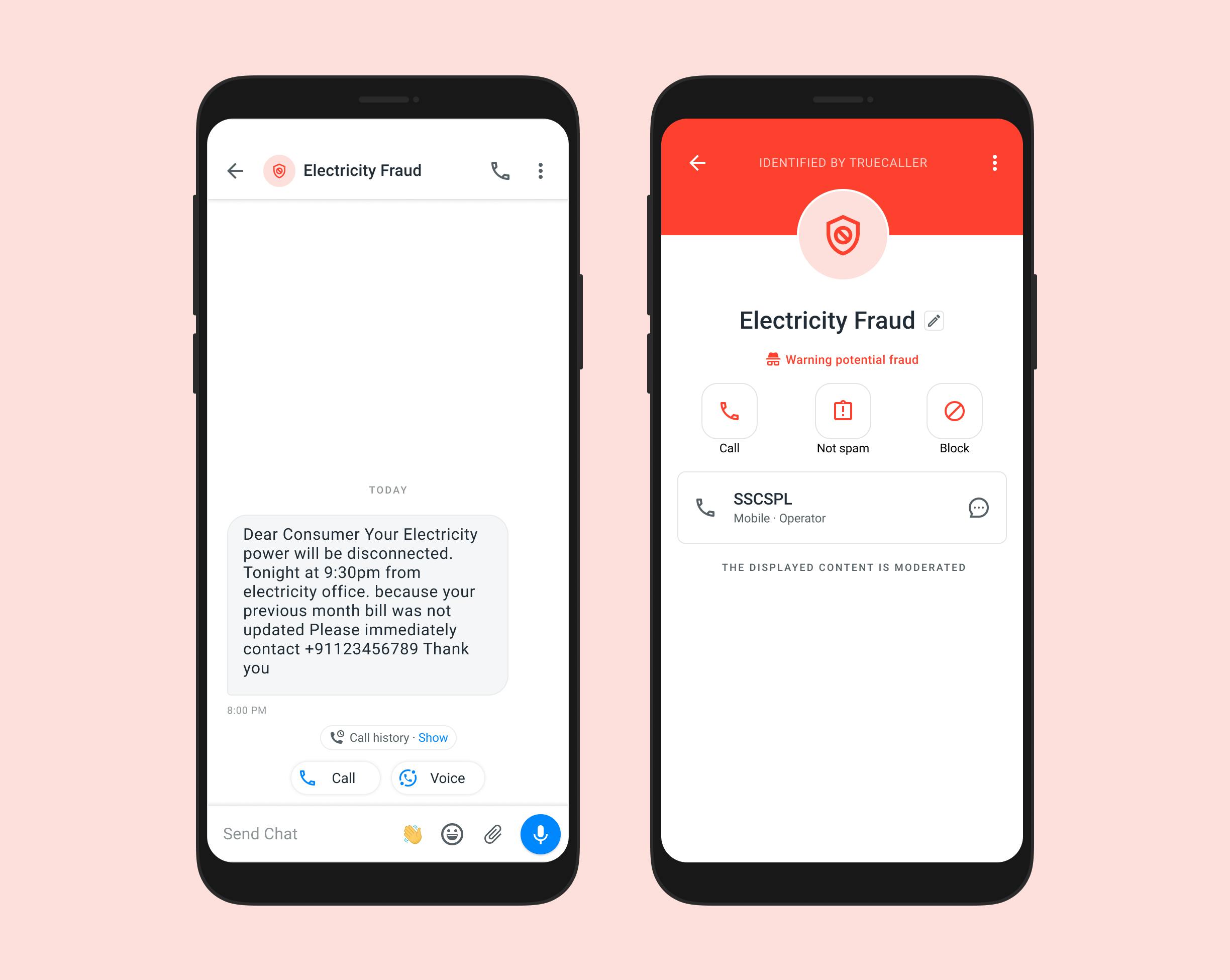 This is how it looks if you search for or try to call any of the numbers used by scammers.
Our privacy-by-design principles mean that we can't read or access any of the text messages stored on a user's device by default. Only when a user reports a spam or scam message on the app can we process such messages for blacklisting the reported sender, warning users of potential fraud, and further strengthening our fraud and spam/scam detection system.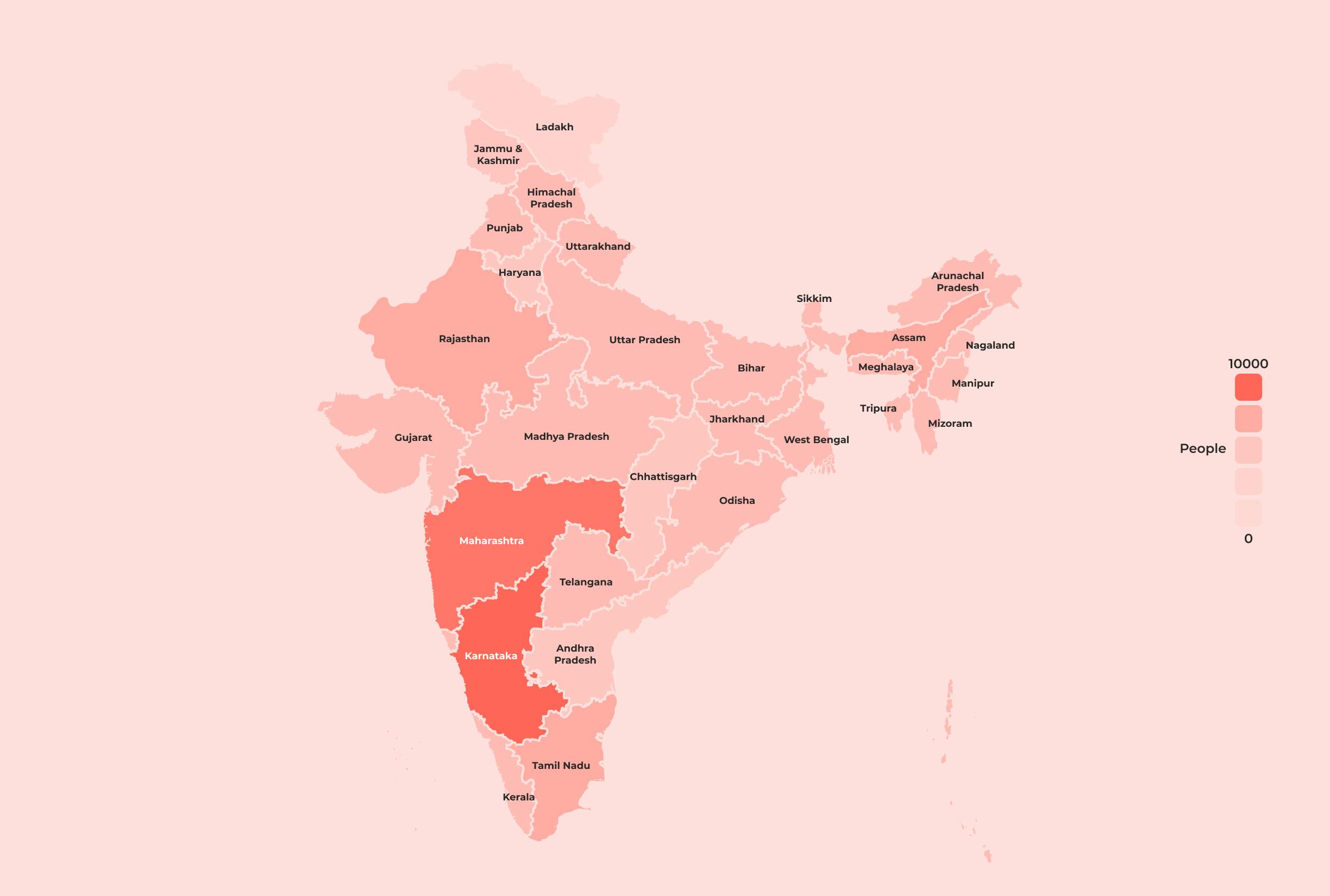 Our internal metrics also reveal that people in the states of Maharashtra and Karnataka are receiving a far higher volume of these scam messages compared to other states. People in the cities of Bengaluru and Mumbai are the most targeted and impacted.
How this scam works
Most electricity scams have a simple message, albeit poorly worded and full of incorrect spellings. Dear consumer, you haven't paid your electricity bill or if you have, it's not reflected in our systems. Please call the electricity officer to verify your payment and avoid disconnection. The threat of disconnection also typically comes with a prompt to act fast because the supply will be cut off at 9:30 or 10:30pm. If someone calls the listed number, the polite 'electricity officer' will be more than willing to help because he wouldn't want anyone to be inconvenienced without power for the entire night, especially during the hot Indian summers. They will typically get the victim to download a screen-sharing app and very easily clean out their bank account in a manner of minutes. 
Why are people falling for these scams?
There's a simple rule of thumb when it comes to scams: the scammers prefer to send these texts in high volumes because there will always be a tiny percentage (possibly even lower than 1%) of people who fall for it and call the listed number. There's nothing terribly scientific about it and no social engineering or precise targeting is going on. It's just a bit of fear-mongering because no one wants to lose access to electricity and that is too late in the evening when chances of a resolution are minimal. These scams have high gains for very little effort. The scammers minimise the risk of consequences by expertly covering their tracks, transferring money to digital wallets instead of bank accounts, and quickly changing phone numbers.
How to recognise these scams 
If you're reading this blog, you already know how to spot such scams. But not everyone you know will be as clued in. It's worth repeating that if you receive any text message from a service you use, it should have your name, a consumer ID, or a masked account number that shows the message is intended only for you. As we mentioned earlier, scam messages intentionally have typos and substitute certain letters with numbers to avoid detection by telecom operators and the built-in scam detection services used by smartphone manufacturers. Look for very obvious incorrect use of exclamation marks and special characters, irregular spacing between words, colloquial language and abbreviations (like Plz and Ur), some sense of urgency, and even threats.

Some examples:
Your electricity P0wer will be disconnected 10.30 pm because your b!II not updated. Contact power office <phone number>
NOTICE Dear costomer your previous electricity bill was not updated your electriccity will disconnect Tonight call electr!city office <phone number> Thanks you
Notification Dear consumer Your Electricity Power will be disconnected Tonight at 9.30 pm from electricity Office.because your previous month bill was not update please immediately contacttst with Our electricity officer <phone number> Thank you
Notification Dear Customer Your Electricity powar will be disconnected Tonight at 9.30 pm from electricity office.because your previous month bill was not update please immediately contact with our electricity <phone number> Thank you call now
Dear Customer Ur El3ctricity wiII be Disconnected Tonight at TIME Ur previous Month biII was not Update Plz call urgent <phone number> Thanku81262   
How you can help
Not everyone can spot scams - a fact that scammers rely on. Please help us by reporting these scams within Truecaller, even if you think they seem really obvious. By doing so, you're helping us help the wider community in staying protected against scams. You can also:
Tell everyone you know about these scams and how to spot them
Share this blog or any of the images on your groups or on social media
Warn friends/family to not to click any links or call numbers in suspicious text messages
Be the scam police! Use Truecaller as a tool for the greater good by reporting these scam calls and messages within the app
This is not the first of this type of scam and it's not going to be the last. Right now, it's about electricity. Next, it might be about confirmed job placements and then maybe about amazing deals on short-term loans or investment opportunities with unbelievable returns. These efforts are just one example of how Truecaller is helping protect millions of people when they communicate. 
At Truecaller we have made it our mission to build trust in communication. We do our best to help you navigate in a world where fraud and unwanted communication is a part of your daily life. Stay updated about recent scams, and watch the latest Youtube videos on how you and the 330 million-strong community of people using Truecaller every month can stay protected. You'll find us on Twitter, Facebook, Instagram, and TikTok.
---