6 Women Freedom Fighters of India You Should Know
Before there were influencers, there were changemakers: people with strong ideals and the determination to make them a reality. This Indian Independence Day, Truecaller celebrates Indian women who've forged social change, improving lives and strengthening their communities. Let's remember the women freedom fighters of India's independence movement and the women leading change in India today. It's time to #KnowMyName.
#KnowMyName: Freedom Fighters of the Past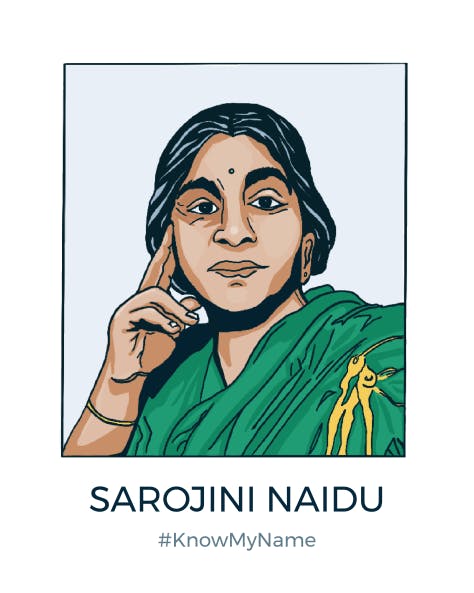 The Nightingale of India,, was a poet and political activist who fought for India's independence. Naidu was an influential freedom fighter who helped draft the newly independent nation's constitution. 
She first entered university at the age of 12, studying in Chennai, London, and Cambridge. After completing her studies, the Nightingale married Paidipati Govindarajulu Naidu. At the time, marriages between different castes and regions wasn't much accepted, but they married with their families' blessing.
Throughout her life, Sarojini Naidu worked tirelessly to raise the consciousness of Indian women. She wanted to improve their lives and engage them in the country's destiny. In 1917, Naidu was at the forefront of gender reform, leading a collective of women to urge change from the Montagu-Chelmsford Committee (which was considering reforms to bring "limited self-government" to Indian institutions, according to Wikipedia).
In 1925, Naidu became the first Indian woman President of the Indian National Congress (INC), and would later become the first woman to be governor of an Indian state.
For decades, she was part of the leadership in the Noncooperation Movement, working alongside Mahatma Gandhi, whose friendly nickname for her was Mickey Mouse, according to YourStory. She was arrested many times for her involvement with the Quit India movement and civil disobedience against the British crown.
Sarojini Naidu observed the world with the close attention of a poet and changed it with the strong will of an activist. Indeed, YourStory praised her for "inspir[ing] a whole generation of women to participate in the Freedom Movement." Naidu's legacy lives on, as many modern Indian women continue to lead the fight for social change.
"Thy Future calls thee with a manifold sound To crescent honours, splendours, victories vast; Waken, O slumbering Mother and be crowned, Who once wert empress of the sovereign Past."- Excerpt from "To India," by Sarojini Naidu
After studying and teaching history, Sucheta Kriplani became a central figure in it. She started her career as a professor of Constitutional History at Banaras Hindu University, a school she chose for its hive of anti-colonial activism. In 1936, she married Acharya Kriplani, an influential member of the INC, against their families' and Mahatma Gandhi's wishes.
In 1940, she started the All India Mahila Congress, the women's unit of the INC, which is still active today. She took part in Gandhi's satyagraha marches and led a nonviolent underground movement, for which she was jailed several years in the 1940s.
At the Independence Session of Parliament — the day before India won its official independence in 1947 — Kriplani sang the Independence movement's freedom cry and national anthem, just before Prime Minister Jawaharlal Nehru gave his well-known "Tryst with Destiny" speech.
After Independence, Kriplani was one of fifteen women to join the Constituent Assembly and help write the Indian Constitution. She continued to work closely with Mohandas Gandhi, aiding and empowering refugees in the aftermath of the partition riots. 
As "a passionate advocate for greater participation of women in politics" (The Better India), Kriplani practiced what she preached. Not only did she help draft the country's constitution, she was also the first woman elected a chief minister in India. She held that office in Uttar Pradesh from 1963-1967.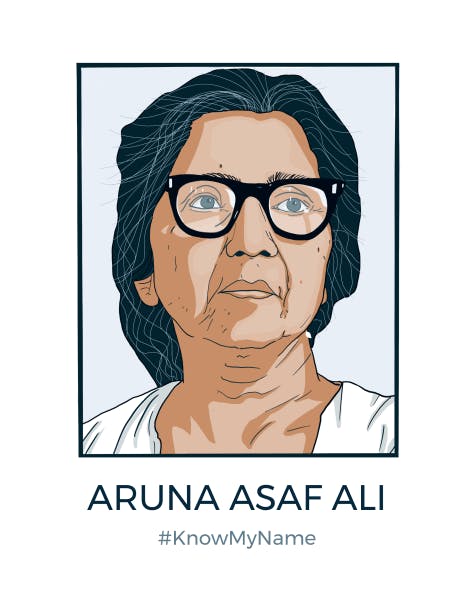 Commonly referred to as the "Grand Old Lady"' of the independence movement, or the "Heroine of the 1942 movement," Aruna Asaf Ali is perhaps best known for flying the Indian flag at Gowalia Tank Maidan in 1942, thereby saving the Quit India movement from an untimely death. British authorities had just arrested the movement's leaders, and Ali was determined not to stand idly by in their absence. She bravely raised the Indian flag in full public view, an act of rebellion that sparked a chain of protests and civil disobedience around the country.
Before that, she taught in Calcutta, married India National Congressman Asaf Ali, and engaged in the fight for Indian freedom. She took part in the Salt Satyagraha demonstrations of 1930, during which she got arrested for the first time. When she remained in prison after the Gandhi-Irwin Pact of 1931 (which protected political prisoners), there was such a public uproar that the authorities had to release her.
Ali was arrested again in 1932, but continued her resistance in jail. She went on a hunger strike to object to the conditions political prisoners faced at Tihar Jail. Her protest led to changes at the jail, but she was punished with solitary confinement in Ambala.
In 1942, after Ali's famous political statement of raising the flag, the police issued a warrant and reward for her arrest. To avoid capture, she went into hiding for four years. She remained active underground, however, working on the Congress Party's monthly magazine with Ram Manohar Lohia.
After India gained independence in 1947, Ali dedicated herself to social reform, including women's and workers' rights. She published Patriot newspaper and Link magazine; became the first Mayor of Delhi in 1958; and won the International Lenin Peace Prize in 1964 and the Jawaharlal Nehru Award for International Understanding in 1991. In 1992, Ali earned the Padma Vibhushan, India's second highest civilian honor, then the highest, the Bharat Ratna, in 1997.
Lakshmi Sahgal started and ended her career as a doctor, but in between, she became a soldier. Inspired by India's efforts for independence, she joined the Indian National Army (INA) in 1943 to fight the British Empire. The INA's founder recognized Sahgal's tenacity and made her captain of the Rani Jhansi Regiment, a women's military unit and the first of its kind in Asia.
After being taken prisoner by the British, Captain Sahgal (or Captain Lakshmi as she's commonly called), returned to her medical practice in India. During the partition riots, she gave medical care to Hindus and Muslims alike. In 1981, she helped found the All India Democratic Women's Association (AIDWA), which fought for women's education and employment, among other causes. When anti-Sikh mobs flooded the streets in the wake of Prime Minister Indira Gandhi's assassination, Sahgal protected Sikhs in her area from violence and harassment.
According to The Hindu, Captain Sahgal began fighting for the third — India's social freedom — as early as childhood. Despite her grandmother's outspoken disdain for castes of people "whose very shadows were polluting," Sahgal took the hand of such a girl and invited her to play. It may come as no surprise, then, that Sahgal's compassion for others lasted a lifetime. As a doctor, she continued to treat patients into her 90s.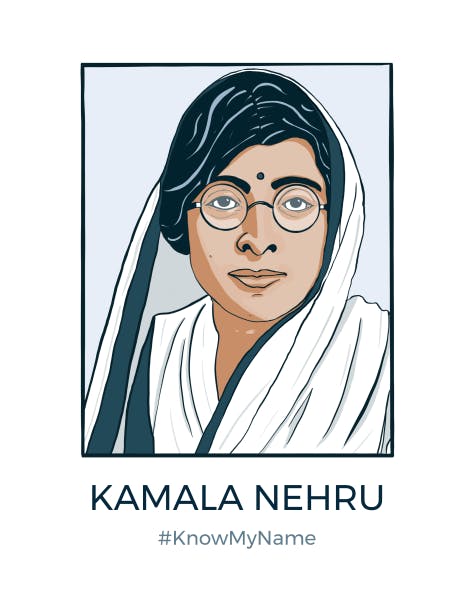 Many people will recognize Kamala Nehru's last name in relation to two other famous Indians, as she was married to India's first Prime Minister, Jawaharlal Nehru, and was mother of India's first female Prime Minister, Indira Nehru. What some people may not know is that Kamala Nehru was also a key figure in her own right. She was a devoted activist in the fight for India's independence.
Nehru was deeply involved in Gandhi's Noncooperation Movement, rallying other women and organizing protests of shops that sold foreign goods. According to India Today, she was on the front lines to combat Britain's salt monopoly. Not only did she walk in the 1930 Salt March, but she may have even been "one of the first leaders to sell contraband salts during [the] Salt Satyagraha."
She certainly didn't shy away from leadership. Since the British often jailed her husband for political reasons, Kamala Nehru sometimes stood in for him at events, reading speeches he had intended to give. As she gained considerable popularity throughout India, she increasingly became a threat to colonial powers herself. Although she served time in prison for her leadership in the Indian struggle for freedom, Nehru would not be intimidated. Instead, she set up a small clinic in her home to provide medical treatment for other freedom fighters. Mahatma Gandhi later turned her clinic into a hospital, named in her honor.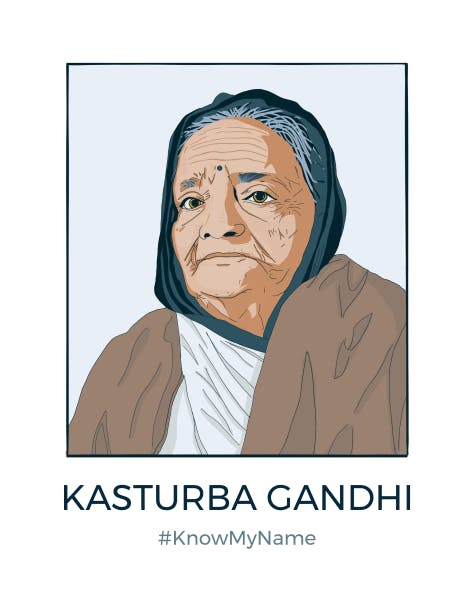 Affectionately called Ba, Kasturba Gandhi first got her political and social activist feet wet in South Africa, where she lived with her family from 1897-1901 and 1903-1914. There, she helped establish a co-op called the Phoenix Settlement and was jailed for three months after protesting the government's treatment of Indians. Kasturba continued her activism in India, where she was arrested and imprisoned several times throughout her life. 
Dedicated to the ashrams, or spiritual communities, she and her husband created, Ba spent a lot of time and energy taking care of them. She was also deeply concerned about the well-being of India's women, striving to understand their situation, advocate for their rights, and enlist their help to the cause.
Kasturba certainly proved her own mettle in the fight for freedom. Like Kamala Nehru, Kasturba Gandhi stood in for her husband many times while he was in jail. She helped sustain the movement and spur its momentum. After she died, her husband remembered her strength and devotion to India's struggle: "But for her unfailing cooperation, I might have been in the abyss…She helped me to keep wide awake and true to my vows. She stood by me in all my political fights and never hesitated to take the plunge."
Kasturba Gandhi was more than the Father of the Nation's wife. She was an activist and community organizer through and through. Fellow freedom fighter Sarojini Naidu called Ba:
Freedom Fighters of the Present
The heroines of India's past laid the foundations of a nation and a spirited sisterhood. Thanks to their strength and bravery, many more women continue to build what they started. India's women are changemakers, dedicated to improving their pockets of the world. Curious about how modern-day women are making a difference? Check out our campaign with SHEROES' online community and look for #KnowMyName. Better yet, join their community and become a SHERO yourself!
---