4 Ways to Free Number Search with Truecaller
Did your number neighbour just text you? Debating whether to text them back?
Or maybe you want to know if the phone number on a flyer for tutoring services is legit? Whatever your situation, Truecaller helps you find up-to-date contact info for number lookup or number search for the people and businesses you're thinking about calling. It's easy and free!
First thing's first: When you dial or receive a call from a number, not in your contacts, Truecaller does an automatic search to give you a name for that number.
So why would you need a Number Search?
Well, you may find yourself wanting to look up a phone number that hasn't already been identified. Maybe you're curious about calls you received before you installed Truecaller. Perhaps you want to know who's on the other end of that Craigslist ad before you contact them. Or maybe you have an iPhone, which doesn't let apps ID calls in real-time.
No problem! We can help with all of that.
4 ways to free number search with Truecaller:
1. Number search in the search bar
This is super easy. From any screen in our app, just tap the Truecaller search bar and type in the phone number you want to look up!
You can even look up a phone number on our website.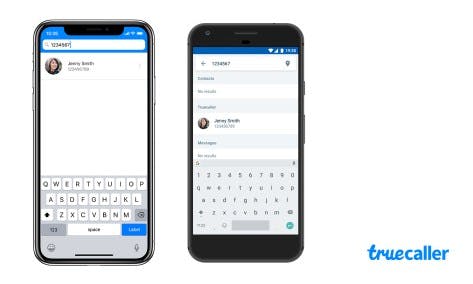 2. Number search by scanning (Android only)
There's a scanner function in the app, which allows you to scan a phone number on a billboard, website, business card, community flyer, etc. 
Here's what you do:
Tap the Truecaller search bar.
Tap the icon in the upper right-hand corner:
You'll see a prompt to "Point your camera at any phone number to search in Truecaller."
Once the scanner detects a number, the app searches it automatically.
Woohoo! Results!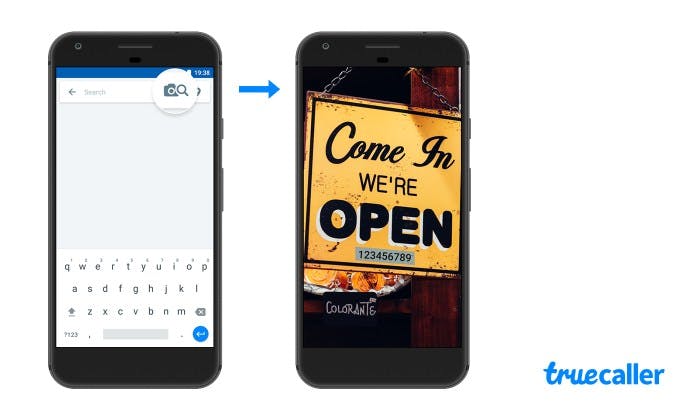 3. Number search from call log, without even opening the app! (iOS only)
1. Find a number you want to search from your call log. Tap the icon next to a number you want to search.

Now tap:
Share Contact
Three-dot menu ("More")
Add "Search Truecaller"
2. After that, "Search Truecaller" will be an option in your Share list, allowing you to make quick searches.
3. Now when you want to search a number from your call log, you'll just tap "Share Contact," then "Search Truecaller." 
4. Voila! Mystery number searched and caller ID provided.
Watch the demonstration in the video "10 Cool Truecaller Tricks You Should Try"!
4. Number search from copy clipboard (iOS only)
Highlight and "Copy" the number from your call log.
Open the Truecaller app.
You'll get an automatic prompt, asking if you want to search the number you copied.
Tap "Yes."
Search complete!
You can also search by name in the Truecaller app! (You must have Premium to ask for contact info.)
To send contact requests and use other advanced features, like blocking spoofed and international calls, get Truecaller Premium for Android or iOS.
---