Building Women's Communities with Truecaller SDK
Women's communities are more important now than ever. Our sense of belonging is formed not just through geographical location, but through the ties we form in the communities that help us with life's necessities and joys. Shared experiences, in this way, enrich individual lives and benefit the society as a whole.
For this reason, the rise of community platforms for women in India is always a cause for celebration. At Truecaller, we are delighted in seeing the ascent of these community platforms and in collaborating with them in their digitisation journey. Our focus has always been on bringing ease of use and an intuitive experience to our partners. In addition to this, nurturing trust and diversity through features such as multi-lingual support is also a key focus area for us.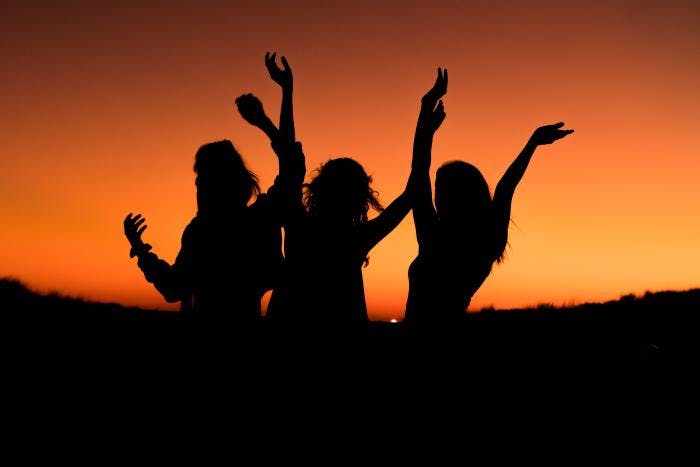 How is Truecaller SDK advancing User Onboarding?
With Truecaller SDK, these apps can introduce a mobile number login identifier at the time of onboarding members. This is not only helping them have a seamless onboarding experience, but also assists them in having trusted user identities on their platform. This in turn ensures a safe and secure environment for communities to share their unbiased thoughts and get support.
Since these women's communities are diverse in nature, most of the apps in this space have been building multilingual support. It is empowering users from diverse demographics by supporting them to actively engage with the platform in their language of choice. Integrating mobile number based verification via Truecaller offers these apps language customization in 12 different languages on login. This has been a much appreciated feature by these platforms.
Below are 5 women's communities which have been building female-centric platforms using Truecaller SDK to onboard users in a hassle-free manner. This is helping reduce any errors or drop-offs that happen while onboarding. With it, the confidence of the user at the time of onboarding remains intact while exploring the app. We thank these platforms for leveraging Truecaller SDK and showing the trust and love  they have for us.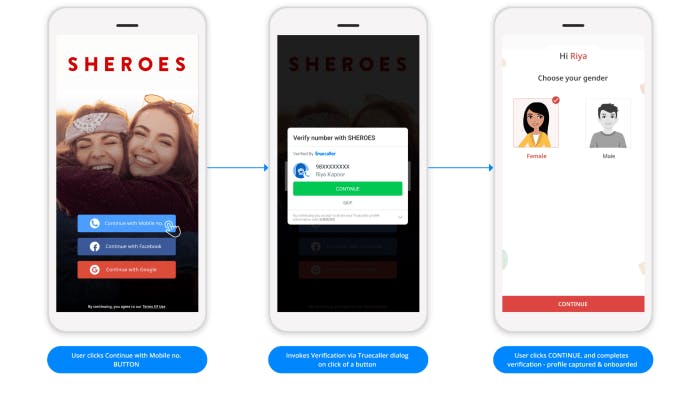 The SHEROES app (on Android and iOS) is a safe and trusted space for women. On Sheroes they can discuss health, careers, relationships, and share their life stories, achievements and moments. 
Perks of the app – The app offers a dedicated helpline where community members can talk to counsellors on all aspects of their growth journeys. They are also available in more than 6 languages for user's convenience.
2.  POPxo
POPxo (available for Android and iOS) is India's most vibrant community for women. Users can connect with like-minded women, ask questions, read articles, watch entertaining videos, and shop for super cool and quirky products. Women users can post without filters, and without judgements – asking and answering questions.
Perks of the app – They also offer a period tracker called "Gulabo". Gulabo helps women track their period and gives useful menstrual health tips. They have also been vernacular and available in English, हिंदी, বাংলা, தமிழ், తెలుగు and मराठी.
3. Womaniya
The Womaniya app (available for Android) is India's largest platform for pregnant women. Women from all parts of India connect with each other to discuss the different stages of pregnancy. 
Perks of the app – This app offers women free 24*7 doctor advice. The community members can ask questions that they can't wait to ask the doctor. These are answered 24*7 by a helpful community of supportive doctors.
4. Babychakra
Babychakra (available for Android and iOS) is one of the most highly recommended apps by millennial moms. They help women sail through their journey of pregnancy and parenting by being the perfect companion. Babychakra also caters to them with a plethora of descriptive and visual information. This covers everything from pregnancy and parenting tips to babycare and postpartum tips. 
Perks of the app – millions of moms trust it. They also offer chat rooms and free live video chats with top experts. This helps you get highly recommended information at your fingertips.
5. Healofy
Healofy is evolving as a women's social network. It is available on the Google Play store and caters to users in English, Hindi, Tamil, Telugu, Kannada, Malayalam, Bengali, Gujarati and Marathi. 
Perks of the App – They help by providing a safe and secure community for all women using the internet. They can ask questions, read the quality content and connect with other women who are going through their very own experience of raising a child.
Is adding one-tap signup using a mobile number best for your product? Learn more about how to implement Truecaller SDK for your app!
---