Call Me Back -  An Intrusive-free Way For Businesses To Reach You
It's never a pleasant experience to miss important calls, especially when they are from businesses that are relevant to you. However, with the "Call Me Back" feature, you can save yourself the trouble of returning a missed call. Continue reading to learn more about the feature, and what it can do for you.
A quick background
Effective communication is vital in today's fast-moving environment, whether for business callers or any other person who receives the call. On the one hand, excessive calls can annoy and hamper your mood. On the other hand, missing important calls can be frustrating, especially from businesses that matter to you. Fortunately, the "Call Me Back" feature can help you show your intent to businesses and save you from the hassle of calling back.
What does the feature do?
Businesses can use the Call Me Back feature, enabling Truecaller users to request a call-back, saving themselves from excessive calling. If you're interested in the business offering and ask for a call-back, the executive or representative can call you at your preferred slot (Evening, Tomorrow, and Weekend). It's a simple and intrusive-free way to stay in touch.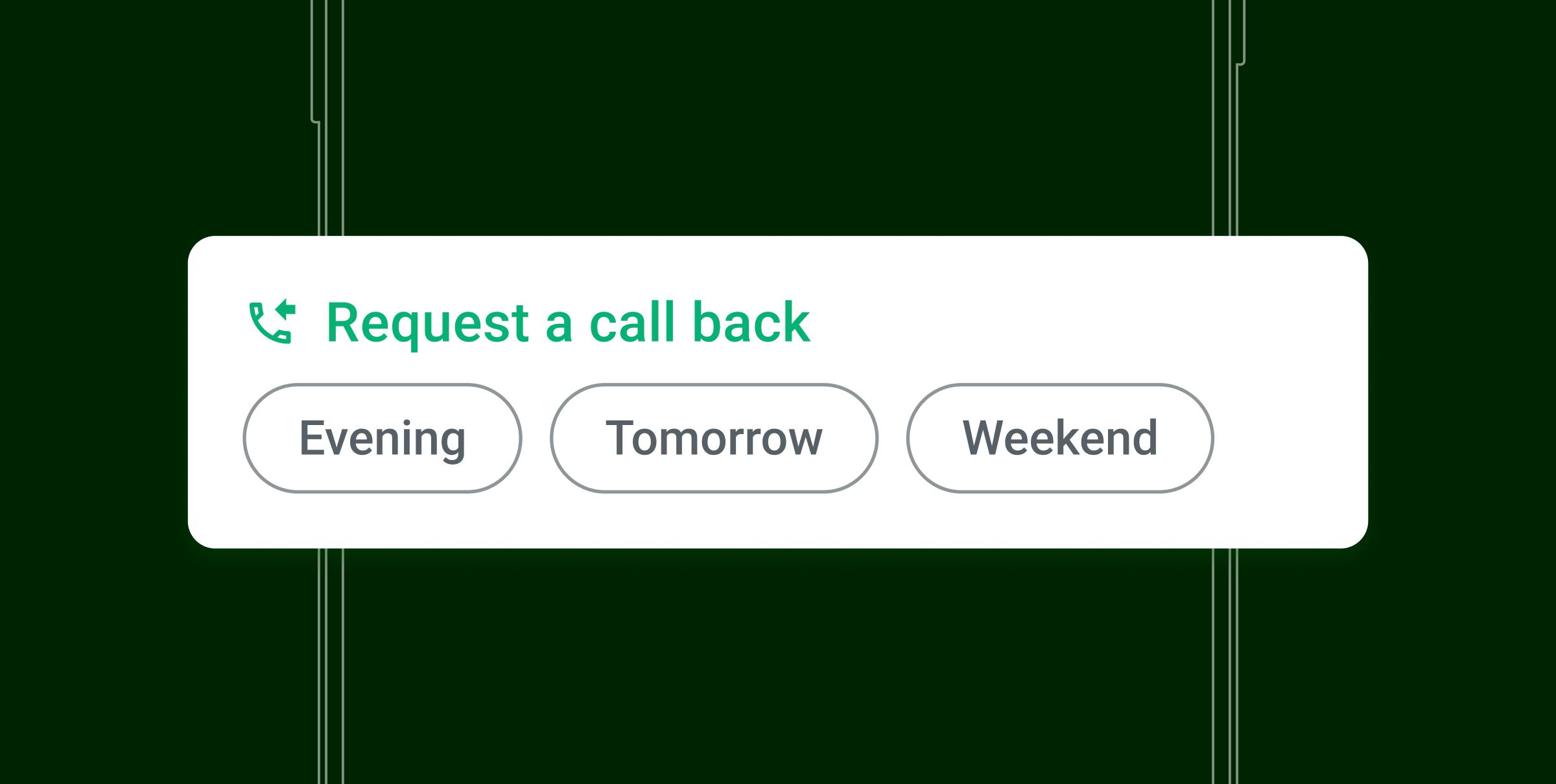 What's in it for you?
Experience Professionalism:
By cutting out unnecessary calling, 'Call Me Back' enables businesses to deliver a more professional user experience to you. Your time is valued and you don't have to bear the brunt of seeing forced phone calls on your screens. 

Saves time and convenience
As you can request a callback (if you are interested in the business offering), it ensures that both ends don't waste each other's time. Also, it allows you to expect a call-back at your preferred slot, rather than being caught off guard by an unexpected call.

Safety:
If a business representative calls you repeatedly, it can feel like spamming. Therefore, having a Call Me Back option ensures that the business values your time, and respects your privacy, making it easier for you to trust the caller's motives.

Some examples of when businesses can use the "Call Me Back" feature
If say, a job recruiter has enabled Call Me Back, and you're unable to answer their call. You can request a call-back and connect for the job opportunity while saving yourself the hassle of sending formal emails, messages, or voicemails.

Maybe you missed a call from the auto company to confirm your test drive for your dream car. No problem, simply request a callback and finalise your appointment when it's convenient for you.

Perhaps your bank relationship manager has urgent information regarding your personal loan or other matters. Avoid repeated calls by using the Call Me Back feature to connect with them conveniently.


In conclusion, the "Call Me Back" feature of Truecaller is incredibly beneficial for different sects of business callers and also aims to improve the user experience of the Truecaller community. This feature offers users more control, convenience, and privacy when making and receiving calls.
To stay updated with many more valuable features available on the Truecaller App, we encourage you to reach out to us and stay connected.Follow us on Truecaller's social media channels, including Truecaller's Youtube Channel, Instagram,Instagram India, Facebook, Twitter, and Twitter India, for exciting updates, contests, and more.
---