Enhanced SMS Filtering For iPhone - Bid Goodbye To A Messy Inbox
Receiving spam messages is almost like getting unwanted flyers in your mailbox, but only more annoying! But here's the good news - we've improved the SMS filtering feature for iOS 16 and above. Read on to know more about the feature.

There's no denying that spam and unwanted messages have become a major nuisance. From annoying promotions to harmful scams, these messages can put your personal information at risk. But hate it or love it, SMS still remains an important part of our daily communication. So instead of the problem, we decided to focus on the solution! With our enhanced SMS Filtering Feature (for iOS 16 and above), dealing with spam messages will be a thing of the past.

The New Categories of SMS Filtering
Our SMS Filtering feature has always been effective at filtering messages into Transactions, Promotion and Junk. But the recent update has made it even better. The app now offers more categories of Filtering, including Finance, Orders, Reminders, Coupons, and Offers. Each category is designed to filter out specific types of messages and make it easier for you to manage your message inbox.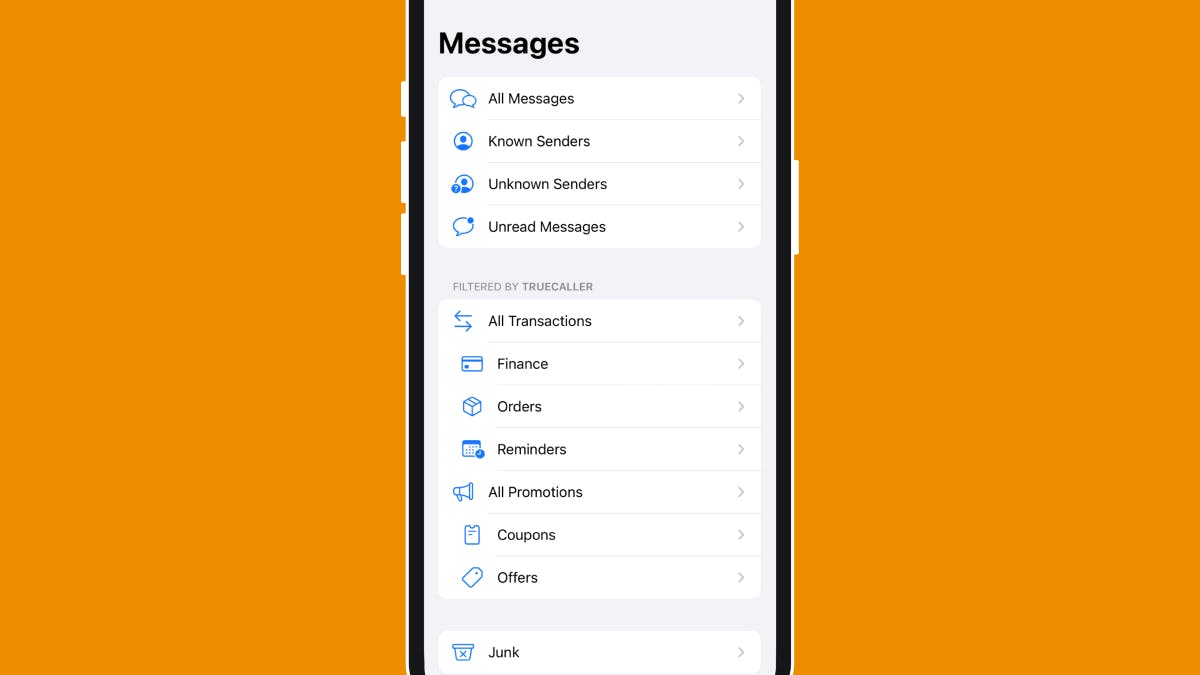 The latest SMS Filtering Categories for iPhone.
The Finance category will filter out all bank-related messages, OTPs, and other financial messages.
The Orders category will bear all delivery, exchange, and other e-commerce related updates.
The Reminders category will filter out bill reminders, subscription messages, and other reminders.
The Coupons category will have all the promotional messages that include a coupon code.
The Offers category will have all the promotional messages received that include a discount or special offer.

How to Enable the Feature:
To make the most of this feature, you will have to enable it. Set up the SMS filtering on iPhone in easy steps:

Step 1: Go to Messages in the iPhone setting
Step 2: Tap on unknown and spam
Step 3: Turn ON 'Filter Unknown senders' and select Truecaller
Step 4: Tap on Enable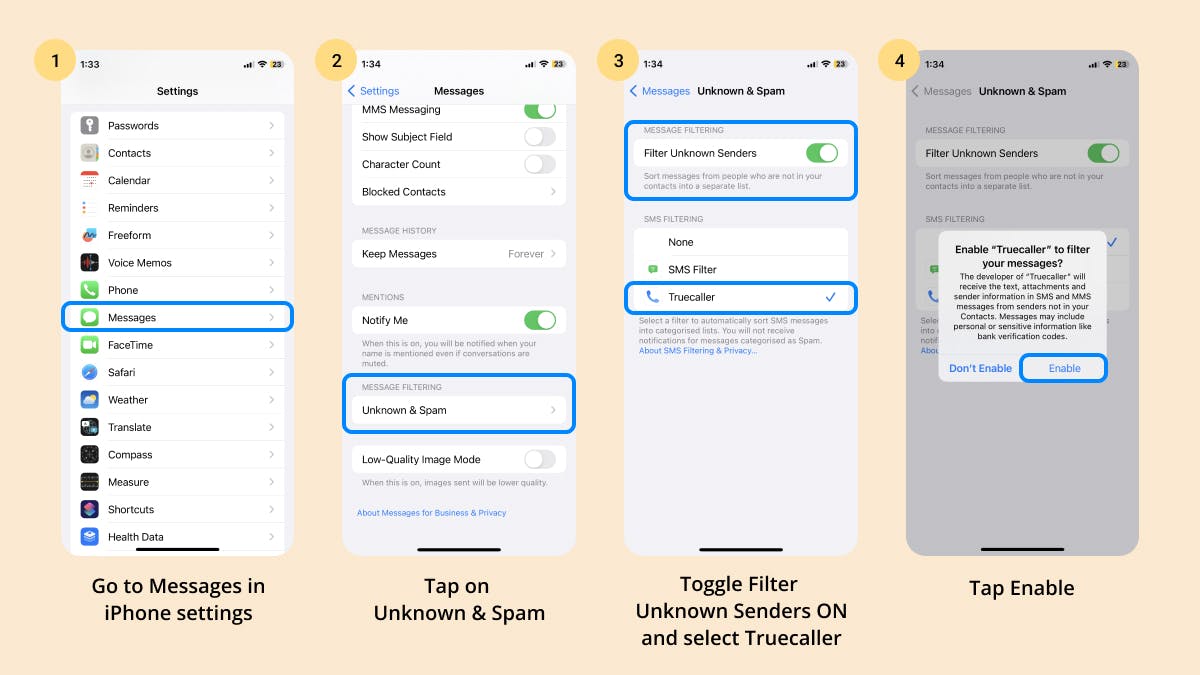 Step by step process of how to enable the feature
How does the Filtering Work?
With Truecaller's filtering feature enabled, any SMS you receive from a business or non-business sender, except contacts or iMessages, will be categorised as safe or SMS junk based on previous reports by the Truecaller community.
Spam messages from unknown senders are filtered into the 'Junk' inbox, while other messages are sorted into their respective categories. All filtering occurs locally on your device and is not sent to servers, so you can rest assured that your privacy is protected.
Benefits?
The advantages of using the Enhanced SMS filtering on Truecaller are clear as a blue sky:

•Your inbox will stay clean and organised just like different clothes stacked into different drawers, but only automatically!

• You can save time by getting straight to the messages that matter.

• It will help you avoid scams and phishing attempts that could lead to security issues or financial loss. 

To sum it up…
If you're tired of dealing with spam and unwanted SMS messages, Truecaller's SMS filtering feature is a great solution. With the new filtering categories, you can avoid the messages you don't want to see. Just be sure to review your spam folder regularly to check for false positives or missed messages, and adjust your settings as needed. This is currently available in India, Nigeria, South Africa, Kenya, Bangladesh, and Sri Lanka. However, the feature will be rolled out to more countries soon. And remember, it's Free!


Our mission at Truecaller is to build  trust in communication. We believe that educating you about how our features work is essential in helping you navigate a world where unwanted communication and fraud are commonplace in your daily life. So, we strive to provide you with the information you need to make the most out of Truecaller.

Stay updated about recent scams, and watch the latest Youtube videos on how you and the 350 million-strong community of people using Truecaller every month can stay protected. You'll find us on Twitter, Facebook, Instagram, and TikTok.
For those in India, follow Instagram India and Twitter India for exciting updates, contests and more!

---