How Truecaller's Number Verification App is Empowering Shopify Merchants
Cart abandonment is on the rise, for a range of reasons. Truecaller is helping Shopify merchants tackle this problem with a number verification app. Read on to find out why this can be a game-changer for merchants.
The pandemic significantly impacted eCommerce trends across the world. In 2021, mobile shopping from Shopify merchants captured 71% of online sales via mobile. Globally, Shopify store owners made an astonishing $6.3 billion USD between Black Friday and Cyber Monday, which was a 23% increase from 2020.
As people's appetite for online shopping continues to increase, their expectations are also on the rise. They want a safer, quicker, and more seamless checkout process. Even a small hiccup like a delayed OTP or a long registration form can result in drop-offs.
It's reported that eCommerce stores lose 8 billion in sales revenue each year because of cart abandonment. Statista did a survey on 'what shoppers do after abandoning their cart in the UK' and found that 26% of shoppers purchase the items from other online retailers, whereas 8% of shoppers go to a physical store to make the purchase. 
Moral of the story? 
User drop-offs or cart abandonment can cost you serious business opportunities.  
Top reasons for cart abandonment
A seamless checkout experience is integral to your eCommerce store.  You get it right and you get a returning customer. You get it wrong and your customers will leave with a bad taste in their mouth, which is not ideal for your brand's reputation.
Baymard Institute recently did a quantitative study to understand the reasons for cart abandonment. They found that 58.6% of US online shoppers had abandoned at least one cart in the last 3 months. 24% of these people didn't want to create an account, and 17% felt the checkout process was too long.
A lot of shoppers find it frustrating to manually enter their personal details for a single purchase—which is why almost a quarter of cart abandonment happens because the site asks them to create an account.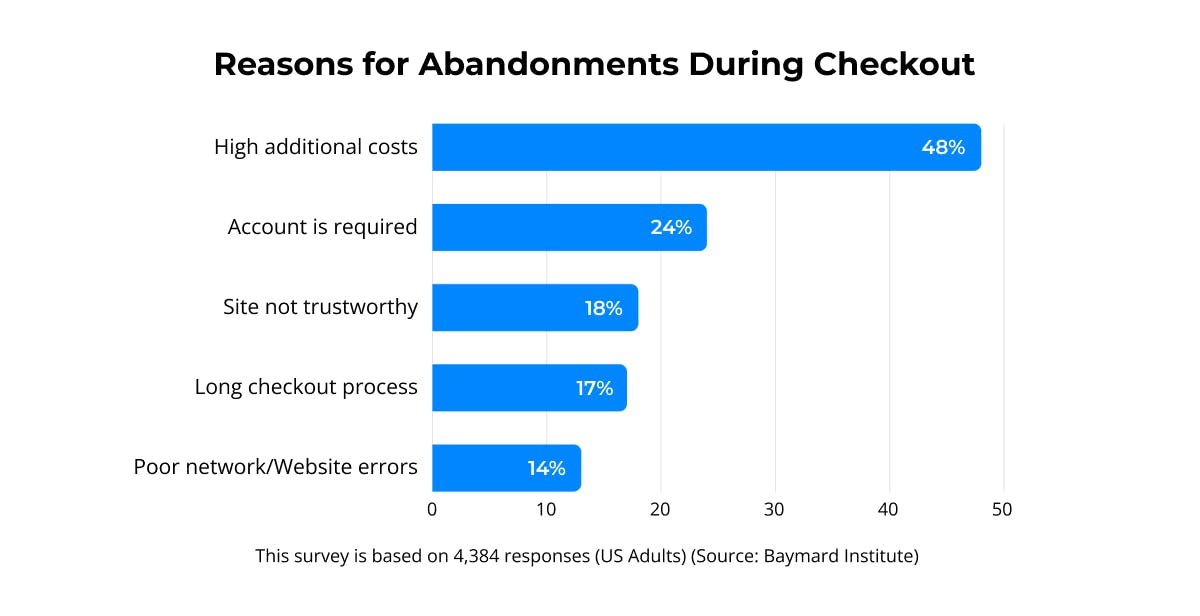 For Shopify merchants too, it is not that easy to recover abandoned carts and ask shoppers to complete their checkout.  Yes, automated reminder emails are sent to shoppers, but in certain circumstances, they don't get triggered. 
Therefore, the best solution is to reduce the frequency of cart abandonment itself. This can be done by accelerating the user verification and checkout process and giving quick gratification to shoppers.
How Truecaller is solving the cart abandonment problem for Shopify stores 
Shopify merchants can now use Truecaller's Number Verification app for their stores. The app will enable a one-tap, OTP-free user verification for shoppers who already have their verified profiles (mobile number-based) on Truecaller app. They can skip the hassle of a multi-step verification process and get their details auto-filled with just one tap. 
Here's a quick video for you. 
With our number verification solution, Shopify merchants can:
Reduce user drop-offs by instantly verifying and auto-filling user details, and sparing shoppers from all the boring stuff.
Save OTP costs by making the entire process from verification to checkout OTP-free.
Materialise a simple, zero-effort flow and do away with typos, as users don't require typing anything.
Ensure quick checkout with fewer steps/ screens, thereby keeping shoppers enthusiastic about their purchase.  

Our solution is fueled by our ever-expanding user base of Truecaller, which now stands at 356+ million. This means you can make life easier for 356+ million Truecaller users (read: shoppers) by giving them a seamless checkout experience and improving your sales in the process. 
Truecaller's Number Verification app is compatible with all Shopify themes. Moreover, no technical skills are required for the integration, and you can simply register and implement the one-tap verification flow from the word go. In case shoppers do not have the Truecaller app installed on their mobile device, they can go through the default checkout flow with no changes in their user journey. 
You can learn more about our solution below:
If you have any questions or feedback, feel free to reach out to our Developer Platform Team.
---