Spam Calls Increasing in Malaysia!
Malaysia is known for its iconic beaches, rainforests, bustling business, and….spam calls? We've identified latest phone scam called the Macau Scam, and dug up revealing stats on spam and scam calls in Malaysia!
Unwanted spam calls are on the rise around the globe, no doubt, and the situation is skyrocketing in Malaysia. In fact, Malaysia is being more affected than its neighboring countries. According to our report, the average Truecaller user in Malaysia receives more than 7 spam calls each month, compared to 4 spam calls monthly in neighboring countries of Singapore and Thailand, and 2 per month in Vietnam. However, Malaysian residents will be glad to know that so far, Truecaller has helped its users identify over 4.3 million spam calls just this year alone.
Globally, there are a number of common categories that tie all spam calls together, with some of the most common being unsolicited finance and insurance product offerings along with telemarketing and debt collection calls. Other unwanted calls include operator nuisance and scam calls.
"Spam calls and SMS is a global phenomenon, and recently we've seen an uptake from users suffering from this hassle in Malaysia," said Alan Mamedi, CEO & co-founder of Truecaller."Truecaller is substantially improving people's lives and we look forward to being able to help even more people by making their communications safe and efficient."
A closer look at spam calls in Malaysia
One major driver of spam calls in Malaysia are financial services that account for 67% of spam calls. Typically, these are banking products offers or cold calls from credit card companies. Another major spam call problem that Malaysians have to deal with is telemarketing calls that make up 13% of total spam calls reported. Telemarketing calls can further be broken down into promotional calls from companies, surveys being done by analytics firms on behalf of their clients, or new client outreach for services and subscriptions.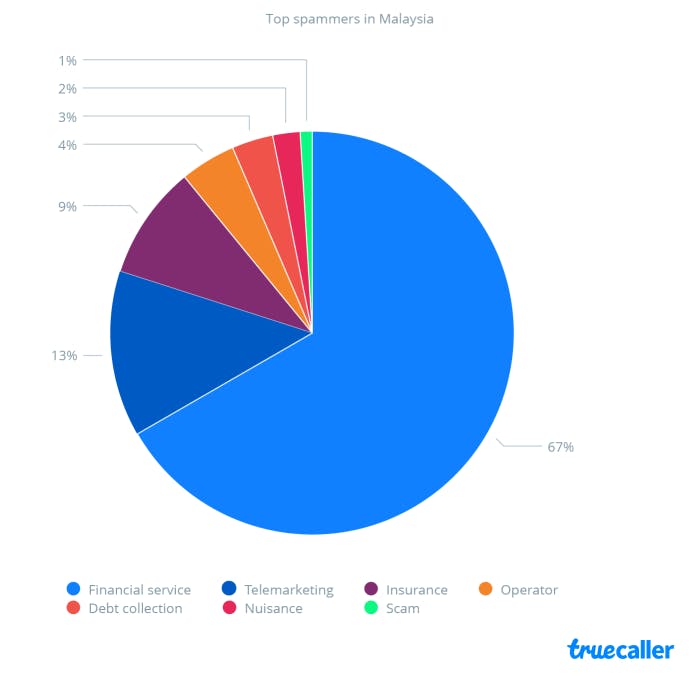 Rounding off the spam call list in Malaysia are insurance calls at 9% and operator calls at 4%. Debt collection, nuisance and scam calls make up 6% of spam calls.
Current Phone Scams
According to sources, one of the biggest phone scams is the Macau Scam, where victims say that they received a call from a man claiming to be a police officer on duty at Taman Sri Muda Police Station. He described that the victim has several police cases around them, and only money can settle it.
Two Ways to Counter spammers
Download the Truecaller app for free! Truecaller makes it simple for everyone to look at their Caller ID and know who's calling, even if the number is not stored in their phonebook. Truecaller also enables users to block calls as well as SMS and report spam callers and messages, allowing the larger community of users to avoid the spammers, too. Currently, more than 250 million people around the world are enjoying the benefits of using Truecaller. So, even unidentified foreign numbers can be vetted with Truecaller, currently available for Android and iOS.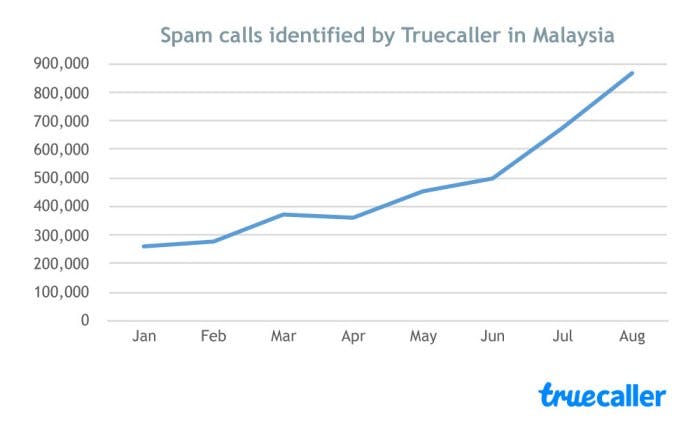 In Malaysia, the Personal Data Protection Act (PDPA) enables consumers to officially write to any company using their contact details for marketing and ask for the company to stop marketing to them. Companies that do not comply with the written notice from the consumer can be fined up to RM200,000 or jailed for up to two years, or both.
However, it can be tedious for consumers to identify every company marketing to them and to send a written notice, and to later lodge an official complaint to the authorities if the marketer does not comply.
---