Top Spammers in Sri Lanka are Telecom Operators in 2017
Truecaller
Dec 14, 20172 min readEdited on Aug 2, 2018
Unwanted spam calls are on the rise around the globe, and the situation is no different in Sri Lanka. Our recently published Truecaller Insights: Top Spammers in Sri Lanka in 2017 report reveals that in Sri Lanka there is a 92% increase in spam calls between January to December this year.
However, Sri Lankan residents will be glad to know that so far, Truecaller has helped its users in Sri Lanka identify over 8.5 million spam calls, just this year alone.
A closer look at spam calls in Sri Lanka
One major problem around spam calls in Sri Lanka, are calls from telco operators, which amount to the majority (72%) of the total for reported spam calls. Operator spam calls involve telecom companies cold calling people. During these type of calls, call center agents attempt to upsell data plans or push promotional offers to the public at large.
Another major spam call problem that Sri Lankans have to deal with is scam calls, these accounted for 22% of all spam calls. Scam calls are basically attempting to defraud you via your telephone, with scammers using a phony scheme to swindle money from unsuspecting members of the public. Where recently the 'one ring scam' also popularly called the 'Wangiri phone scam' affected many Sri Lankans. Rounding off the spam call list in Sri Lanka are nuisance calls at 3%, these kinds of spam calls, in general, are unwanted and unsolicited calls that are a disturbance for users, r at the very least amount to prank calls and at worst, harassment.  The rest of the listed spam calls were constituted by financial services (3%) such as banking product offers, unsolicited credit union calls or credit card companies cold dialing people.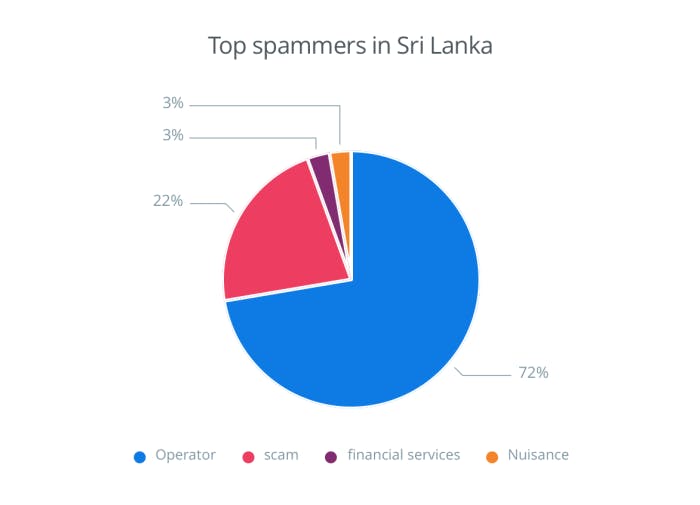 In Sri Lanka most operators offer the service of blocking calls via SMS or USSD code. However, this comes with a price and also requires effort in order to remember the SMS number or USSD codes for activation of the service.
Truecaller makes it simple for everyone to look at their Caller ID and know who's calling, even if the number is not stored in their phonebook. Truecaller also enables users to block calls as well as SMS and report spam callers and messages, allowing the larger community of users to avoid the spammers too. Currently, more than 250 million people around the world are enjoying the benefits of using Truecaller. So, even unidentified foreign numbers can be identified with Truecaller, currently available for Android and iOS.
For more detailed and global stats check out our Year in Calling to discover how Truecaller users communicated in 2017: https://www.truecaller.com/year-in-calling
---