Truecaller Insights: Top 20 Countries Affected by Spam Calls in 2020
This year's data is in, and it makes for interesting viewing. Learn insights from 2020's Year in Calling, including which country got the most spam calls.
Introduction
When we first released the "Truecaller Insights: Top 20 Countries Affected by Spam Calls" report three years ago, we wanted to understand the impact of spam and scam calls around the world. Internally, we knew this was a big problem that affected people globally, but at that point very little public data was available, and is still scarce today. Our report shows that spam communications are more than an annoying inconvenience – criminal scams are defrauding citizens and subscribers of tens of billions every year. 
2020 has been an unusual and trying year for most of us. With the pandemic breaking out earlier this year and countries going into lockdowns, we have seen that this has not only affected people's communication behaviour, but also the patterns of spam around the world. The global volume of misinformation is staggering, and these illicit communications are increasingly crossing borders.
Protecting the public requires scalable, dynamic and international solutions to isolate and block increasingly resourceful fraudsters. This year, we have been able to help our users block and identify 31.3 billion spam calls, which is an increase of 18% compared to last year. This is owed to more people trusting Truecaller to identify spam across the world, and an increase in the amount of calls made by spammers. Furthermore, we have helped identify 145.4 billion unknown calls, a 25% increase compared to last year.
Global Spam Trends
The COVID-19 pandemic has directly and indirectly affected not only global economies and societies, but spammer behaviour. As the virus spread exponentially worldwide, spam calls started to decrease around March. Given Truecaller's analysis doesn't contain data points from the spammer's perspective, it is difficult to attribute this to any one factor. However, the beginning of quarantines and curfews, which limited access to certain equipment and technologies, certainly had a role in this. With society 'paused', even the scammers took a break.
Spam reached its lowest point in April, when strict curfews and lock downs were implemented worldwide. The overall volume of calls also dipped during this period. However, from this point, reports of scammers taking advantage of the uncertainty around the pandemic emerged. In May, spam calls started to pick up again and have been increasing on average by 9.7% per month.
October, with a record high in terms of spam calls, was 22.4% higher than the pre-lockdown period. 
This year's trend, and the distribution of spam worldwide, shows that rather than mitigating spam, the pandemic only offered a brief respite to victims of scammers. And despite various countries re-entering lockdowns in the latter part of 2020, this has not affected global spam rates negatively. If anything, spammers have now adjusted to a COVID world.
Top Countries Affected by Spam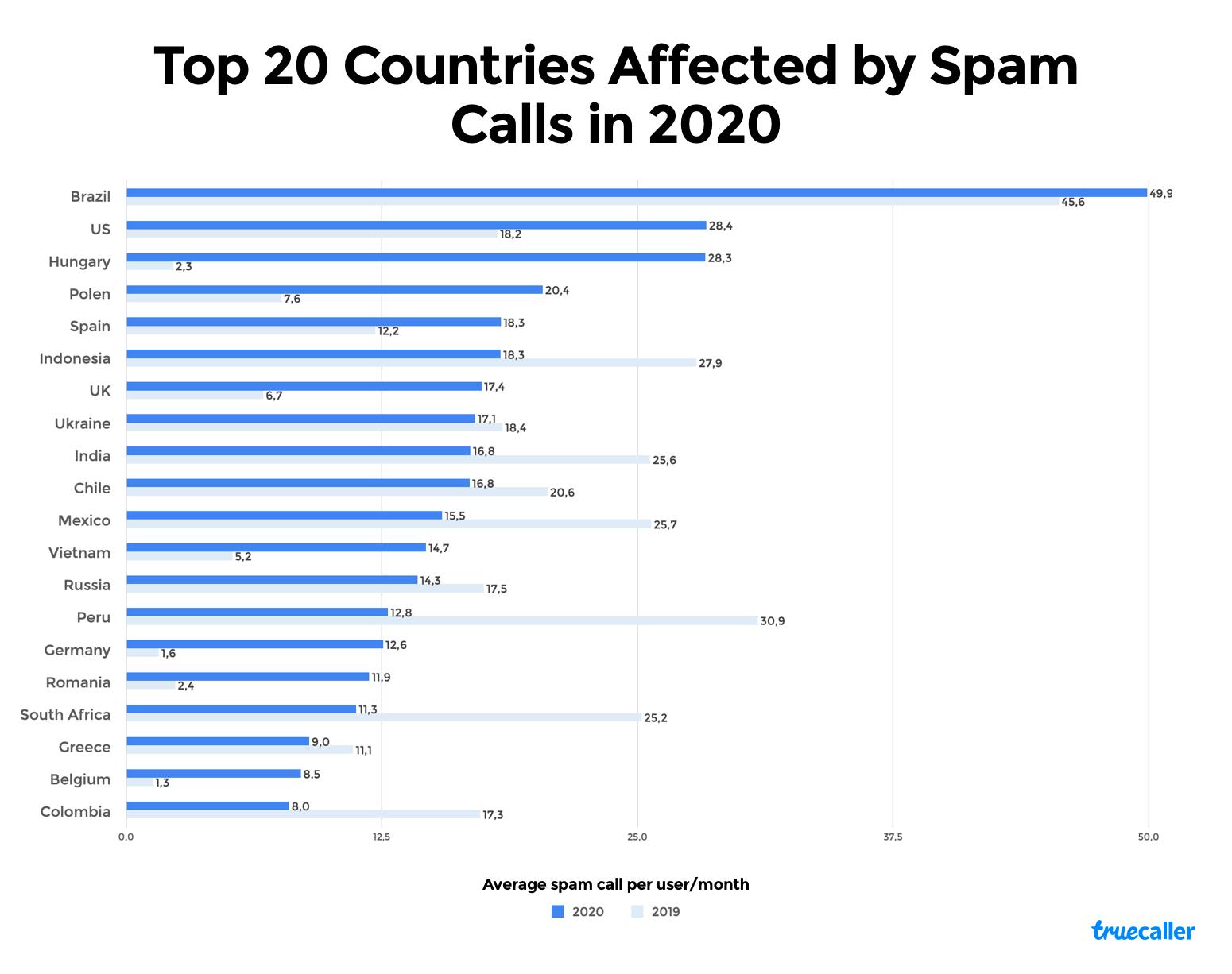 What are the trends we are seeing? 
Brazil is still the most affected country when it comes to spam calls, with an increase of 9% compared to last year.
The US is now the second most spammed country in the world, and has seen a 56% increase of spam calls compared to last year. This is a significant rise from last year's position of 8th. 
India, a country that used to receive the most spam calls in the world, has now dropped to 9th position. 
Last year, the South American region dominated the top 10 most spammed countries list. This year Chile, Peru and Colombia have seen a decrease in spam calls.
A lot of European countries have surfaced on the list – Hungary, Poland, Spain, UK, Ukraine, Germany, Romania, Greece and Belgium. None of these countries were on the list last year. 
The biggest increase of spam calls comes from Europe and the US – where Hungary has seen the biggest jump (1132%), followed by Germany (685%), Belgium (557%) and Romania (395%).
Indonesia (18.3), India (16.8), Vietnam (14.7) and Russia (14.3) are the most affected countries in Asia. 
An escalation of scam calls and robocalls around the world is expanding their share within the most common spam categories. Scammers taking advantage of the pandemic is a reason for the increase of scam calls.
Just like us, spammers take time off from work on weekends, as can be seen in a global weekly reduction of spam calls on those days.
Who are the top spammers?
1. Brazil: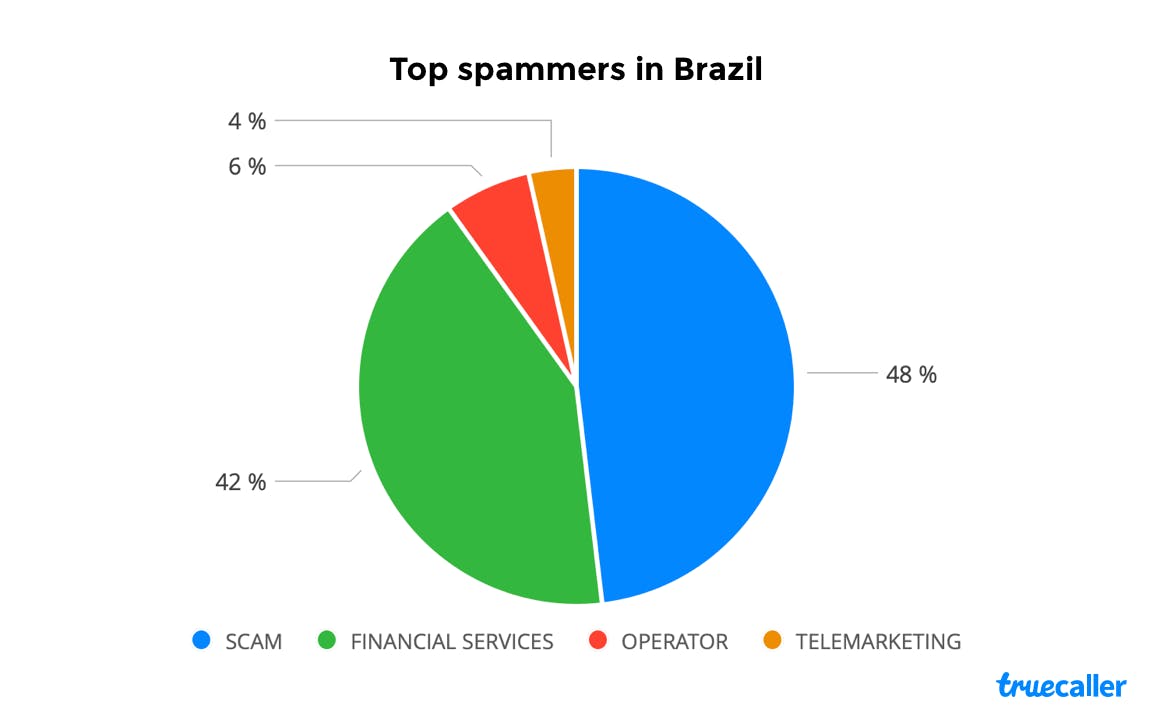 Brazil again takes out the top spot. Spam calls increased 9% this year, which is not as stark a rise as other countries, but still enough to retain the title of most spammed country in the world. Since 2017, spam calls in Brazil have increased 141%.
There has been a big shift in the distribution of spam and the approach of spammers in Brazil. Last year, every other spam call was made by the operators and internet service providers, but this year it has decreased to only 6%. Instead, scam calls have almost doubled in just a year, going from 26% to 48%, which is very alarming.
Another notable change is that financial related spam calls have increased from 13% to 42% – these calls are typically related to companies trying to upsell credit cards, insurances and loans.
2. U.S.: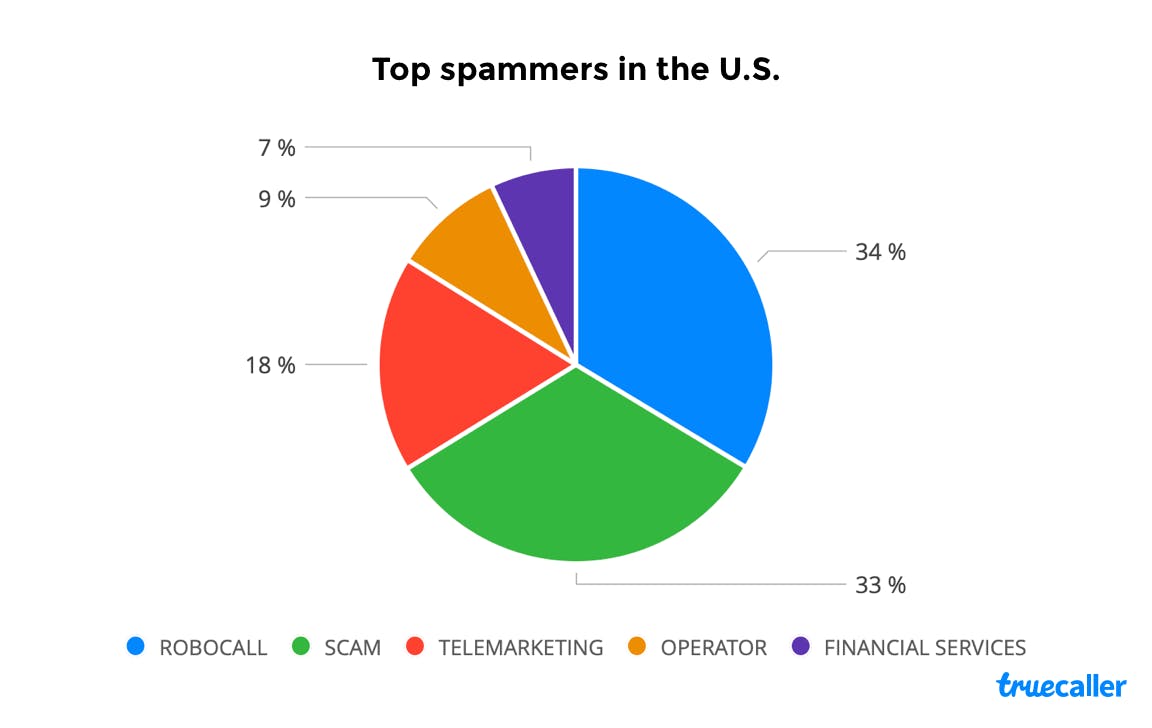 The U.S. have once again resurfaced as the 2nd most spammed country in the world (last time was in 2017). In the past 12 months spam calls in the U.S. have increased with 56%. 
The top spammers in the U.S. look very similar to last year. Robocalls and scam calls continue to be the biggest nuisance and threat to the Americans.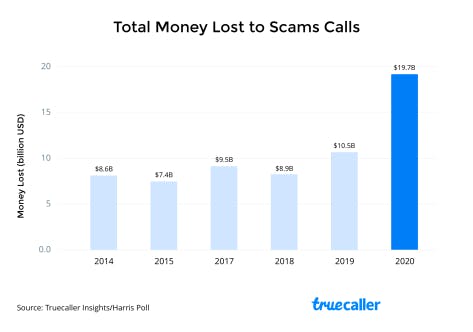 Earlier this year, we released the 6th edition of our US Spam & Scam Report. 56 million Americans reported having lost money to phone scams, and an estimated 9.7 billion USD was lost to scam calls. Of those who lost money to phone scams in the past, the average reported loss was 51 (up from 44 in 2019) and 61.5% got duped because of a robocall.
3. Hungary: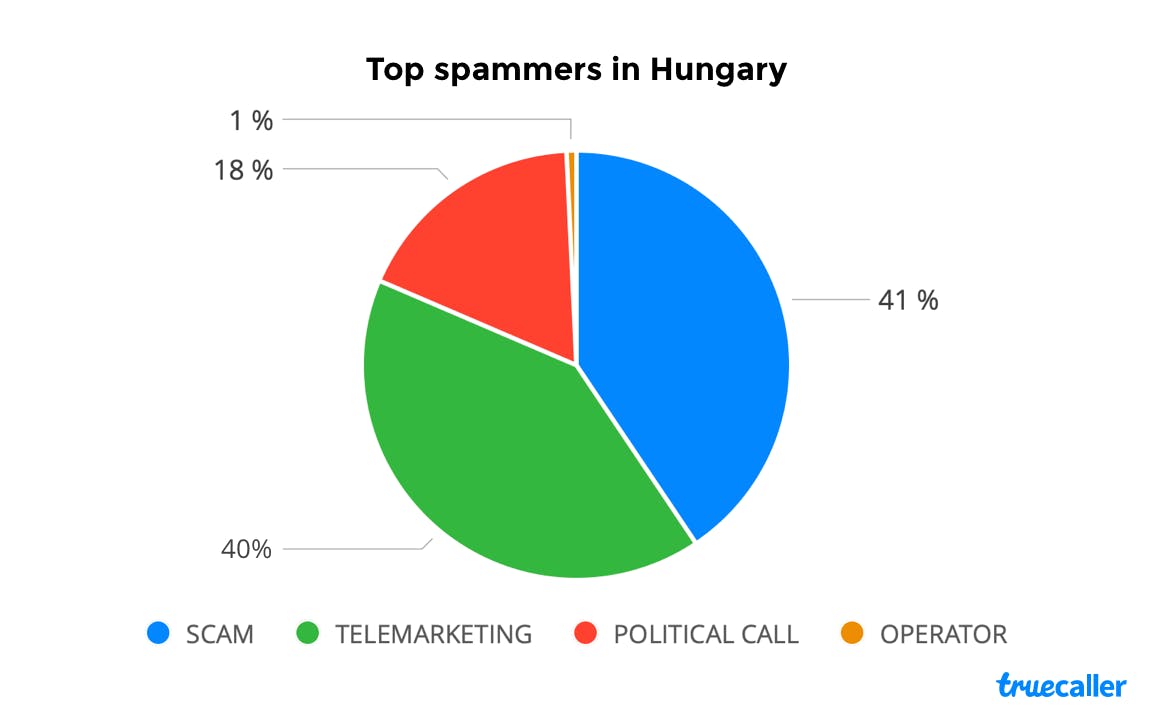 Spam in Hungary has increased more than any other country in the world, and it is the top spammed country in Europe. After a rise of 1132%, Hungarians now receive on average 28.3 spam calls per month. 
Last year the top spammed European country was Russia, in 9th place on the yearly list. This year, Europe has 5 representatives in the top 10, a worrying trend for those in the continent.
What is also worrying is that scam calls account for 40% of the top spammers in the country, and almost a fifth of all spam calls are politically related. A turbulent period in national and regional politics has therefore influenced and been exploited by various political operators in Hungary to send more spam, resulting in substantially more spam victims.
4. Poland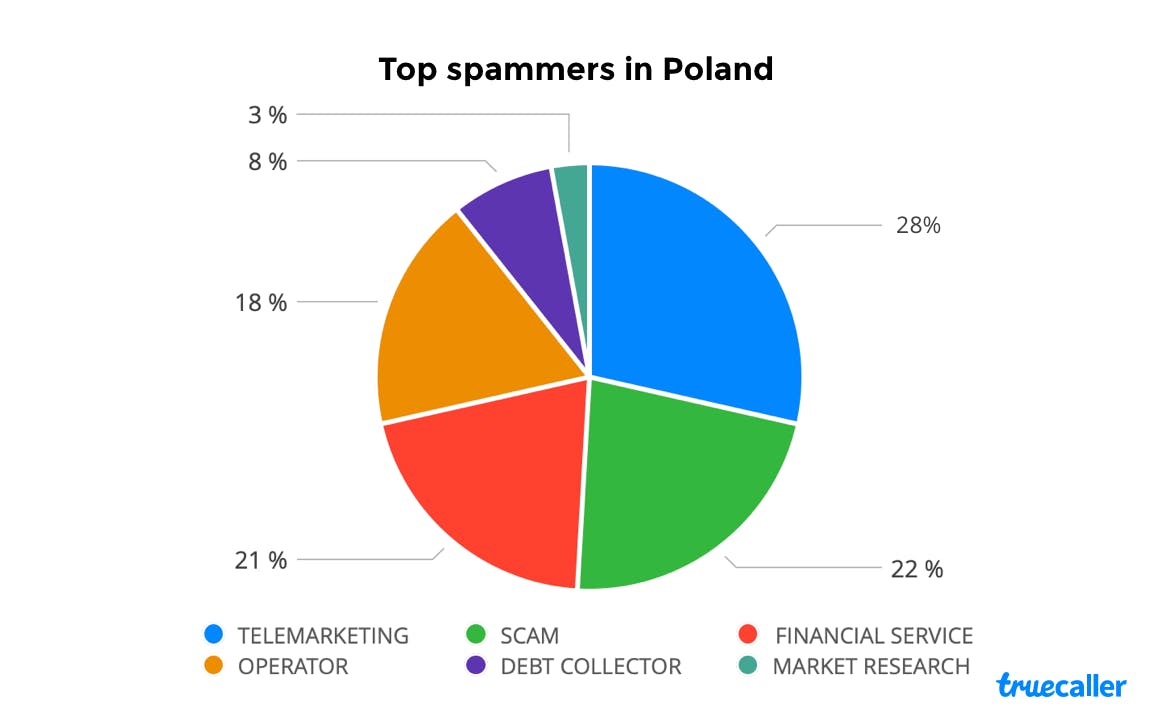 A sharp increase in spam calls (168%), has resulted in Poland climbing up the list of most spammed countries. With an average of 20.4 spam calls per month, Poland becomes the 2nd most spammed country in Europe.
Last year, Poland wasn't in the top 20 most spammed countries. This year the increase is comparatively consistent across a fairly even distribution of spam types, as seen in the graph above.
5. Spain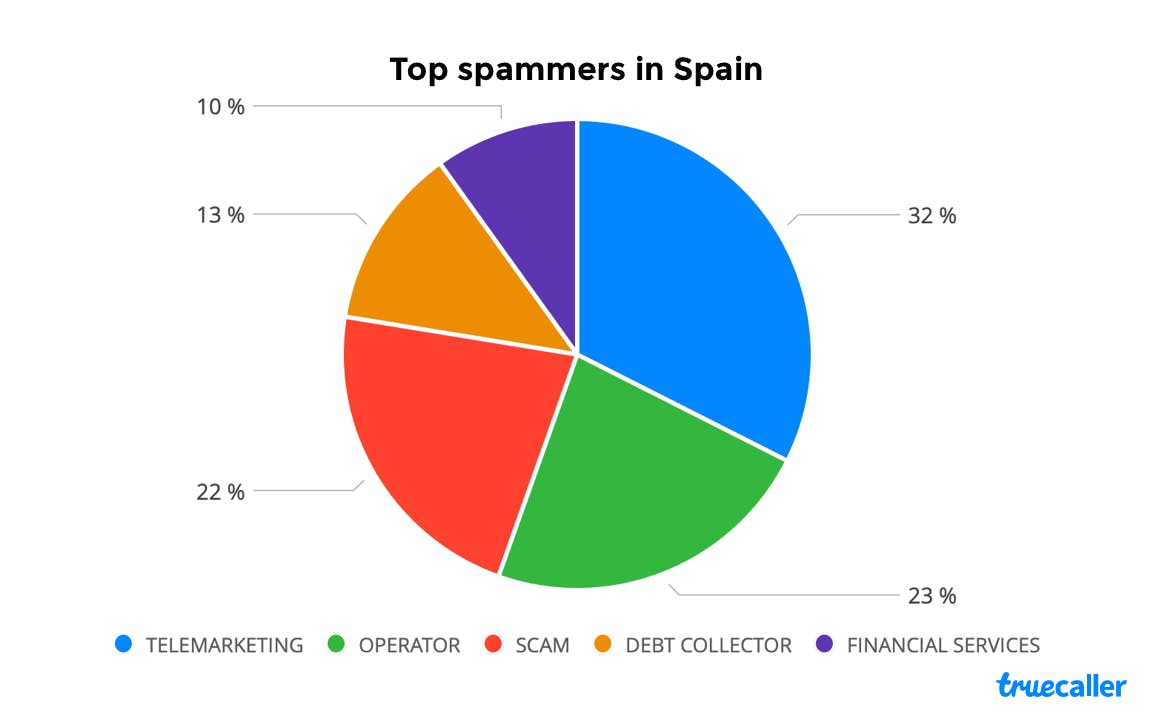 In 2018, Spain was the 11th most spammed country in the world. This year, Spain has once again surfaced to within the top 20, and is now the third most spammed country in Europe.
In the past 12 months, Spain has seen a 50% increase in spam calls where telemarketers and operators comprise the biggest nuisance for Spanish residents. Over a fifth of the spam calls are scam related. The indications we have received from our community are that COVID-19 related scams have flourished since the outbreak of the pandemic.
6. Indonesia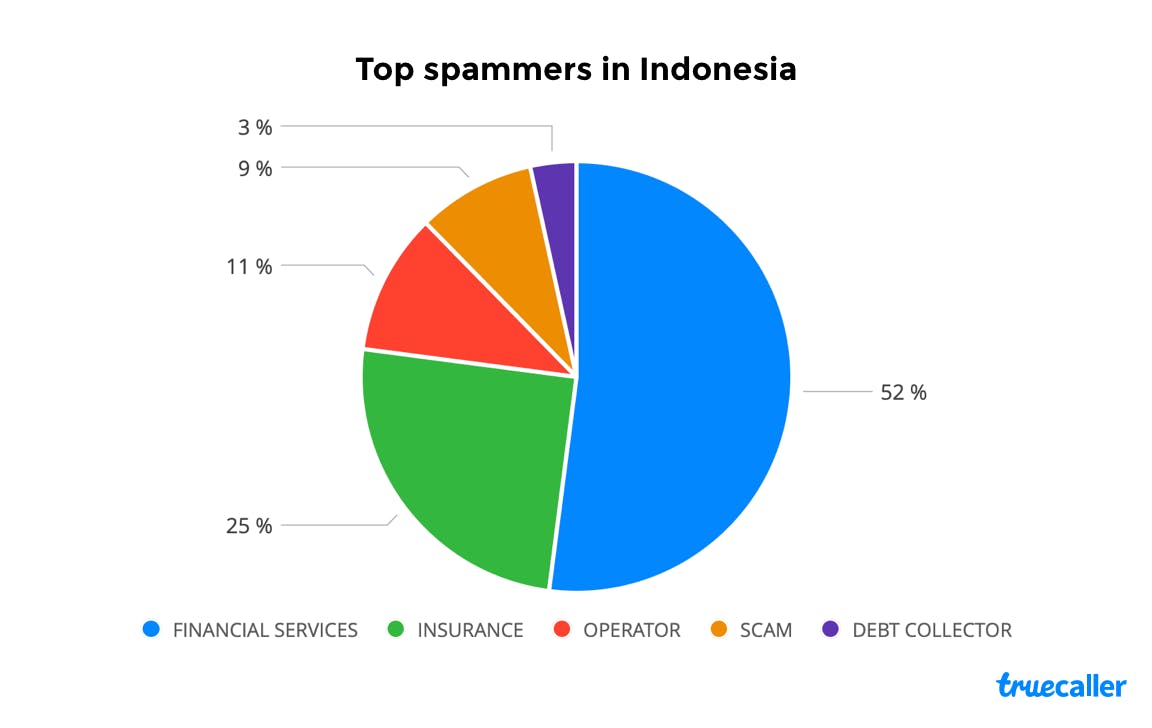 Indonesia received the biggest increase in spam, according to last year's report. In an encouraging sign for Indonesians, they have slipped down the list to 6th. 
Spam calls have reduced by 34% in Indonesia this year, going from 27.9 spam calls per month to 18.3. However, financial services upselling various offers continue to plague the country, as can be seen by its 52% share of total spam. Scam calls also remain to be a problem in Indonesia (9%). 
7. UK: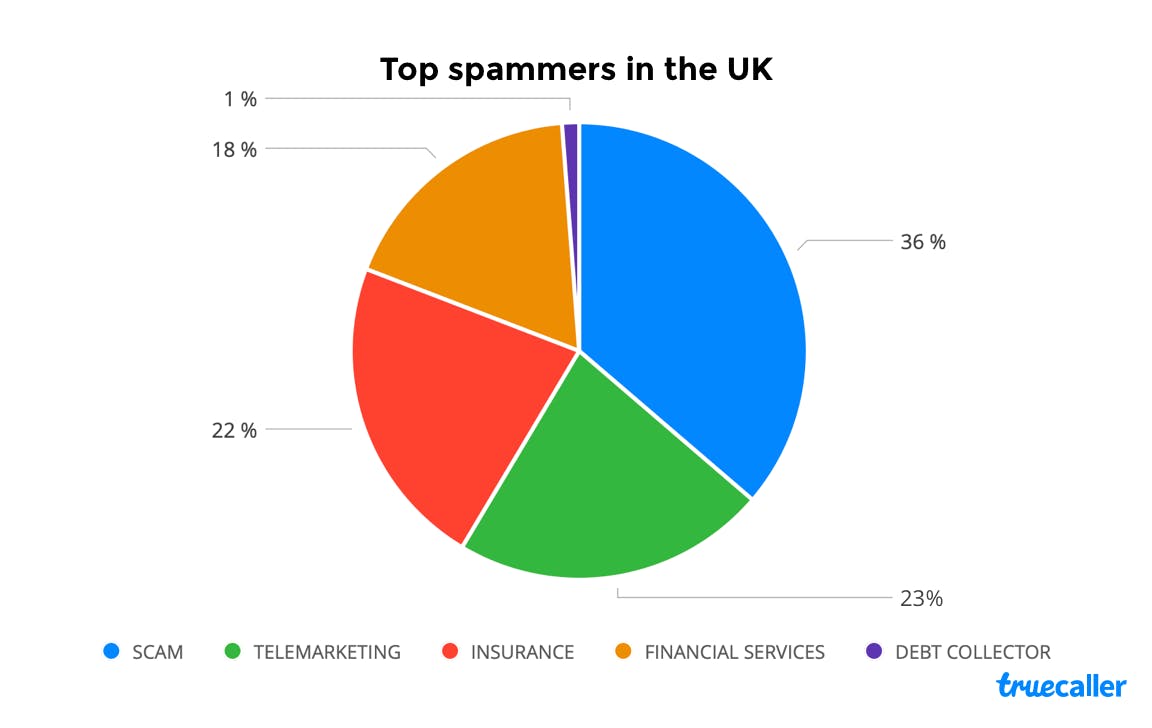 Like Spain, the United Kingdom was in the 2018 top 20 most spammed countries list. Over the past 12 months, the UK has seen a 159% increase in spam calls, making it the 4th most spammed country in Europe, and 7th in the world. 
The most alarming trend is that scam calls account for more than one third of the top spammers in the UK. From April (after the lockdown was eased) to October, scam calls increased 59% and sales calls increased 48%.
This year saw UK scammers exploit the ongoing pandemic crisis. One such example of a COVID-19 related scam was relayed to Truecaller: a bad actor calls you up to let you know that you have been in contact with someone that has tested positive for COVID-19, and that you need to get tested immediately. The scammer then asks you to share your personal information to verify yourself. At the end of the call, they let you know that in order to test yourself you need to pay a fee. They then ask you to share your credit card number with them and they subsequently defraud you of your money.
8. Ukraine: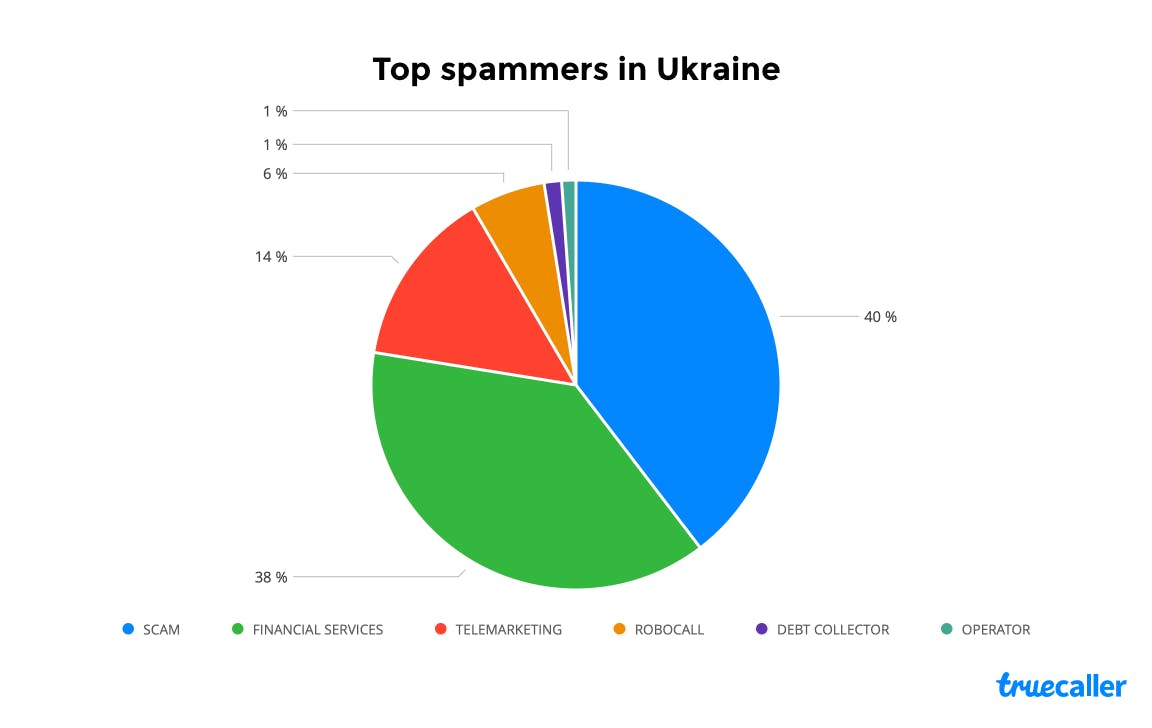 Similar to neighbouring Hungary, Ukrainian citizens are receiving a large amount of scam calls. Financial services, cold calling and upselling various services is also an outsized problem in Ukraine, despite their relatively small population size. 
Ukraine has suffered greatly with huge COVID-19 infection rates and a growing death tally, amid an uncertain geopolitical period. Unfortunately, they are also within the top 10 most spammed countries and show little sign of dropping from this list.
9. India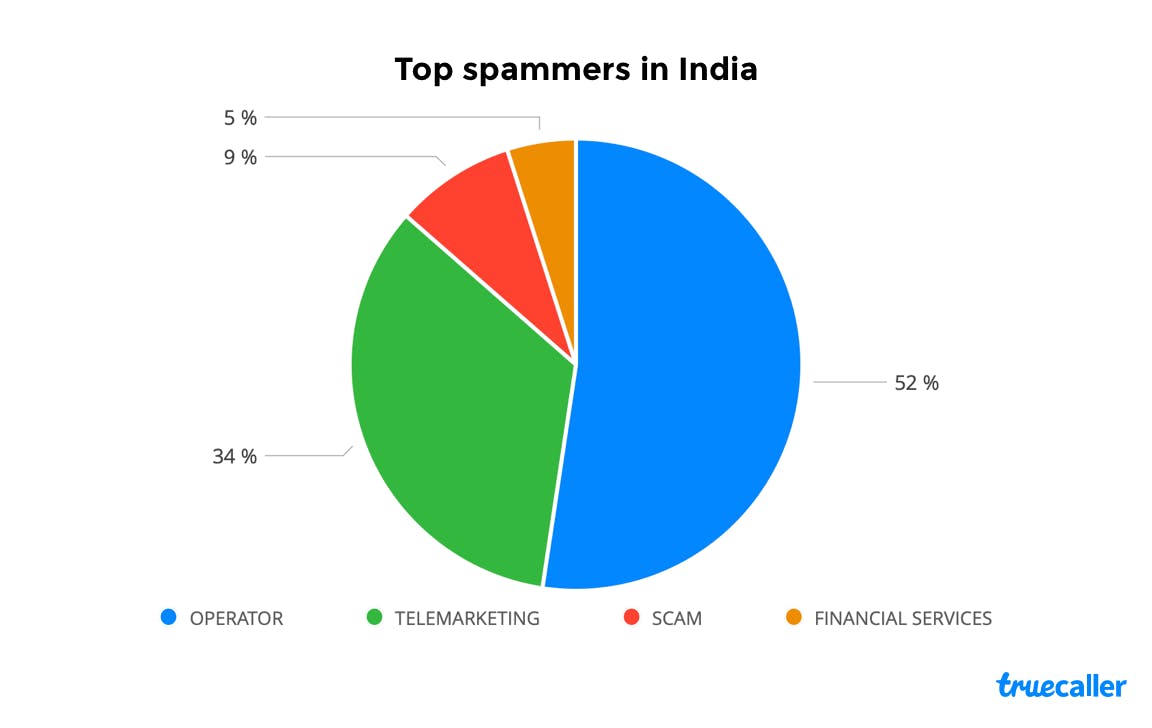 Despite a reduction in the amount of spam calls received (34%), India still makes it into the top 10 most spammed countries. Only 3 years ago, India ranked as the most spammed country in the world. 
Our data shows that the majority of all spam calls in India come from domestic numbers. Strict curfews and lockdowns in India made it much harder for telemarketers to go to work, or utilize the equipment they need to carry out large scale spam campaigns. This could partly explain why the total number of spam calls have decreased in India as compared to previous years.
Overall, the spam trends look very similar to last year with the exception that scam calls in particular increased from 6% to 9%. Based on community feedback and internal reports, we have noticed a very particular type of scam in India that seems to gain traction each year. We are talking, of course, about KYC and OTP related scams. They are now so common that even you may have experienced this yourself or know of someone who has. The scammers try to hook unsuspecting people using either phone calls or SMS and the tactic is always the same: they will try to get you to give up sensitive information about your financials or force you to you reveal a secret OTP with the ultimate aim of extracting money from your bank accounts or digital wallets.
Another interesting fact: In the first 3 months of lockdown in India, calls to emergency services spiked by 148%.
10. Chile: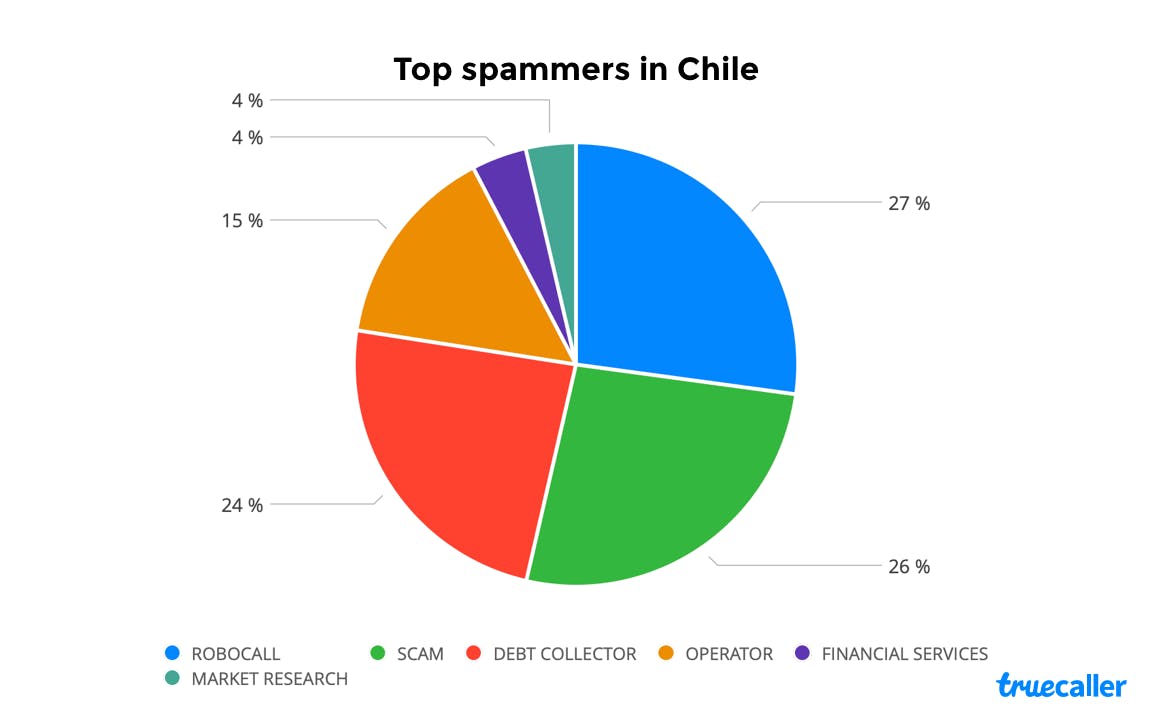 Although Chile has seen a slight decrease in spam calls, the country remains in the top 10 most spammed countries in the world.
One alarming statistic is that scam calls have skyrocketed in the past 12 months, most likely due to political instability in the country and the pandemic. 
Another interesting observation is that robocalls have become a top spamming category, a trend that is completely new in Chile for this year.
11. Mexico: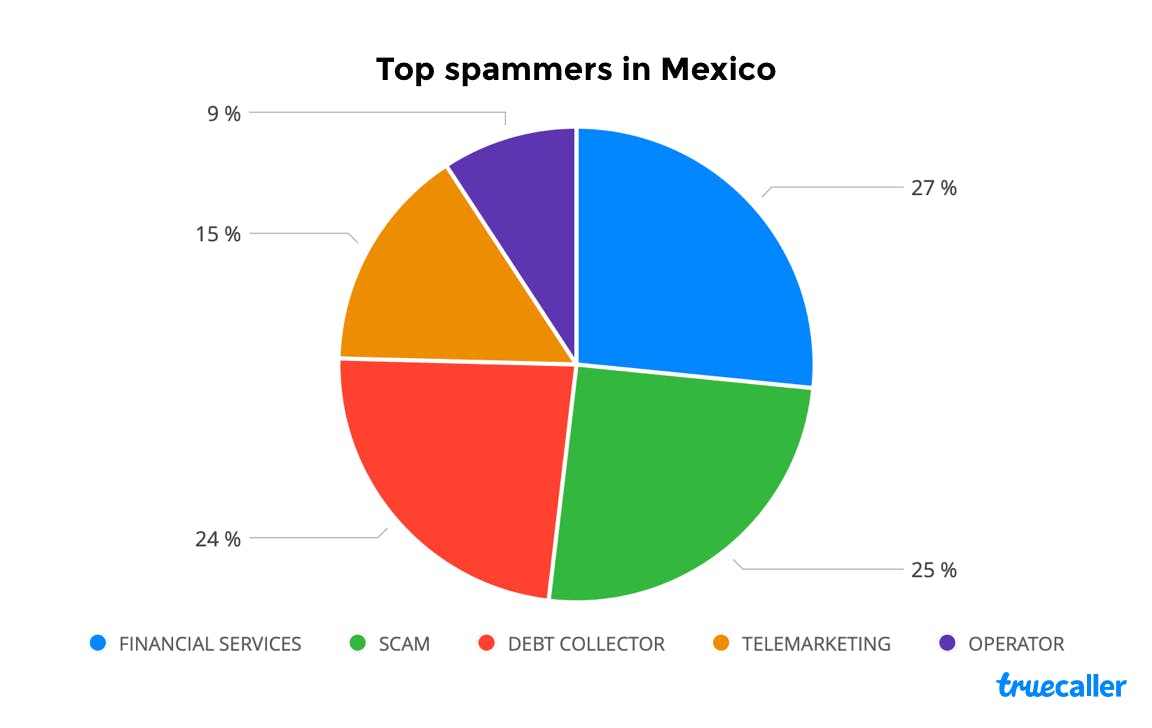 Spam calls in Mexico have decreased significantly (40%) this year. Last year, Mexicans would receive on average 25.7 spam calls, and this year it has dropped to 15.5. However, Mexico remains the 2nd most spammed country in Latin America. 
Top spammers in Mexico continue to come from financial services (27%) and debt collector groups (24%). 
One in every four spam calls in Mexico are now scam related. Scam calls in Mexico have seen an increase from 10% to 25% in the past 12 months, indicating that more people have fallen victim to, and lost money to scammers.
12. Vietnam: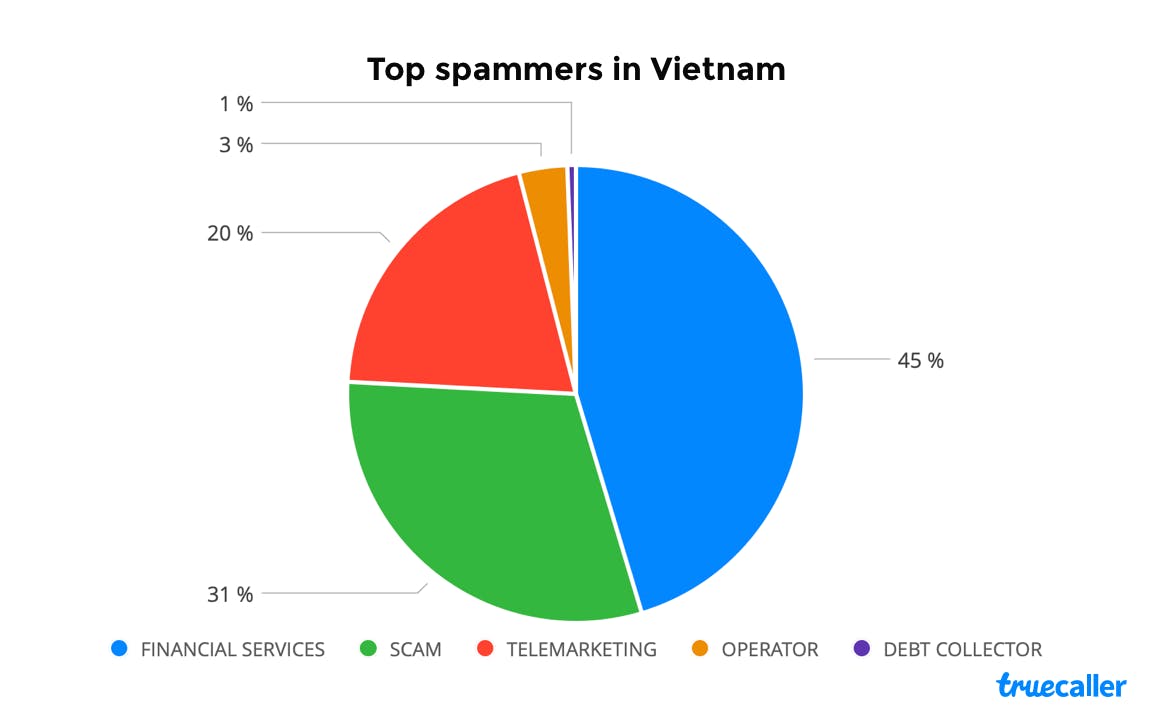 This is the first time Vietnam enters the list of the most spammed countries in the world. In the past 12 months, spam calls in Vietnam have increased 182%. 
The majority of the spam calls come from financial services (45%), while scam calls, with an increase of 31%, are flooding the country. 
13. Russia: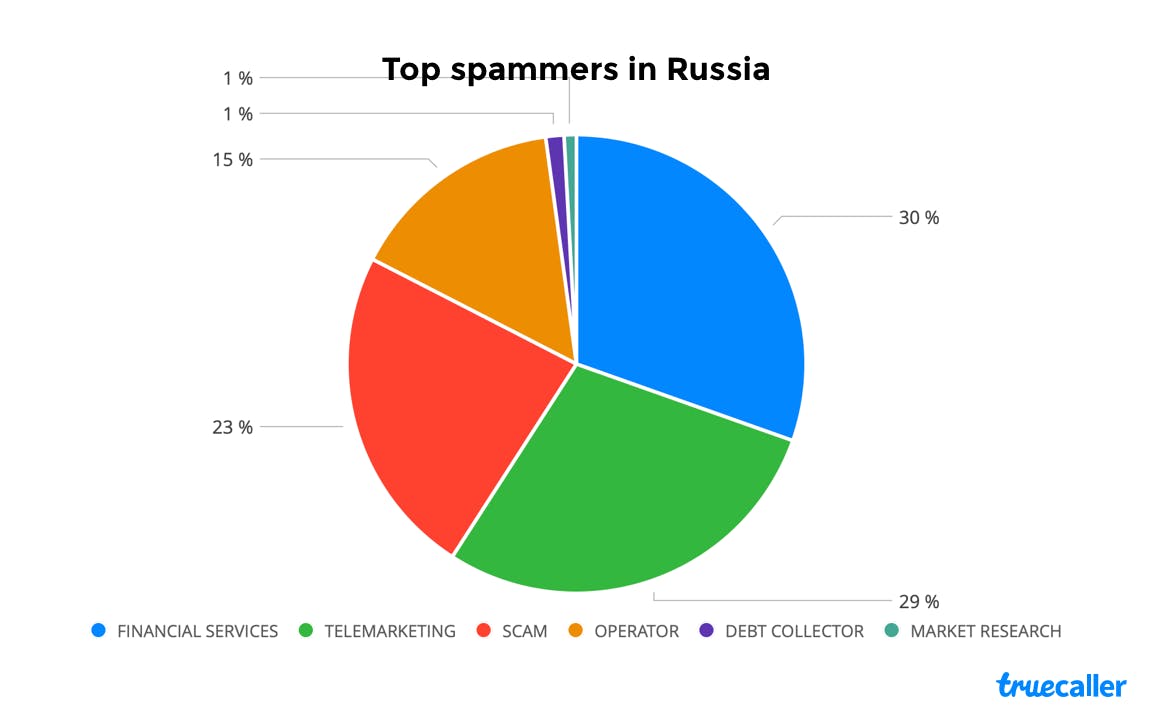 This year, Russia dropped from 9th position to 13th position. While spam calls from financial services continue to disrupt people in Russia, scam calls remain a big threat for Russians. 
Many common scam calls are related to companies/individuals pretending to call from banks and trying to lure them to share sensitive information.
14. Peru: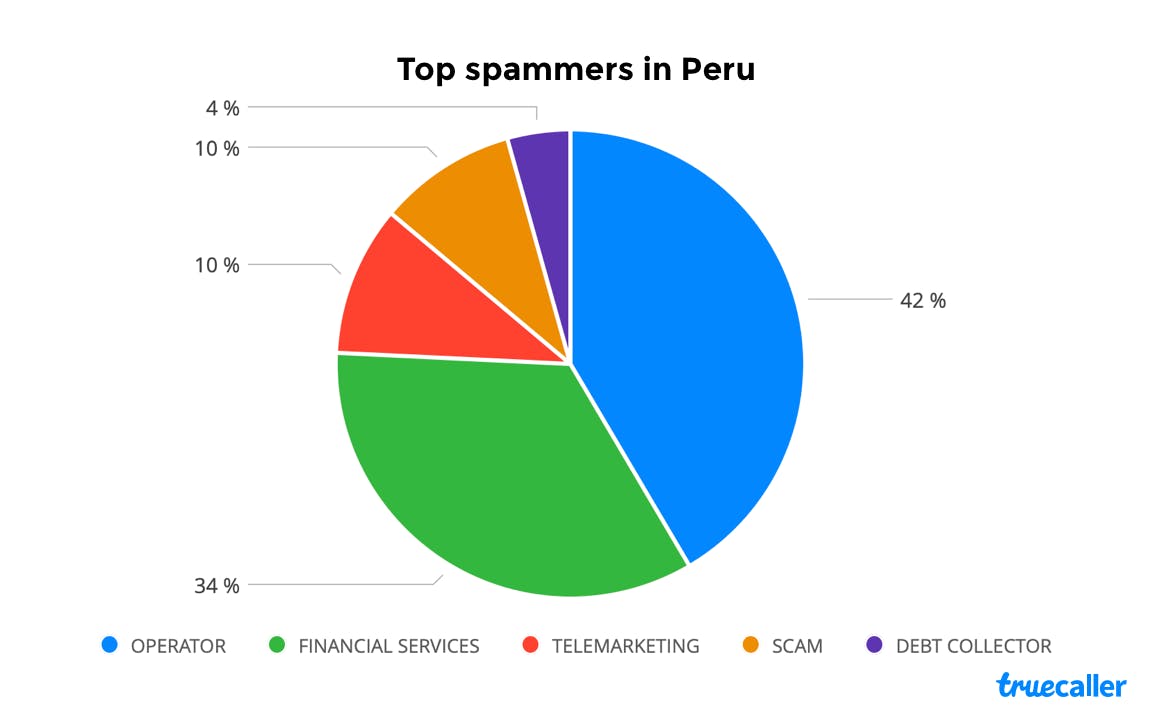 Last year, Peru was the 2nd most spammed country in the world. With a sharp decrease of spam calls (59%), Peru has now dropped down to 14th position. However, Peru still ranks as one of the most spammed countries (4th) in Latin America.
Calls from operators have seen the biggest percentage increase when it comes to spammers in Peru, going from 24% last year to 42% this year. Spam calls from financial service companies remain almost unchanged. 
15. Germany: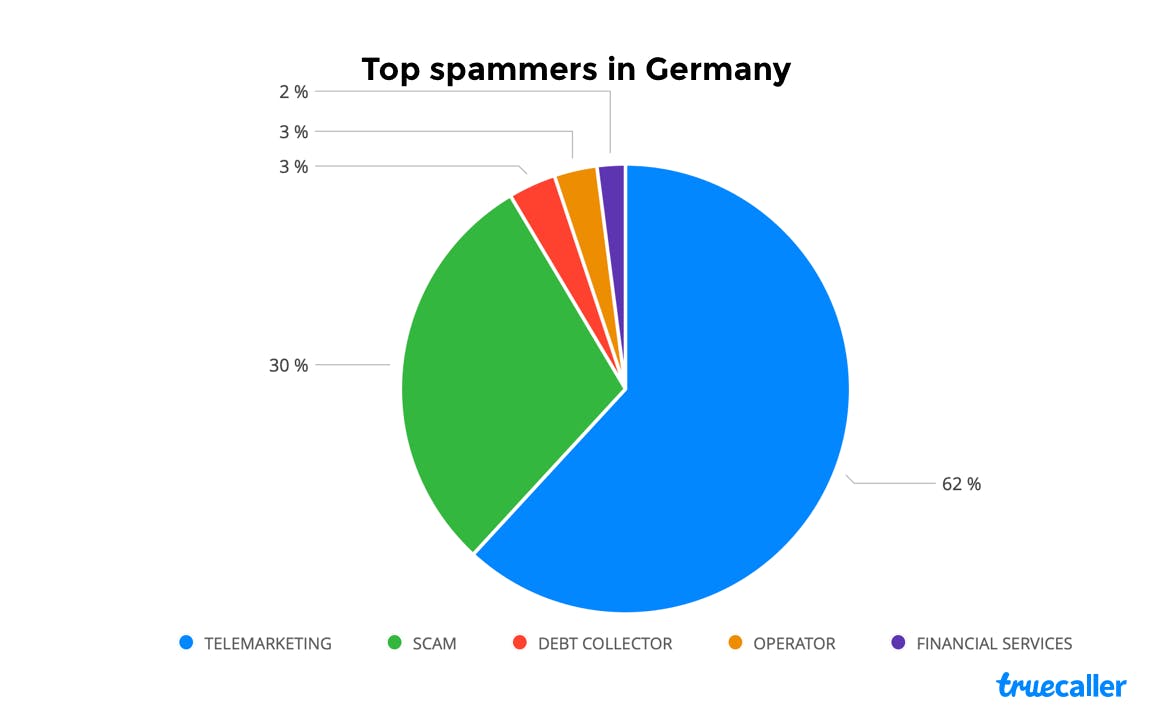 Germany is another country from Europe to make it to this year's top global rankings. In the past 12 months spam calls in Germany have increased 685%, making it the 6th most spammed country in Europe. 
General telemarketing (promotional calls from companies, surveys, political calls, new client outreach for services, subscriptions, etc.) calls (62%) are flooding the German market.
A very concerning trend is that close to one third (30%) of all spam calls in Germany are scam related. In recent times, fake call centers have been set up in Turkey to defraud German citizens. Examples of fraud include scammers pretending to be police or military officers, telling people that their bank accounts have been hijacked by terrorists to fund terrorist activities. In order to protect themselves from this, scammers tell the victim to withdraw all money and transfer it to a "protected account". Obviously, victims never see this money again.
Other scam trends that have been on the rise in Germany are COVID-19 related scams and the "One Ring Scam", also called the Wangiri scam. In this trick, an unknown number (usually an international number) gives a missed call. When you call back, you are charged a hefty fee for calling that number. This surprisingly simple scam has unfortunately defrauded many Germans out of their money.
16. Romania: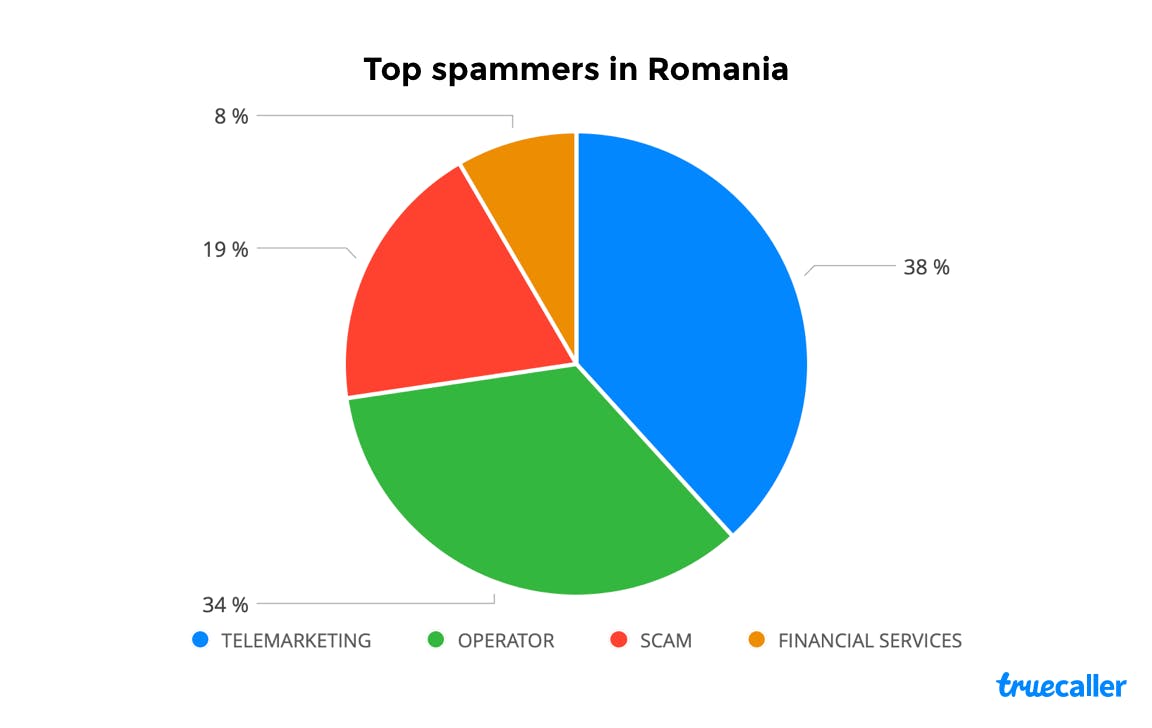 Romania is another country in Europe that has seen a surge of spam calls (395%) in the past 12 months. This is the first time Romania is in the list of the top most spammed countries in the world. 
The top spammers in Romania are coming from telemarketers (38%) and operators (34%). Close to one fifth are scam related (19%), in line with many of the other top spammed countries in this list.  
17. South Africa: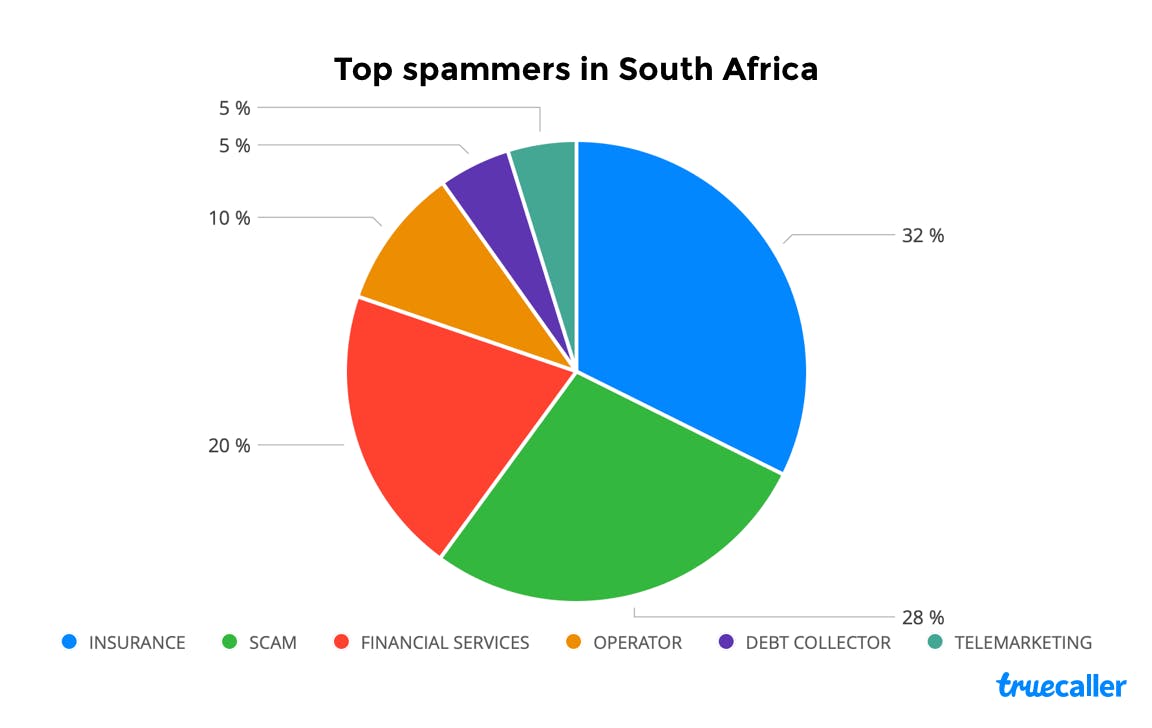 In the past 3 years, South Africa has consistently been one of the most spammed countries in the world. For the first time in 3 years, spam calls in South Africa have decreased, making it drop down to 17th position in the global rankings.
Looking closer at the trends in South Africa, spam calls saw a 59% dive from March to April, in correlation to the lockdown in the country. However, from April to October there has been a 191% increase of spam calls. This reflects a surprising global trend that emerged this year.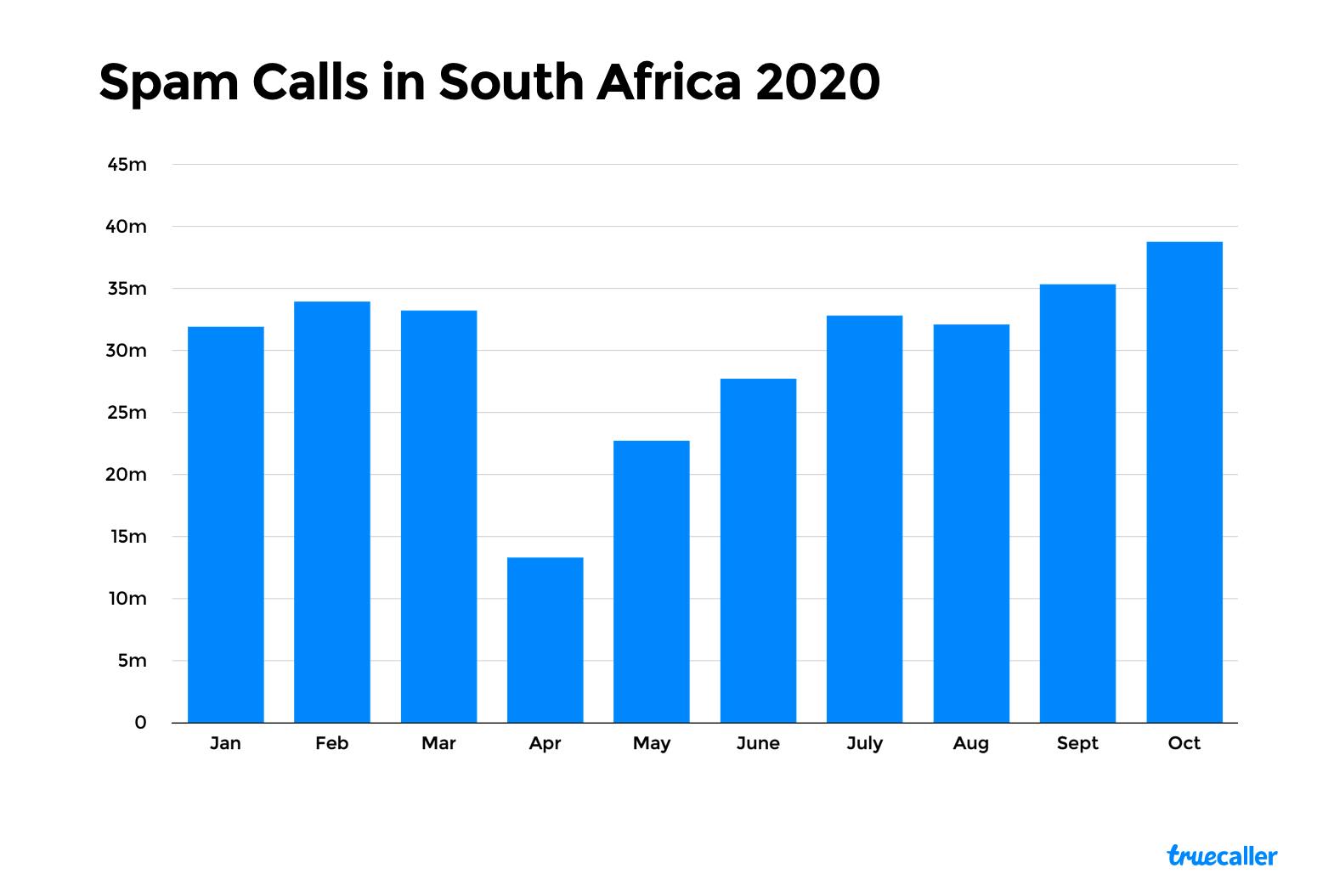 Comparing the month of October with March, spam calls are at all-time high (17% higher than pre-lockdown).
18. Greece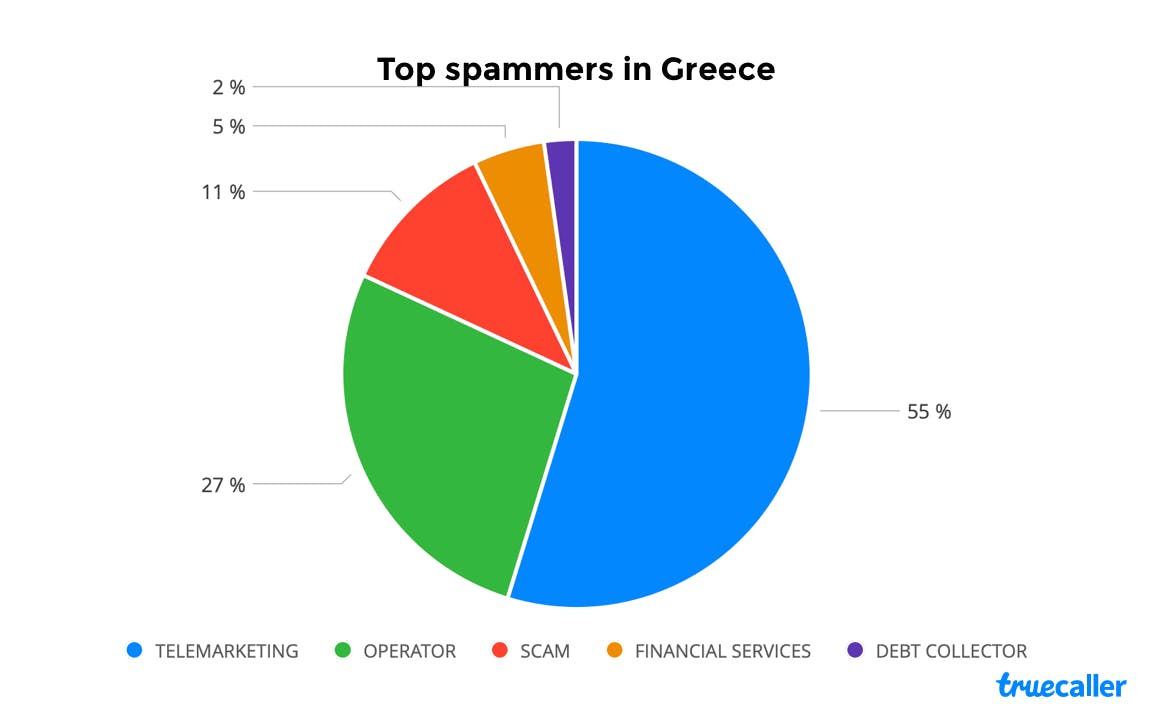 Greece has emerged as one of the top spamming countries in the world. Telemarketing and operators makes up the largest share of spam in the country. 
Greece is one of the 9 European countries that makes this list, but is still far off from the numbers that comprise the Top 10 most spammed countries.
19. Belgium: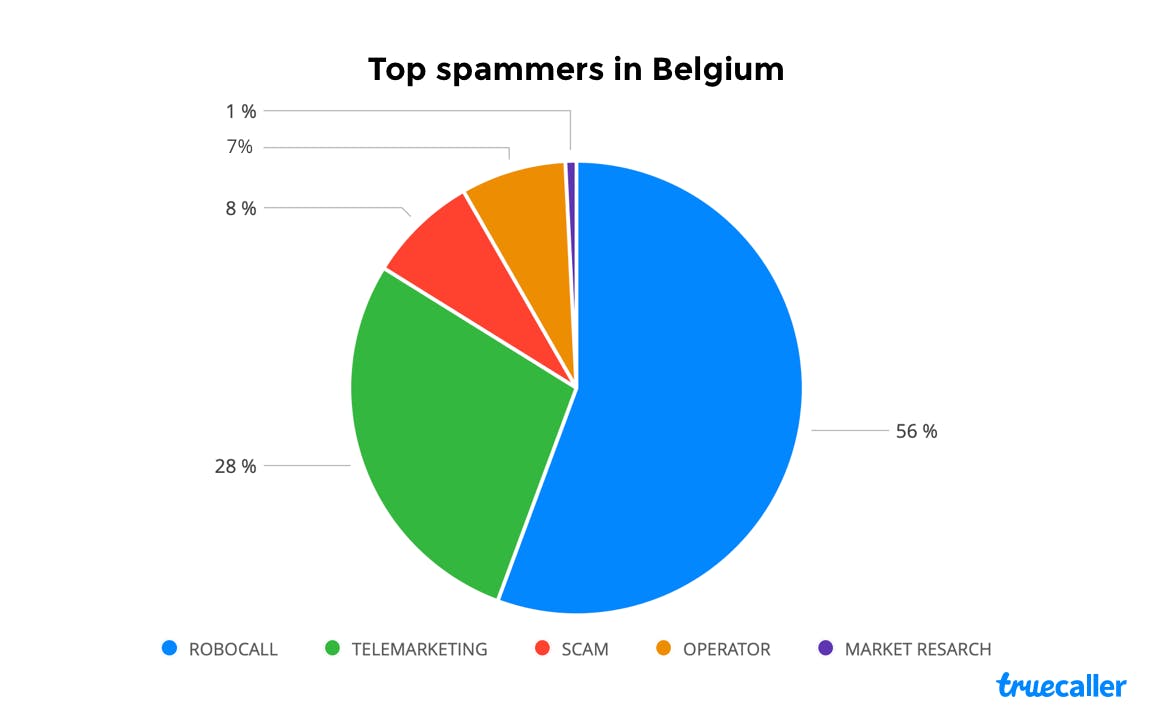 Belgium rounds out the list of new Europeans entrants to the top spammed list that have experienced exponential growth in spam calls. 
With an increase of 550%, only Germany and Hungary have seen more growth in spam, year on year. 
Robocalls are a particular problem for Belgium, accounting for 56% of spam. There are some indications that many of these calls originate internationally, specifically targeting Belgium.
20. Colombia: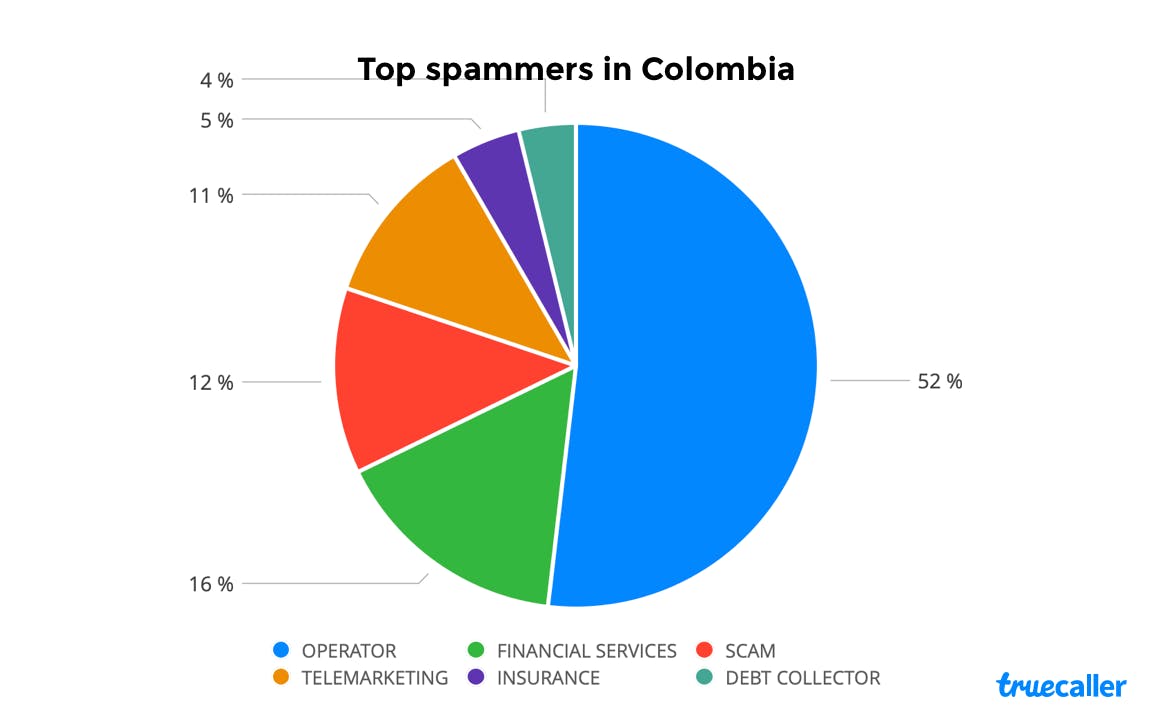 In a big win for the country, Colombia has seen a 54% decrease in spam to drop 10 places in this list. Most of that decrease is owed to a decline in financial service spam. Scams have also decreased. Last year, we reported on a significant number of insurance related spam, so it is good to see that these have decreased, along with the amount of victims of such scams.
However, Truecaller's Against Harassment campaign, released for Women's Day in March, showed testimonies of many women who are harassed via calls & SMS. This remains a problem for Colombia as well as many other countries around the world.
Notes & Methodology:
The data in this article was aggregated anonymously from incoming and outgoing calls & messages during the period of January 1st, 2020 to October 31, 2020. No context of any calls or messages were read. During this period of time we helped our users identify 145 billion calls and helped identify 13.8 billion spam SMS globally.
Our previous study from 2019 can be found here, while the 2018 report can be found here and the 2017 report can be found here.
Graphics: https://drive.google.com/drive/folders/136I45OE1TzmCOxuJWCAtQ_dEUEK-9ivz?usp=sharing
Category Key:
Nuisance: Due to this being a broad spectrum of calls, this is defined generally as: calls that are unwanted, a disturbance for users, harassment or pranks.
Telemarketing: Promotional calls from companies, surveys, political calls, new client outreach for services, subscriptions, etc.
Robocalls are automated calls that are placed to people with a pre-recorded message. Some of these calls can sound like real people talking. When you reply to their queries, they can be very sophisticated, using voice recognition technology to answer and ask follow-up questions.
Operator: Telecom companies upselling data plans, promotions, etc.
Financial service: Banks, credit unions, credit card companies etc.
Scam: Fraud attempts, money swindling, unknown links, etc.
Insurance: Companies that specialize in selling different types of insurances.
Debt collection: Organizations that specialize in payments of debts owed by individuals or businesses, bounty hunters.
Political: Campaign calls to secure votes for parties, including political robocalls.
Health: Hospitals, private practices, health care services.
---