Truecaller Insights: Understanding Impact of Harassment, Spam Calls & SMS for Women in India 2019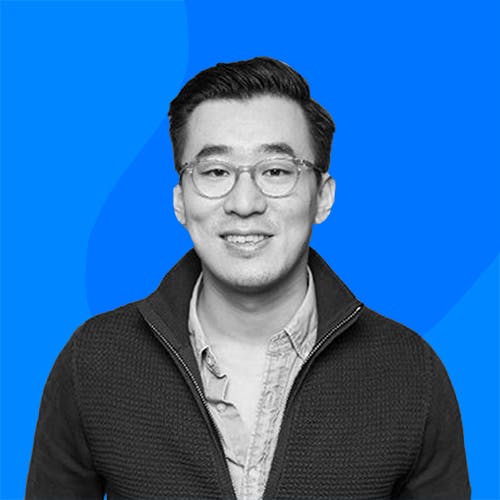 With International Women's Day on March 8, words of women's empowerment and statistics on social change flood our feeds. However, the one stat left out is women's harassment through mobile phones.
With the lack of research available on this topic, we decided to release our second edition of
Truecaller Insights: Understanding Impact of Harassment, Spam Calls & SMS for Women
, along with a nationwide campaign in India to raise awareness against women harassment that occurs through mobile phones. Along with this, we are releasing a series of videos that share
.
Sexual Harassment: It wears many masks
In comparison to our 2018 report, 1 in 3 women in India continue to receive sexual and inappropriate calls or SMS even a year later.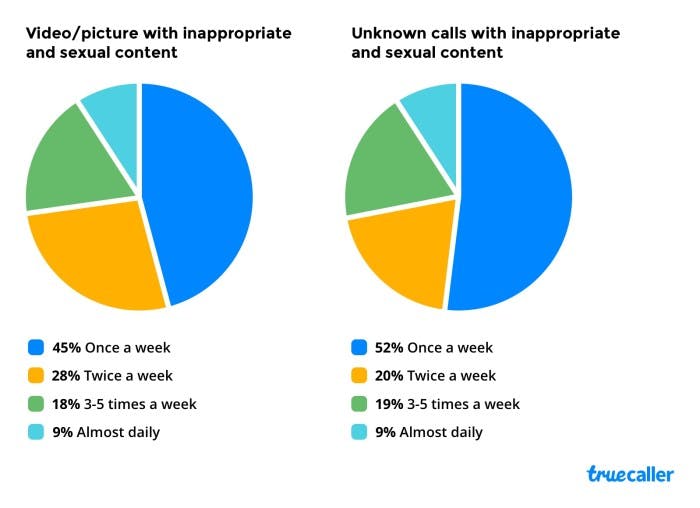 Of those, 52% are receiving calls or SMS with sexual content once a week, 45% received unsolicited videos and pictures with inappropriate and sexual content. This statistic has actually decreased from last year's study, which reported that 78% of women were receiving this type of content, and 82% received unsolicited videos and pictures with inappropriate and sexual content. We hope this means change is happening.
On average this year's report reflects that 74% of these calls and texts were anonymous, and strikingly 23% were made by stalkers, and 11% were from a person known to them. The rise in stalkers has increased in 2019's report, unfortunately, with last year's report being 11% reporting calls and texts from stalkers.
The report surveyed across key cities also revealed that of women from Delhi have reported receiving harassment calls and SMS every week, making it the highest in India.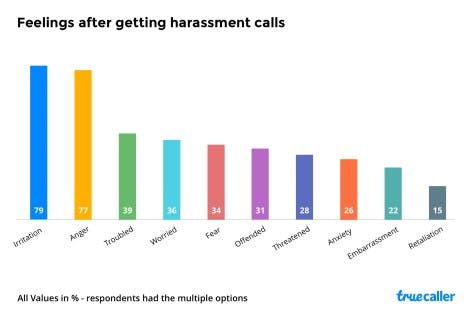 Close to four-fifth (78%) of women reported feeling angry or irritated by harassment calls (compared to last year 65%), while more than one-third (37%) felt troubled, worried or frightened (compared to last year 22%).
Nuisance Calls and Harassment: The fine line
Interestingly, most women were also subjected to unprecedented phishing calls with 53% of them receiving calls from fraudsters seeking to collect sensitive personal data and 9% receiving counterfeit calls almost daily.
While most women viewed cold calls from banks, financial institutions, and telecom operators were the highest 'nuisance', 76% of women surveyed that blank calls were 'harassment'. Blank calls in the survey were defined as anonymous phone calls made with the intention to threaten, harass or offend a caller, without a sales- or phishing-related objective. In fact, blank calls were the one type of spam call overwhelmingly felt to be harassment as opposed to a nuisance.
Rising Against Harassment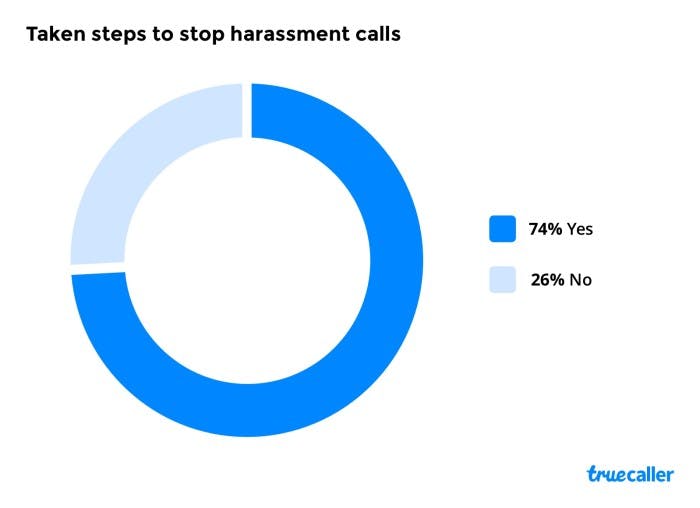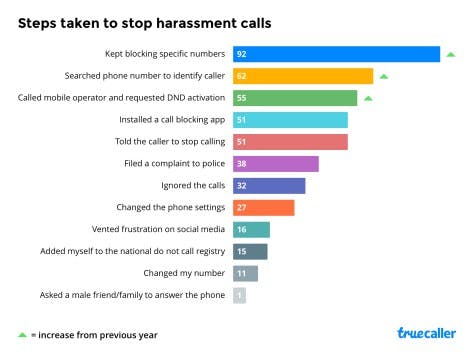 Furthermore, the report also highlighted that three-fourths of the women took measures against these calls through various means that included blocking numbers, request for DND activation, shamming on social media and filing complaints with authorities.
There is a 12 % increase compared to last year (62%.) Besides this, 96% of women surveyed used Truecaller app to identify numbers and 66% used the app to protect their privacy.
To provide a deeper insight to the current rise of harassment, spam and phishing calls to women, we launched the #ItsNotOK campaign to challenge the current status quo of normalizing harassment calls and SMS to women.
Notes and Methodology
This research was conducted by Truecaller in collaboration with an independent market research, Ipsos Research in India. More details about them can be found here. Ipsos used the mobile based approach of data collection. The survey was conducted between February 9th – 25 2019 among 2,150 women aged 15-35 across 14 cities in India (SEC A & B1.) This was done on a smartphone interface, using a self-complete methodology ensuring short length of interview in an engaging format.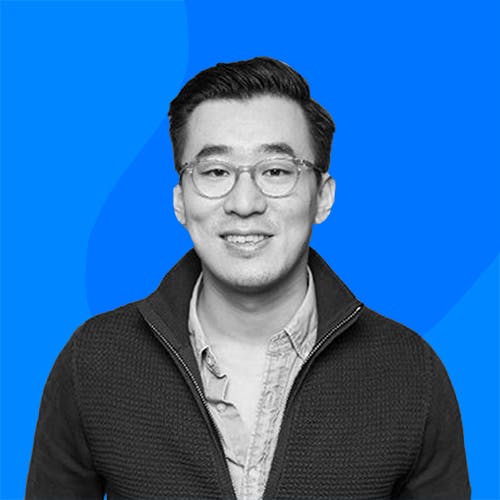 ---