Life as a Product Owner at Truecaller
Ever wonder what a product owner does? We took aside Lana to get an insight at how she got into her position at Truecaller, and what it takes to get there! 
I own part of the platform, which means that I prepare and manage the backlog of product features and functionalities and prioritize work according to the company priorities. I set the vision and roadmap for my product lines, detail the requirements, make sure the solution design of new features is functional, and that the features make the product better and more reliable for our users.
Describe one day of work as a Product Owner
The day starts with daily stand-up meetings with my teams, that takes around 15 minutes each. Then I try to coordinate the work and dependencies between the different teams. What blocks need to be eliminated? What do we need from different teams to complete our work and move forward? I also spend a lot of time defining new features for the product, prepare new requirements, and analyze the data that we gather. In between, many coordination meetings may happen with different stakeholders in the company, whether it's strategy, marketing or other Product Owners owning other product components.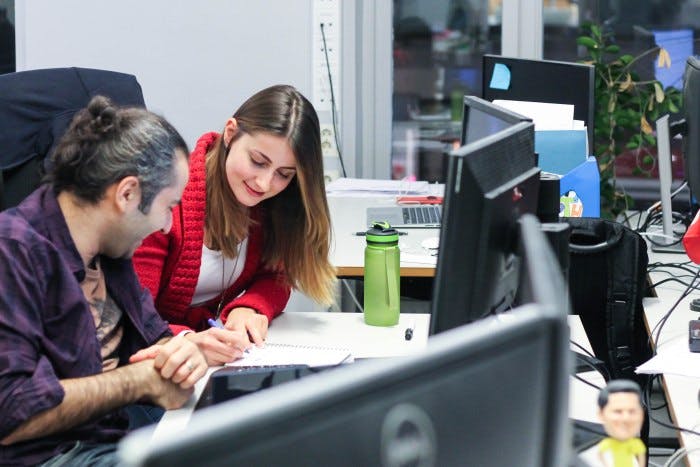 Do you have any tips (studies, overall) for someone who wants to become a PO?
I studied e-Business management, which is a blend of business, marketing and information technology. You get to learn how you deliver business value through IT. I would say that it helped me a lot to get the proper background in IT that I needed when starting my career. You get to learn a lot with experience, especially how to approach different working circumstances and how to approach problem solving.
To become a successful PO, you need to be a natural problem solver, be able to consume a lot of knowledge as you go along, be creative, be fearless about making decisions and possess the soft skills to mediate between developers and the business stakeholders. The most important thing is to be able to motivate and lead your teams to contribute with their best for building better products.
I was always good in mathematics and logical subjects. When I was about to enroll to university, IT was already a very popular topic. In my country, at the Faculty of Economics, a new branch was created in the collaboration between the host university, Fontys University of Applied Sciences in Eindhoven, The Netherlands, and the Business School of Sorbonne, which was the e-Business Management curriculum. Different professors would come from other countries and lecture in different subjects in English. This was good in several ways, both cause you could learn business English better, and the education gave all of us many possibilities and potentials.
At this education level, you got a lot of practical training; around 75% was practical application of skills you learn, and 25% was theoretical examination. You get to learn a lot. In every course you would have to find a company where you would put your theoretical knowledge into practical use. It was almost like a short internship that you would do in every course and really putting your knowledge in context.
My education has especially helped me because of all the practical knowledge it gave me. My motto is, "School teaches you how to learn, it makes you want to learn, it doesn't really teach you all that you need. It teaches you to always learn. Until you've successfully applied your knowledge in practice – it isn't useful."
I like the dynamics. I can apply my creativity and energy in the development of a product. I love working with smart people. I like the fact that I can learn new things everyday from different people working within different roles. I love when I see that people are actually motivated to work with me, and I get happy when people are having fun in how and what they're working on with me.
Every time you're dealing with people, I think you develop as a person! From bad experiences you learn and get stronger, and from good experiences you get more motivated for your work. To develop as a person, should be everybody's motivation for work.
To learn more about how you can start your career at Truecaller, visit our career site!
---