Truecaller Gets $60 Million in New Funding from Atomico, Kleiner Perkins Caufield & Byers and Sequoia Capital
Truecaller
Oct 8, 20142 min readEdited on Feb 24, 2016
In the past year, we have reached higher, typed faster, coded stronger, and welcomed 30 smiling new full time employees to the big Truecaller family. But we are reminded that only a few years ago, Truecaller was just a spark of an idea in the minds of two engineers that believed anything could happen if they 'gave it their all.'

In the past year, we have reached higher, typed faster, coded stronger, and welcomed 30 smiling new full time employees to the big Truecaller family. But we are reminded that only a few years ago, Truecaller was just a spark of an idea in the minds of two engineers that believed anything could happen if they 'gave it their all.'
It is today that we announce an incredible investment of 0 Million in new funding from Atomico, Kleiner Perkins Caufield & Byers (KPCB) and Sequoia Capital.
"We started by helping people manage their contact information and block spam calls, but this is just the beginning of what we can do for our users," said Truecaller co-founder and CEO Alan Mamedi.
To help further our strategic direction of Truecaller, we proudly welcome to the board John Doerr from KPCB, Mattias Ljungman, Jerry Murdock, and joining as our special adviser, Atomico founder and Skype co-founder, Niklas Zennström.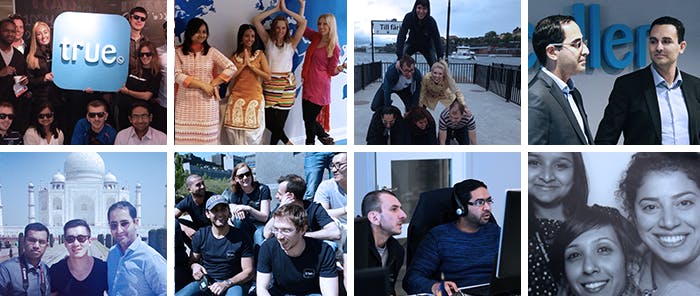 The people who create the Truecaller app are just like you and those around you. We come to work, we grab our coffees and say hello to our colleagues – we are engineers, collaborators, parents, friends, philanthropists – and above all, lovers of the work we create at Truecaller. But what makes us different than other companies, is our utmost passion to make our product beneficial to the world, and also our dedication to listening to our 85 million users in order to solve a problem that no one has successfully solved in the past; putting an end to fraud, reducing telemarketing calls, and identifying who is calling, even if it's from beyond your phonebook. The new funding will take us on an onward and upwards journey as we recruit some of the most talented Team members in the world, and bend the technology limits of what is possible in the app world.
To join our Truecaller Community in helping millions of people take control of their contact management experience, download Truecaller for free on iPhone, Android, Windows Phone, BlackBerry, and Nokia feature phones.
For more information about our job opportunities, please visit our Careers page!
---