Advanced Call-blocking with Truecaller
Have you stopped answering your phone because of the relentless crush of spam calls? What if there were a way to enjoy the convenience and connection a phone offers without that nonsense? We want people to feel comfortable answering their phones again, which is why we offer advanced call-blocking options in Truecaller.
Instead of giving up on phones altogether, unlock the power of advanced call-blocking. Let Truecaller be the dam to that flood of spam calls surging towards your phone.
Truecaller advanced call-blocking options
1. Auto-block top spammers
Since spammers go through numbers faster than laundromats lose socks, Truecaller updates our spam lists every day. On Android, this free feature automatically blocks the worst culprits in your region without you lifting a finger.
To enable this feature in iOS, go to Settings > Phone > Call Blocking and Identification. Tap the toggle next to Truecaller to "Allow these apps to block calls and provide caller ID." (You must have iOS 10 or above and the latest version of Truecaller.)
2. Auto-update top spammers
This feature protects you with the latest intel. Automatic updates mean that even the most recent top spammer will be labeled spam on your caller ID. The list is specific to your region so that it's the most relevant to you.
3. Extended top spammers list
This Premium option is for everyone who wants to stop even low-volume spammers from getting through. With this setting, even callers who haven't yet reached top spammer status won't be bothering anymore.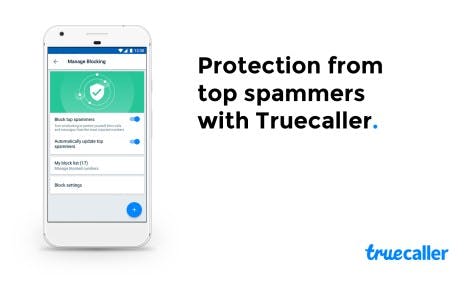 4. Block hidden numbers
There's usually no mystery to an "unknown" or "private" number these days. 9 times out of 10, those numbers belong to someone you have no interest in speaking to. With Truecaller, that's your prerogative! Block all hidden numbers for free in Android.
5. Block country code
Keep getting calls from Nigerian princes or the Australian Taxation Office — but you've never been to either of those countries? Do you wish your answer to that question could be "nope"? With Truecaller, it can! You can block all calls coming from a specific country or countries. No more so-called foreign royals or tax auditors bothering you. (Android only)
6. Block all international calls
If there's no reason for anyone abroad to be calling your phone, why not say goodbye to them forever? You can choose to block all calls coming from foreign numbers, and that's that! (Android only)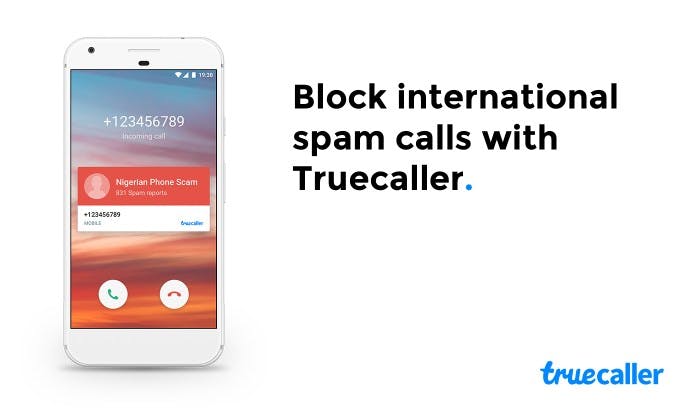 7. Block neighbor spoofing
Scammers may have figured out that international calls aren't fooling you anymore. In that case, you're probably sick of neighbor spoof calls trying to get you to pick up. Not into the number neighbor trend? No sweat! You have options. Truecaller lets you block phone numbers similar to yours while whitelisting your contacts. (Sorry, that means you can't block your little sister with this feature.) (US & Canada only, Android only)
8. Block a number series
Some companies have thousands of similar numbers which you can block with this free feature! Just enter a series of digits and all phone numbers with that series are automatically blocked! (Android only)
And here's an insider tip: If your contacts don't include numbers similar to yours, you can use this feature to get the same effect of neighbor spoof blocking.
Check out our video to see how to set it up in a few easy steps!
9. Block non-phonebook numbers
Maybe you're so inundated with calls that you're about ready to throw your phone off a cliff. May we suggest keeping your phone and blocking all numbers not in your contacts instead? That way, you can still play Minecraft and send Flash messages to your friends, without the constant interruption of calls you have no intention of picking up. (Android only)
10. Block a number
If you think blocking all non-phonebook numbers is too extreme, you can block individual phone numbers instead. No more calls or SMS from the specific numbers you don't want to hear from.
11. Block 140 telemarketing numbers
A lot of spammers are legitimate telemarketers, who are required in India to use 140 numbers. With Premium, blocking of them is as simple as tapping a button in the app. (India only, Android only)
You can go through our global spam report to understand the top countries impacted by spam.
12. Block SMS sender by name
This feature addresses an India-specific issue. If you're getting annoying SMS from the same company using different phone numbers, you can choose to block the sender by name. That way, all SMS coming from a certain bank or insurance agency will get blocked — even when they use different phone numbers. (India only, Android only)
To experience Truecaller's advanced blocking power for yourself, download the app in Google Play or Apple Store.
To upgrade to Premium, just look for the Premium icon!

---