Free Number Lookup with Spam Statistics
Free Number lookup and free number search are essential when trying to figure out who is wanting to get hold of you by SMS or a phone call. 

With Truecaller, you can search for free using our free phone number lookup complete with statistics on spammers!
How to use Free Number Lookup
On Truecaller's landing page, use the search bar to simply lookup a number. You will be asked to sign in with an email or social account in order for our system to make sure you're not a bot. From there, you are able to search for number to get the identity and identify if they are spam. If the number is a spammer, you can view the Spam Statistics.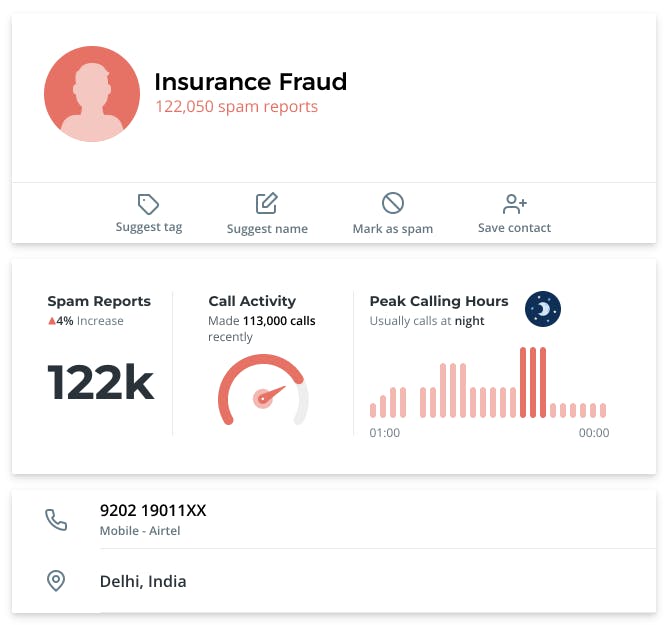 How to read spam statistics
The spam statistics showcase three important trends: Spam reports, Call activity and peak calling hours. We believe these are the most important indicators to allow you to determine how risky the number is in your communication.

Spam Reports
This showcases how many times a Truecaller user has marked this specific number as spam, and also will indicate by percentage if it is on the rise or decrease in reports.

Truecaller's Community of over 150 million people using the app every day, is continuously reporting new spam numbers to help others around the world stay safe from fraud, harassment, and sales calls.

Call Activity
Truecaller is able to determine the number of calls the number has made recently, potentially indicating how much of a spammer the number is.

Peak Calling Hours
This time chart identifies when the spammer is the most active.
---