What's New with Truecaller Messaging on Android
We're back with some new ways to optimise your Truecaller experience. We'll focus on our TrueMessenger this time so stay tuned if you're more of a texter than a caller, and enjoys tailoring your app.
Introducing Truecaller Urgent Messages
Sometimes you just really need to have your message read as soon as possible. With Urgent Messages on Truecaller for Android this will be possible. When someone sends you an urgent message, you'll receive a notification that you can easily open – even on a locked screen. We used to have Truecaller flash – now we have Urgent Messages.
3 Great Things You Can Do with Urgent Messages
Answer with an animated emoji; nothing says "I got your message" as a flaming fire.
Send a quick voice message directly from the popup screen.
You can always close an urgent message. The message will be waiting for you in your Truecaller app.
How to know it's an Urgent Message
It's easy to know when you're receiving an urgent message, just by the sound of it if you're not looking at your screen. You can customise the ringtone for your urgent messages to suit your needs. If you peak at your screen and see a popup bubble, you'll know – it's an urgent message.
When it comes to the content of an urgent message, it's basically up to you to decide what's urgent. Some pro tips: what you're having for dinner might not be as urgent as telling someone you need them to pick up the kids from school. Still not sure what identifies as an urgent message? Tweet us to ask, and we'll help you decide.
Long Press to Make Truecaller Messages Your Default Screen
Imagine opening your Truecaller app to quickly send a group message of what you've been doing, and you have chosen to have the Calling interface open. No worries. Just long press the message button. That will make the messaging interface your default option. Text away. When you want to return to having the calling interface as default, you press the calls button and are back.  The next time you open the app, it will open with the new default setting. Welcome to the world of TrueMessenger.
This neat feature was actually suggested by Alan Mamedi, Truecaller's CEO and co-founder. We work hard to have a culture that celebrates thinking outside the box, and we're lucky to have a CEO who enjoys being a part of everyday work.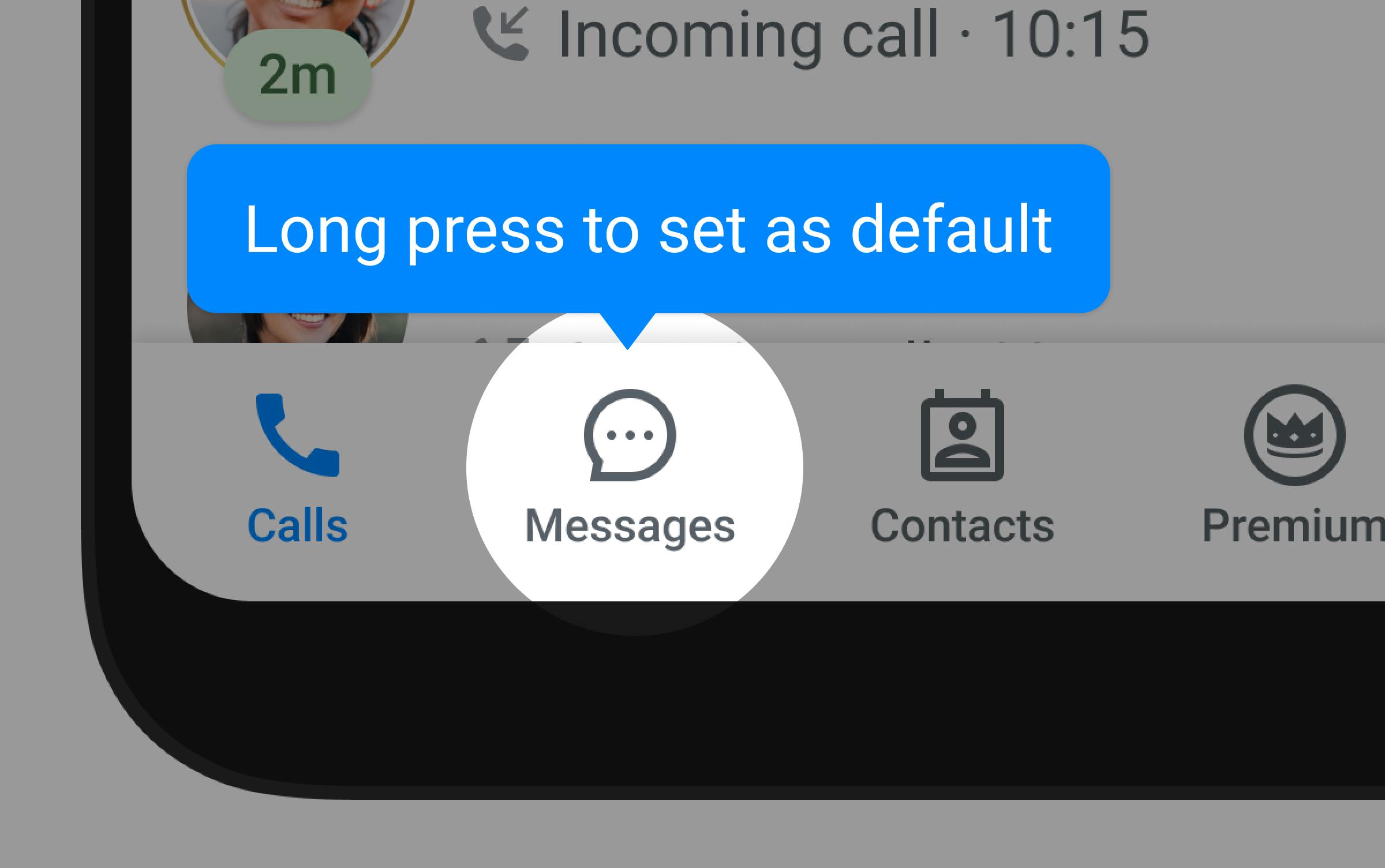 Long press icon to set as default home screen
Smart SMS becomes smarter – with your help
Smart SMS is one of our favorite features, and yours as well. Basically Smart SMS helps you categorise what is an important message, and what should be moved to the Spam inbox. We've worked hard to make the experience better, and being able to organise what is spam or not. Even if it's from the same sender. Confusing? No worries, we're here to help explain it.
The improved Smart SMS will now look at different levels of incoming messages in a region, to determine whether it should be moved to spam or to the important inbox – depending on the content in the messages. There is no magic in here, this is dependant on how you rate the message. So if you're being asked whether it's spam or important – be sure to answer. That way you're training the system to help you have an even better experience – locally on your phone.
Be a part of improving the Smart SMS experience for millions of people!
Share your Smart Card
Another great thing with Smart SMS is that you get notified about important updates – like your next flight, a transaction, or a bill. We've been asked to be able to share that information the same easy way that you see it, and now that's possible! When you open your Smart Card there's an option to share, and that entire Smart Card gets shared according to your choice. This will be shared as an image, just as easily read as it is for you, to anyone. Even if they're not on Truecaller.
Edit Sent Chat Messages
We all make mistakes when typing in a hurry. If you made mistakes or said something that you did not mean to say, the edit feature will be a boon. With the new update, you can edit/ make changes to the chat message even after the receiver has viewed it. If you do edit a message, the words 'Chat (edited)' will be visible. You can edit chat messages at any time after sending and it's important to note that editing is only available for Truecaller Chat, not SMS.
We hope you found some new, smart ways to customise your Truecaller Messaging experience. Also, be sure to keep your Truecaller app updated! With a community of over 300 million people using Truecaller every month, Truecaller offers a great communication experience.
To stay tuned for more updates, visit Truecaller's Youtube Channel, Instagram, Facebook, TikTok, and Twitter.
If you're based in India: Instagram India, and Twitter India.
Based in Indonesia: Instagram Indonesia, TikTok Indonesia. 
Yes, we are available to you everywhere!
---