How to Enable Caller ID for Samsung for Android 9 and 10
If you are using a Samsung phone with Android 9 or 10, this is how you set up Truecaller Caller ID to make sure you are seeing who is calling.
For operating systems below 9, please see our other blog posts.
Battery drainage is an issue that is trying to be solved by many operating systems. With so many apps, our OS tries to help us out by creating settings to put to sleep apps that are not being used. While this is a great feature of our OS, it could mean that you might disable Caller ID and spam blocking by mistake (since Truecaller needs to run in the background to work). Here are some helpful instructions to help you get the most out of your Truecaller app on Samsung phones with Android 9 and above.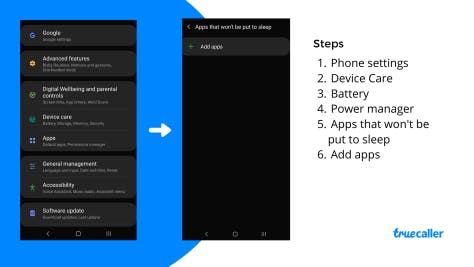 To ensure that you'll always be notified about who's calling, go to your Phone Settings > Battery > App power manager > Apps that won't go to sleep > Add apps > Use the + to add Truecaller!
If you are still having trouble, please contact our support.
---