Registrations Open for Early Access of Truecaller Full Stack SDK
We're excited to open registrations for Early Access of Truecaller Full Stack SDK, for verifying and onboarding both Truecaller as well as non-Truecaller users.
With this, we aim to give Android developers in India to try out Truecaller Full Stack SDK so as to help them create a seamless app onboarding experience for their users. 
It's been an incredible journey since we opened up in 2016; we've learned a ton along the way and have received some really helpful and insightful feedback from our developer partners. As we start accepting applications for Truecaller Full stack SDK Early Access Program, we aim to work closely with Mobile focused startup ecosystem in India, and along take their feedback to make improvements to the integration experience, so we can keep our promise of  minimizing friction in user onboarding and engagement flows for the partner's customer base.
What is Truecaller SDK?
Truecaller SDK is a user consent based and instant mobile number verification service, which you can use wherever you look to verify/ sign-up/ login users who have an active phone number led Truecaller account credentials.
This is an existing and publically available product and can be downloaded here.
What is Truecaller Full Stack SDK?
The current version of the Truecaller SDK has been around for sometime and is being used by a spectrum of startups and developers building scalable products across categories on mobile platforms . Over this time, our developers derived immense value by adopting Truecaller SDK in their user onboarding/ verification and growth use cases in their mobile apps across platforms. At the same time we listened to their feedback and additional use cases we could solve for them.
Hence we are introducing Truecaller full stack SDK in early access mode with the functionality of being able to verify/ sign-up/ login via phone number for Truecaller as well as Non-Truecaller users.
Below table would help you in understanding the core functionalities of both the offerings: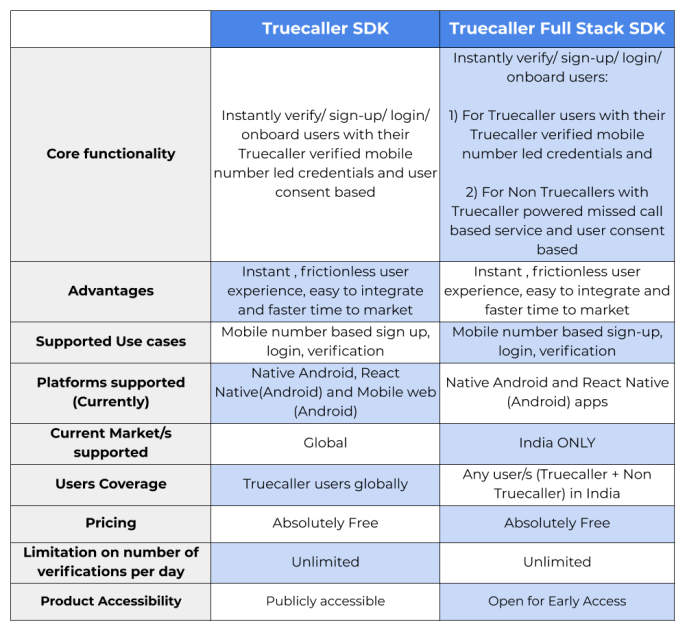 As part of the Early Access Program, if shortlisted you would:
Get early access to Truecaller Full Stack SDK
Directly engage with Truecaller Developer Platform team for best practices of product implementation in your app
Best implementations of this product could also get an  opportunity to get featured in Truecaller SDK integration in our upcoming developer outreach initiatives 
Application Criteria
you should have published a LIVE Android (native)/ React (for Android) app accessible to users
your app should be published for Indian market only
more than 20,000 lifetime downloads, and addressable to Indian users
* selection of best implementation stays at the discretion of Truecaller team
Next Steps
Truecaller Full Stack SDK EAP is now live and will run until October 15, 2019 in Early Access Mode.
Once you have applied and get shortlisted for Early Access Program, our Developer Platform team will get in touch with you to help you with next steps.
If you have any questions or feedback, feel free to reach out to our Development Platform Team.
---