Truecaller with Hebrew (Israel)
Truecaller
Jul 27, 20091 min readEdited on Feb 25, 2016
Hello world!
We are getting a lot of questions about Truecaller 1.0 for Symbian not working with Hebrew characters. We are currently working on Truecaller 1.1 which will support Hebrew. Hopefully we can release a new version at the end of this week or in the beginning of next week.
If you have already installed Truecaller 1.0 …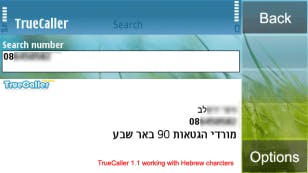 Hello world!
We are getting a lot of questions about Truecaller 1.0 for Symbian not working with Hebrew characters. We are currently working on Truecaller 1.1 which will support Hebrew. Hopefully we can release a new version at the end of this week or in the beginning of next week.
If you have already installed Truecaller 1.0 you will be prompted to download a new version next time you start Truecaller as soon as it has been released or if you go into "Options->Check for updates" in the application.
Or check our website, blog or Twitter for more information.
Thanks for your posts!
Best regards
Team Truecaller
---